Master of Arts in Applied Theatre
Format: On Campus
Application Deadlines
Fall 2024 Priority Deadline: January 18, 2024
Fall 2024 Regular Deadline: Pending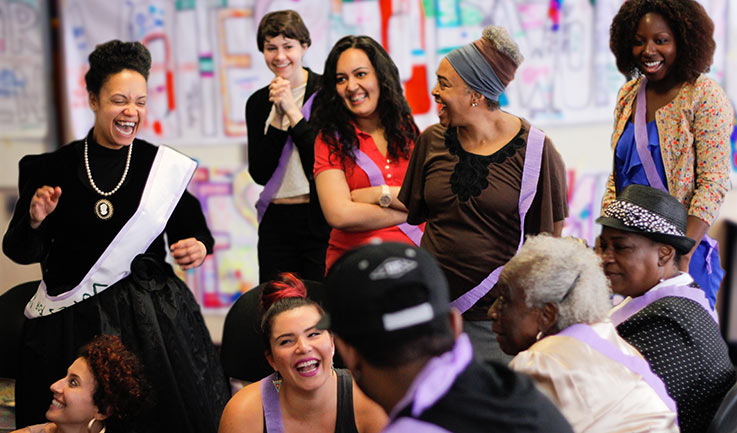 The MA in Applied Theatre degree program, the first program of its kind in the United States, uses theatre as a medium for education, community development, and the pursuit of social justice. The goal of the program is to educate scholar practitioners to become future leaders in the field of applied theatre. Applied Theatre involves the use of theatre and drama in a wide variety of nontraditional contexts and venues, such as in teaching, the justice system, health care, the political arena, community development, museums, and social service agencies.
Follow the MA in Applied Theatre blog on tumblr.
Career Prospects
Graduates of the program are prepared for careers as teaching artists with theatres, museums, hospitals, and other community-based organizations; education directors for cultural organizations; facilitators of youth programs; creative aging artists; health and wellness theatre program specialists; conflict resolution; and activities specialists with development programs, aid agencies, and refugee support programs.
Students in the Program:
Practice actor-centered, collaborative approaches to leading creative teams and playbuilding original theatre
Study a range of artistic, educational, and social theories that inform progressive practice
Collaborate as a member of a student ensemble to support creative risk-taking
Progress through carefully sequenced courses with an emphasis on the unity of theory and practice
Devise and perform theatre-in-education interventions in New York City schools and community settings 
Develop work alongside the renowned CUNY Creative Arts Team
Research, implement, document, and evaluate an original applied theatre thesis project.
Curriculum
10 Core Courses (30 Credits)
2 Elective Courses (6 Credits)
Sample Courses
Community, Culture, and Diversity
Playbuilding
Teaching through Theatre
Theatre of the Oppressed
The Co-intentional Director
Creating Meaning Through Community Drama
Study abroad: Project Rwanda
Connect with us
Admissions Criteria
Applicants must possess a bachelor's degree from a regionally accredited institution, with a GPA of 3.0 or higher on a 4.0 scale. Applicants are required to write a personal statement, upload a resume, and provide two letters of recommendation. Letters of recommendation may be submitted before or after submitting an application. Please note that an individual interview may be necessary.
We encourage applications from people with a variety of undergraduate majors and professional backgrounds. Theatre experience, formal or informal, is expected. Applicants who meet the basic eligibility criteria may be asked to take part in an artistic review.
Students are admitted to the program each fall and can enroll in either a full- or part-time course of study.
Funding Opportunities
In collaboration with the CUNY Creative Arts Team, CUNY SPS and the MA in Applied theatre are proud to offer the Graduate Apprenticeship for Diversity in Applied Theatre. Follow the link for details.
Application Deadlines
Fall 2024 Priority Deadline: January 18, 2024
Fall 2024 Regular Deadline: Pending
Apply Now
Recent News About Master of Arts in Applied Theatre