Jessica Cortez
MA in Applied Theater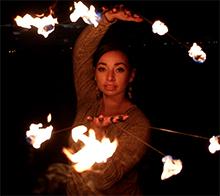 "I decided to double major in theatre [in college] because I saw it as a platform that I could use to talk about those issues, and really dive into social narratives, and express people's stories that aren't typically told."
Jessica Cortez ('20) is a student in the MA in Applied Theatre program at CUNY SPS. Cortez is a Graduate Apprentice with the Literacy through Drama Program, working with middle schoolers in the Adolescent Literacy Program.
The Graduate Apprenticeship for Diversity in Applied Theatre provides recipients a stipend, a tuition award, and a placement with the CUNY Creative Arts Team. Jessica joined Michael Wilson ('11) to talk about leaving San Diego, falling in love with New York, and keeping her flames burning.
You mentioned that you were reading Morgan and Sindy's profile last year.
Where were you when you were reading it? Morgan and Sindy are apprentices, like Jessica, but now in their second year.
I was in San Diego, actually. I grew up in San Diego. I've never lived anywhere else. Welcome to New York. I remember saying I would never move to New York. Laughs. But I ended up finding this program and reading more about it, and this was the program that I wanted to go to. And then when I came to visit for the artistic review, I fell in love with it and I was like, why was I so scared to come here?
You fell in love with the city.
With the city, yeah. And the program. Both of them.
Let me go back to what you were doing in California. Did you have an acting background?
I have a theatre background. I do some acting. In San Diego, I was a teaching artist for the San Diego Opera and a Chicano theatre group, Teatro Izcalli, for about two years. I was working with anywhere from third to twelfth grade students, and we were doing arts integration programs in San Diego Unified School District. I got to partner with teachers, got to meet hundreds of students and…our primary thing was working with students to develop their own stories, based on their memories or issues that they saw in their communities. And then we helped them to produce those into a final production.
The Opera was separate from the Chicano work?
They have a partnership, so we worked together, hand-in-hand. The Opera really wanted to connect with diverse communities in San Diego. The programming manager at the Opera, he met Teatro Izcalli, and then from there formed this partnership, where Teatro Izcalli served as this bridge to the community, because they've been in San Diego for like 20 years now.
Were you doing work in music?
Actually no. John—the education manager at the Opera—he specifically was looking for people who wanted to do community engagement and didn't feel it was necessary for me to have a music background, because he really was about wanting to connect with communities and tell stories, rather than just the traditional opera forms that they use.
That's bold.
I saw my first opera after I got hired there. I really loved working for them, because John was very progressive and took a lot of risks and, like you said, was bold, in his choices. I feel like we got a lot of rich work done that way. In community.
Sounds like it. And yet you moved.
Yes.
What had you start researching master's programs?
In college, my professor in theatre had told me, "Have you ever considered a master's program?" And I never had. And so that kind of got the wheels turning. Once I graduated college, I was thinking, "I do want to get my masters." And so, it had been about four years since graduating, and I was like, "okay, it's time."
What was it? Why? Why was it time?
Even though I was doing great work in San Diego, I felt that I was a little complacent. I wanted to grow as a person and grow as an educator and as an artist. And I could either stay on that trajectory—which is great—of doing the work I was doing, or I could throw myself into something completely new, and grow.
That's bold. And, why applied theatre?
In my undergrad, I focused on Ethnic Studies. Social justice was my primary focus, and I had no past background with theatre. I decided to double major in theatre [in college] because I saw it as a platform that I could use to talk about those issues, and really dive into social narratives, and express people's stories that aren't typically told.
Thank you. It's the tail end of November now, in New York. How's your experience in the program?
It's been exactly what I wanted when I thought about moving from San Diego. All along the way I feel like I've been given signs, I guess you could say, or affirmations that I'm in the right place, right now.
What are they?
For example, I was sitting in this room here for our training, and we were talking about people who inspire us. I said, "Evelyn Díaz Cruz," who was my professor of theatre who pushed me to go into a master's in applied theatre. I said that and my co-worker Marion, who is sitting there—
—Lopez? Marion graduated this spring in the class of 2018
Yeah. She was like, "Evelyn Díaz Cruz, from San Diego?" And I was like, "yeah." She's like, "oh my gosh, she directed my first official play." I was like, wow, how is that even…like…I don't even understand. It's been a good experience definitely. A lot of work. A lot of challenges…getting back in the flow of writing again and all that. But overall I feel I'm learning a lot and meeting a lot of people, and feeling affirmed.
I'm so glad to hear that. What is a challenge that you've had in one of the courses that hit a sweet spot: it's hard but rewarding?
Well, right now, because I'm working on the Co-Intentional paper [for Helen White's course The Co-Intentional Director], I think that's the most prevalent on my mind…I felt like it was really challenging, because I was so in my head about it. Like, "is this co-intentional?" I found I would stifle myself and not allow myself to really be present in rehearsals, because I was so worried about, "oh, am I being a good director, am I being co-intentional?" And then when I let down that wall, in a rehearsal, I felt like, "oh, did I say too much? Did I influence the direction of where the actors are going?" It's been really rewarding because I've learned a lot, but I've also realized how in my head sometimes I can get and how that holds me back from really being able to create work that I feel says something about the world.
I hope that as you do it more and more you're able to make it more and more your own. I think learning is awkward like that.
Yeah. It's kind of like taking your first steps as a child.
If you were to have the audacity to imagine yourself in three years, after the program is over, what would you be up to?
I would love to be working in a theatre company as a community engagement director or an education director—a position where I can reach students and teaching artists and organizations and be a bridge between a theatre company and a community.
What fuels you to pursue this path?
Growing up, I didn't go to plays. I didn't go to theatre. And so coming to it in college, and having all of this transformation from going to see a play where I saw my story reflected, or being able to perform and act out my story, I felt like it was very impactful for me. I think about, oh, what would it look like if I had access earlier on in my life. The schools we were going into [in San Diego] were predominately students of color, or schools that don't get theatre program, or don't get arts programming at all. That's what really fuels me, is to change that. Not to impose, "oh, here's theatre, and it's so great," but to really offer an opportunity to kind of experiment, or try it out, or see what theatre can do. With my students, we've been able to accomplish a show that they were like, oh, we're never going to be able to do that. Or we're never going to act. And then seeing the after effects of them—so ecstatic for being able to produce something onstage, literally dancing and cheering. It's that moment where you're like, okay, this is why we do the work. This is what fuels me.
Thank you. I can see that, it's exciting. And what are you working on here at CAT?
I'm an apprentice in the Literacy Through Drama Program, with Claro. I'm working right now at Bronx Writing Academy, with sixth and seventh graders, doing after school programming. My partner Brett and I have been going Monday, Tuesday, Wednesday from 2:40 to 4:15.
Okay. Describe a moment that springs to your mind from your work.
I'm thinking… we were playing…[a game]. All of a sudden we got on this conversation about dreams, and they were talking about astral travel. And this student she was talking about how her grandpa was able to do this, and now she's able to do it, and now her brother's able to do it. And then everyone in the room started getting really excited about dreams. And so just being able to see the generative themes coming up in the room, and then someone started talking about lucid dreaming…
You dropped the Freirian term "generative theme," there. For Freire there's always a bigger picture of that. It's not just "nice" [that people's interest coalesces around a topic], but it's helping toward liberation. What's at stake? Why does it matter for them to be talking to each other about dreams?
I think for them to be talking about dreams, and to be talking about these concepts, is connected to being able to imagine a reality outside of their own, or be able to control the content that they're talking about in the room. To be able to talk about dreams in a classroom, is so different from traditional models of education, and I think that's so important, to be able to allow them to open up that dialogue.
How is your experience in CAT, when you're not out in the field?
It's been really fun. We do a lot…I actually was really excited, because it's such a family vibe, or community vibe…Claro's really intentional about that…we have our potlucks, or we have the '80s party too, for Keith, for Halloween— —you did? —yeah! You'd talked about the apprehension around moving to New York, and then discovering that it was welcoming.
What would you offer someone from the West Coast who's thinking about moving to New York?
I guess, it's not…it's really a beautiful place. I love it here because there are so many people.
Thank you. Anything else you'd want some curious person to know?
I think what's really been foundational in my transition here has been the cohort model. I've become really close with both my year and the middle year students. I didn't know anybody coming here, I knew like one person. So I was worried that I would be very lonely when I came. But I think the program is set up in a way where I've been able to connect with different people and form friendships with them. So that's been really nice, to not only see each other in class, but also to get together outside of class, to support each other, since we're going through it together.