You are here
Graduate Admission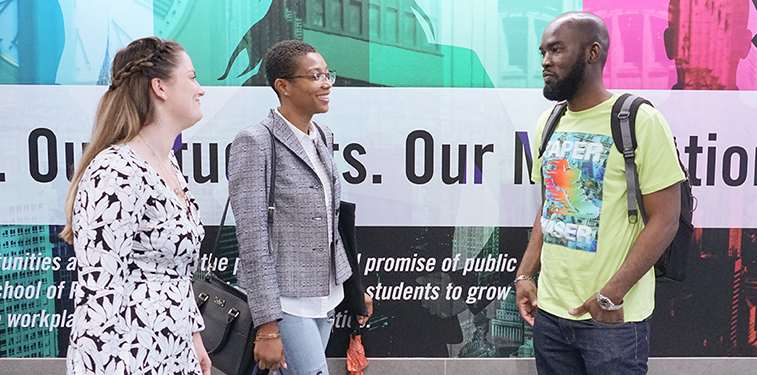 // Check if we have a right sidebar. ?>
Note: Applicants who submit their application by the Fall 2023 Priority Deadline, April 6, 2023, will be able to submit without being required to pay an application fee.
Students looking to complete their graduate education at the CUNY School of Professional Studies should apply directly online. This site includes instructions for creating a user account and completing the application. If at any time you need assistance, please don't hesitate to contact the Office of Admissions at admissions@sps.cuny.edu or (212) 652-2869.
Applicants for master's degree programs must have earned a bachelor's degree from a regionally accredited institution, with a GPA of 3.0 or better to qualify for admission.
Applicants are required to submit official transcripts from all colleges and universities attended. Applicants are also required to write a personal statement, upload a resume and provide two letters of recommendation. Letters of recommendation may be submitted before or after submitting the application. Applicants who meet the basic eligibility criteria may be asked to take part in an individual interview before final acceptance is determined. In some cases, a phone conversation may take place in lieu of an in-person interview. Please take time to review the CUNY School of Professional Studies' admission policies.
This will take you to the CUNY School of Professional Studies's online application website. This site includes instructions for creating a user account and completing the application - See more at: https://10.24.1.36/admission/how-apply/graduate-students/steps-apply-graduate-students#sthash.NqaQ46tH.dpufThis will take you to the CUNY School of Professional Studies's online application website. This site includes instructions for creating a user account and completing the application - See more at: https://10.24.1.36/admission/how-apply/graduate-students/steps-apply-graduate-students#sthash.NqaQ46tH.dpuf