You are here
Winter Session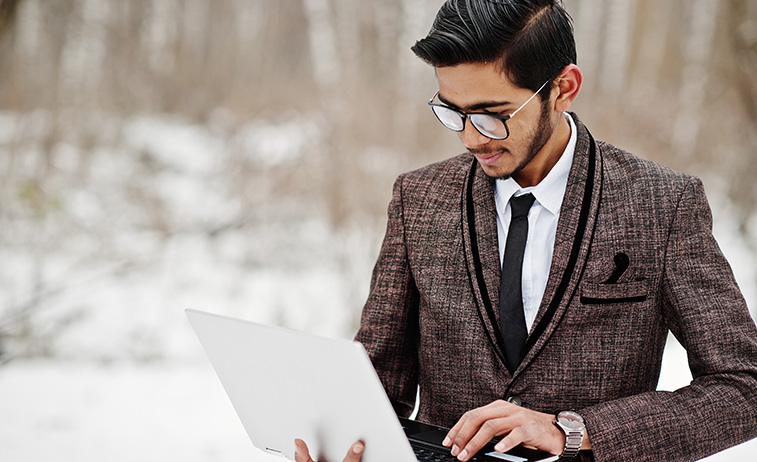 // Check if we have a right sidebar. ?>
Earn 3 credits in 3 weeks
Winter Session Dates: January 3 - January 24, 2023
Each winter, the CUNY School of Professional Studies offers a variety of online classes that provide current and visiting students the opportunity to get ahead in their studies during winter break.
October 11: Registration Opens
December 22: ePermit deadline for CUNY students
January 3: Last day to add a class
CUNY SPS 2023 Winter Session Online Classes
Classes that fill Common Core or CUNY SPS College Option requirements are noted in the course descriptions with an asterisk*.
[collapsed title="BUS 200 - Introduction to Business"](3 Credits) Prerequisite: None
The purpose of this survey course is to develop a fundamental understanding of the role of business in society, providing valuable exposure to the major functional areas of business: the global business arena, management, finance, accounting, and marketing. Note that this course is intended for non-business majors, as the first course in any business minor (for non-business majors), for students whose major is undecided but who have not yet taken business courses, or to give business elective transfer credit for a similar course taken elsewhere prior to study at the CUNY School of Professional Studies.[/collapsed]
[collapsed title="BUS 315 - Principles of Marketing"](3 Credits) Prerequisite: None
This survey course explores the various environments in which contemporary marketers operate, including the online digital world of e-marketing, and the problems and practices related to the planning of marketing strategies in the exchange process. Students learn how successful marketers focus on domestic and global market opportunities while being sensitive to cultural differences, including ethical and socially responsible decision-making, while focusing on issues of quality and technological change.[/collapsed]
[collapsed title="BUS 320 - Principles of Management"](3 Credits) Prerequisite: None
The purpose of the course is to develop an understanding of the four functions of management (planning, organizing, leading, and controlling) in today's rapidly-changing global environment. The course will emphasize the importance of effective and socially responsible management for all types of organizations. At the end of the course, students will understand the contribution of management process and the role of the manager at all levels of the organization.[/collapsed]
[collapsed title="BUS 321 - Human Resource Management"](3 Credits) Prerequisite: None
Human Resources Management (HRM) bridges policies that impact human behavior with those that drive business strategy to make the most of an organization's human capital. HRM includes the functions of recruitment and selection, employment law, training, career development, labor relations, equal employment opportunity (EEO), affirmative action, performance management, health and safety, compensation, and benefits management. Through exposure to a broad range of topics, students are prepared to deal with a variety of issues that may be encountered in careers such as that of an HR manager or team leader. An overview of HR Information Systems is included.[/collapsed]
[collapsed title="BUS 332 - Electronic Commerce"](3 Credits) Prerequisite: BUS 315 or BUS 325
This course introduces students to the fundamental concepts of e-commerce from both a business and technical standpoint. Students learn about the history of e-commerce, including the development of the Internet and the World Wide Web, its impact on the business world and various approaches to creating e-commerce solutions utilizing tools and strategies such as Internet advertising and marketing and the legal and security issues critical to the success of any e-commerce venture[/collapsed]
[collapsed title="BUS 335 - Operations Management"](3 Credits) Prerequisite: CIS 101 or IS 200 and BUS 310 or MATH 215 or other approved statistics course
The course focuses on solving common operations and production management problems faced by business decision-makers. Use of the computer for solving operations management problems will be stressed. Topics covered include decision theory, project scheduling, linear programming, forecasting, inventory control, queuing models, simulation, and quality control. The course will stress the importance of integrating business decision making with corporate social responsibility.[/collapsed]
[collapsed title="ECO 202 - Macroeconomics"](3 Credits) Prerequisite: None
This course is a study of factors determining national output, income, employment, and prices; the impact of government spending, taxation, and monetary policy; the banking system; economic growth; and international trade.[/collapsed]
[collapsed title="CM 203 - Introduction to Communications & Media"](3 Credits) Prerequisite: None
Introduces the theories and concepts of communication. Examines the evolution of different forms of media and current media issues. Considers the impact of media and information technology. Analyzes how gender, class, sexuality, ethnicity and race shape and are shaped by visual culture.[/collapsed]
[collapsed title="CM 314 - Film and Television"](3 Credits) Prerequisite: Any 200 level Communication and Media course
Examines methods for analyzing film and television. Introduces the elements of film form and the language of film studies. Outlines a variety of broad theoretical frameworks and critical methods used in qualitative media criticism.[/collapsed]
[collapsed title="IS 205 - IT Infrastructure and Support"](3 Credits) Prerequisite: None
Computer system downtime raises the costs of doing business and lowers productivity. For technology vendors, good customer support is a driver of sales. This introductory course builds on the foundational skills needed by computer desktop support personnel. A particular emphasis is placed on helping the student to build the technical skills required to take the CompTIA A+ certification exams, which include the ability to install, build, upgrade, repair, configure, optimize, and maintain computer and mobile systems. The course also prepares students to support popular software applications. Designed for individuals with minimal technical understanding of computer hardware, software, networks, processes, and portable devices, students learn these essentials for helpdesk management. Simulations are used to provide hands-on experience.[/collapsed]
[collapsed title="IS 250 - Computer and Network Security"](3 Credits) Prerequisite: IS 200 or BUS 325 and CIS 101
In an increasingly networked world, computer security, which consists of the practices and policies intended to prevent and monitor unauthorized access, misuse, modification, or denial of a computer or network, is more critical than ever. This introductory course provides a general overview of various computer and network security topics and concepts, including standards and protocols, cryptography, network- and infrastructure-level security, authentication and remote access considerations, securing wireless networks, identifying tools for security management and threat abatement, the role of change management, user security awareness, business continuity planning, privacy rights, and security, legal issues and challenges, and computer forensics. Students explore fundamental concepts associated with security planning and design, security risk analysis and mitigation, and security operational considerations. Particular emphasis is placed on understanding methods and techniques for risk assessment and risk mitigation.[/collapsed]
[collapsed title="IS 326 - E-Commerce for IS"](3 Credits) Prerequisite: IS 200 or BUS 325 and CIS 101
The Internet and an assortment of information technologies have led to the development and continuing evolution of electronic commerce (e-commerce), which has revolutionized the way people, organizations, and governments interact with each other. This course approaches the study of e-commerce strategies, operations, workflows, and technologies from a value-creating perspective. Through lectures, case studies, and hands-on projects, students develop an understanding of the special characteristics that identify the similarities and differences between e-commerce and other forms of commerce, such as hybridized models. Students develop a conceptual foundation to help them identify and evaluate new trends, innovative business opportunities, and the potential impacts to various industries, as well as the fundamental technological structures required for implementation. In addition, students learn to assess the potential limitations, issues, and risks associated with various e-commerce initiatives. For IS majors, students must produce an e-commerce solution, either using off-the-shelf tools or by coding a complete solution.[/collapsed]
[collapsed title="DSAB 234 - Mad People's History"](3 Credits) Prerequisite: None
This course is offered from the perspective of those who have been coined as mad, crazy or mentally ill. The importance of narrative expressions are reviewed in order to educate the student how Mad People's encounters with unconventional thoughts and behaviors are viewed by society as odd, unusual or peculiar. Their personal experiences and challenges with stigma, stereotypes, prejudice, oppression, discrimination, and lack of inclusion are examined from the early history of abuse and institutionalization, to current societal beliefs. The impact of Mad People simultaneously living with individual psychological factors, which are perceived as out of the ordinary, and the general public's misunderstandings are evaluated. The need to utilize personal stories to impact current and future perceptions, treatment and human dignity are explored.[/collapsed]
[collapsed title="DSAB 242 - Disability and Mass Media"](3 Credits) Prerequisite: None
This course will explore how the public views disabled individuals, and how they view themselves. Students will learn to analyze how disability is portrayed in journalism, photography, film, comic art, advertising and the Internet. The impact of stigma on mass media imagery and representation will be explored. A major emphasis of this course will be the use of social media and other online platforms and their effect on disabled individuals, their construction of identity, and self-representation.[/collapsed]
[collapsed title="AMER 200 - American History and Culture*"](3 Credits) Prerequisite: None
Explores race, class, and gender in American history and culture. Secondary source material by scholars of American Studies and primary source materials in a variety of genres, including music, poetry, art, and material culture, convey the ways in which American culture has been shaped by and has helped to shape ideas of race, class, and gender.[/collapsed]
[collapsed title="ART 210 - Modern Art in the City*"](3 Credits) Prerequisite: None
Introduces students to 20th and early 21st century visual arts. Examines the biographies of artists and their cultural settings, and explores the products of creative expression as they have been realized through the eyes of painters, photographers, sculptors and architects. [/collapsed]
[collapsed title="ECO 201 - Microeconomics*"](3 Credits) Prerequisite: None
An investigation of the microeconomy as seen through the eyes of the individual consumer and firm. Economic concepts, including profits, employment and resources via supply and demand, elasticity, utility, costs, and market structures are applied to significant contemporary economics problems.[/collapsed]
[collapsed title="ENG 211 - World Literature*"](3 Credits) Prerequisite: None
Explores a selection of global literary works from antiquity to the present. Analyzes complete texts and extracts or episodes from texts that reference or connect literary traditions across time and cultures.[/collapsed]
[collapsed title="FLM 307 - Film Literacies - Communicating Culture Through Film*"](3 Credits) Prerequisite: None
Introduces the discipline of film studies. Analyzes a nation's culture and social history through its film. Assesses the impact that historical events, and social, cultural and political movements had on a nation's cinematic expression. Evaluates the work of individual directors and explores the ways that they translated their perceptions and experiences into film.[/collapsed]
[collapsed title="MATH 215 - Introduction to Statistics*"](3 Credits) Prerequisite: None
Introduces the basic principles of statistics and probability, with an emphasis on understanding the underlying concepts, real-world applications, and the underlying story that the numbers tell. Uses Microsoft Excel's statistical functions to analyze data. Provides an introduction to probability, descriptive statistics, hypothesis testing, and inferential statistics.[/collapsed]
[collapsed title="MUS 101 - Music Appreciation*"](3 Credits) Prerequisite: None
Introduces the study of music's fundamental elements, forms, styles, and genres. Analyzes the historical development of music – its social impacts and influences on various cultural aspects. Considers how musicians use art to portray, criticize, and transform their societies. Requires the recognition of selected works, styles, and musical forms though perceptive, active listening. [/collapsed]
[collapsed title="PHIL 110 - Critical Thinking*"](3 Credits) Prerequisite: None
Focuses on the techniques of rational inference and analytical judgment. These include the study of informal logic (arguing cogently and recognizing common informal fallacies), formal patterns of reasoning (syllogistic and propositional logic), and some distinctive analytical methods used in scientific and professional disciplines. Provides students with the competencies that are requisite to successful career growth and life-long learning.[/collapsed]
[collapsed title="SPAN 101 - Beginning Spanish I*"](3 Credits) Prerequisite: None
This course in conjunction with SPAN 102 provides a thorough grounding in Spanish grammar and vocabulary, including intensive practice in speaking and listening through the use of audio-video resources. A microphone and speakers (or a headset) and a web camera to interact online with the instructor and to record individual, pair, and group work are required.[/collapsed]
[collapsed title="NURS 302 - Health Teaching"](3 Credits) Prerequisite: NURS 300
This course is designed to explore the role of the professional nurse as an educator for a population with a specific health problem within a community. Education theory, evidence-based teaching strategies, and the use of appropriate interventions for culturally diverse or at-risk populations will be discussed. A teaching plan will be developed using a patient population of the student's choice.[/collapsed]
[collapsed title="NURS 314 - Case Mgmt Health Services"](3 Credits) Prerequisite: None
Case management is a collaborative process that assesses, plans, implements, coordinates, monitors, and evaluates the options and services required to meet the client's health and human service needs. It is characterized by advocacy, communication, and resource management and promotes quality and cost-effective interventions and outcomes. In this course students will learn the essentials of case management and develop skills necessary to become an effective case manager.[/collapsed]
[collapsed title="NURS 461 - Global Health and Policy Issues: A Nursing Perspective"](3 Credits) Prerequisite: NURS 303
This course will enhance students' knowledge of the ongoing changes in health care and policy development including discussion and analysis of issues related to health care around the world. Discussion will be related to health care access, disparities, and human rights. The course will look at ways of promoting access, especially for the most vulnerable individuals and groups in society. Global nursing outreach organizations will also be explored.[/collapsed]
[collapsed title="PSY 101 - General Psychology*"](3 Credits) Prerequisite: None
This course examines behavior and mental processes. Topics include research methods, biological bases of brain and mind, sensation-perception, sleep and states of consciousness, learning and memory, development, cognition-intelligence, motivation-emotion, personality, abnormal psychology, and social psychology. The focus is on findings and principles related to everyday life.[/collapsed]
[collapsed title="PSY 210 - Biological Bases of Behavior"](3 Credits) Prerequisite: PSY 101
This course will introduce the biological structures and processes that provide the foundation for human behavior including: brain cell processes, neurotransmitters and chemical circuits, embryogenesis, sensory-motor processes, gender differentiation, and neurocognition. Behavioral effects of psychoactive drugs will also be included, along with issues of drug abuse and dependency.[/collapsed]
[collapsed title="PSY 220 - Developmental Psychology"](3 Credits) Prerequisite: PSY 101
This course examines the physical, perceptual, motor, cognitive, emotional, and social developments that interact across the lifespan to determine psychological functioning. Prominent theories relevant to lifespan development will be examined. Case studies will be used to illustrate individual and cultural differences and similarities in psychological development.[/collapsed]
[collapsed title="PSY 360 - Abnormal Psychology"](3 Credits) Prerequisite: PSY 101
Analysis of the characteristics of various psychological disorders, along with their origins and diagnoses, including anxiety disorders, dissociative and personal disorders, mood disorders and schizophrenia will be the focus of this course. Different theoretical perspectives on psychological disorders and their implications for treatment will be compared.[/collapsed]
[collapsed title="RM 201 - Introduction to Research Methods"](3 Credits) Prerequisite: None
This course provides an introduction to research approaches characteristic of the social and behavioral sciences. These involve observations of behavior and other strategies that result in descriptive accounts, including field studies, content analysis, and surveys. Statistical methods for analyzing descriptive data, including measures of central tendency and variability and graphing will be included, along with questions about validity and research ethics. The course engages students in the planning, conducting, reporting and evaluation of research.[/collapsed]
[collapsed title="SOC 260 - Food & Society"](3 Credits) Prerequisite: None
This course uses the theoretical and methodological tools of sociology to explore issues of food: what we eat, who consumes it and how it is created. Students will explore how the ways our food is produced, marketed, distributed and consumed affect health and living. Students will meet the objectives of the course by completing of discussion boards for each of six units and a final paper analyzing a meal in terms of course concerns[/collapsed]
[collapsed title="SOC 350 - Sociology of Deviance"](3 Credits) Prerequisite: None
This course will introduce students to the major ideas and issues in a sociological approach to deviance, including how deviance is defined, the roles of power and social order, the process of deviant identity construction and management, the social implications of deviance, and a critical explanation of theoretical approaches to social deviance.[/collapsed]
[collapsed title="YS 615 - Community and Youth Organizing"](3 Credits) Prerequisite: None
This course gives a historic and contemporary analysis of community and youth organizing models in social change movements. Students will gain an understanding of what community and youth organizing is; articulate its value and purpose; roles of an organizer at different phases of a project; explore strategies, introduction of skills (consensus building, listening sessions, needs and asset mapping, etc.), activities and tactics of organizing; identify their own strengths and challenges; and think about evaluation and social justice marketing. This course will incorporate case studies of contemporary activist movements (both local and national), talks from prominent activist-scholars, skill-building workshops, and online engagement. Students will be asked to think deeply about the intersections of race, class, gender, sexual orientation, religion and (dis)ability as it impacts organizing as well as consider how the current socio-political context is influencing youth and community organizing efforts.[/collapsed]
*Please note that courses offerings are subject to change. For the most current information, CUNY SPS students should check CUNYfirst. Nondegree students should follow these instructions to utilize CUNYfirst Global Search.
Registration
Tuition and Payment
Financial Aid
CUNY SPS undergraduate degree students may qualify for federal aid. View Winter Session Financial Aid Options (PDF).
Please contact the Office of Financial Aid with any questions.
Email: financialaid@sps.cuny.edu
Phone: (646) 664-8720
Virtual appointment: Follow the instructions to schedule an appointment at CUNY SPS Navigate.