Laura Cabochan
MA in Applied Theatre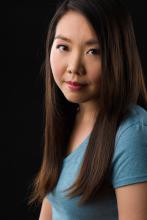 "If you have something to say, the program would listen…working beyond cultural barriers is very very interesting to me…here, [I] was different, and ah, it's okay."
Laura Cabochan ('17) is on her way to the photocopier at the CUNY Creative Arts Team (CAT). She is wearing a blue A-line skirt and an Ender's Game book-cover T-shirt. She is looking down, singing a song from a musical, and filling the hall with her voice.
In 2010, Laura graduated from Ataneo De Manila University, Summa Cum Laude. She started a theatre company with her classmates. The company limped from borrowed space to borrowed space while Laura made a living translating and dubbing Korean dramas and animes and teaching as an adjunct at the University.
At first, Laura taught to support her theatre. However, she began to experiment. She was struck that her students were inspired and grateful for the opportunity for a new life but also fearful and resentful of grades. In response, Laura began negotiating grades with the students.
"It was there that I began to see that I can bend things in the classroom. There aren't hard and fast rules."
While she taught, Laura's mentors challenged her to get training abroad. Laura won a prestigious Fulbright Award and applied to join the MA in Applied Theatre at the CUNY School of Professional Studies (CUNY SPS). She then won the CUNY CAT/SPS Apprenticeship for Diversity in Applied Theatre. In the Apprenticeship now, Laura studies and supports the work of the Creative Arts Team's Early Learning Program.
Laura has created an immersive drama with New York City high school students, learned interactive storytelling techniques for preschoolers, and created original theatre with her classmates.
Reflecting on her completed semester, Laura is especially struck by the cultural experience. "When I first started, I was nervous. Why would anyone listen to this Asian kid? Surprisingly enough, the program helps with that. If you have something to say, the program would listen…working beyond cultural barriers is very very interesting to me…here, [I] was different, and ah, it's okay."