You are here
Ah-Keisha McCans
Course Instructor, Thesis Advisor, and Applied Theatre & Racial Justice Conference Planning Team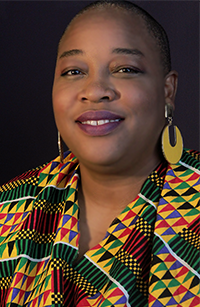 Contact
Ah-Keisha is the founder of Whole Body Literacy & Education, Inc. (WHBLE) and an applied theatre practitioner who specializes in organizational culture, institutional justice, and culturally responsive program design. She is an award-winning songwriter and playwright, speaker, curriculum designer, arts, history, and literacy researcher, and culture and systems impact consultant. Ah-Keisha holds a BFA in Creative Writing from Goddard College, and graduated from the University of Pennsylvania with a MS Ed in Reading, Writing, Literacy. A Mosi Endowed Scholarship recipient, Ah-Keisha also received an award for her "Outstanding Service to Research'' by Penn's Graduate School of Education.
Before delving more deeply into education, Ah-Keisha was co-artistic director of a theatre company based in Harlem, and later founding project director of an arts and stem program centering gender equity in the music industry. An advocate for diversity, equity, and inclusion, Ah-Keisha has facilitated professional development workshops and community-building partnerships in K-12 public and independent schools, colleges/universities, corporate/non-profit organizations, as well as in mental health and rehabilitation centers. Ah-Keisha has worn many hats in education including that of scholar, artist, theatre educator, library media specialist, writing teacher, student advisor, and mother of four.
Ah-Keisha is host of WHBLE's podcast "Education as Liberation" now streaming on Anchor and wherever you get your podcasts. Her debut children's book Pots will be released Spring 2022.