You are here
Veterans
The CUNY School of Professional Studies (CUNY SPS) is proud to welcome veterans to our academic community.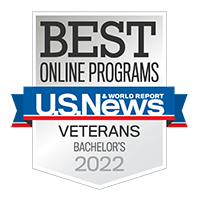 CUNY SPS is ranked #5 in the nation on U.S. News & World Report's list of 2023's Best Online Bachelor's Programs for Veterans. Of the institutions ranked, CUNY SPS is the highest listed in New York State and New York City.
New Opportunity for Full Scholarship
August 16, 2021 -- The CUNY School of Professional Studies (CUNY SPS) is pleased to announce the launch of the CUNY SPS U.S. Military Bachelor's Degree Completion Scholarship. Offered to eligible active duty and reserve military students, the scholarship will provide undergraduate students with partial financial assistance for their cost of attending college.
"We are very excited to offer a new scholarship that will help our brave and dedicated servicemembers earn their bachelor's degree without paying a penny themselves," said Jennifer Grace Lee, associate dean of enrollment management and student services at CUNY SPS, who helped develop this scholarship. "In keeping with the Department of Defense (DoD) mission of providing support for the professional and personal self-development goals of servicemembers, CUNY SPS will now be able to further help those who serve our country by covering any remaining educational costs—including any outstanding tuition, books and materials, and school fees—so that they may graduate debt free."
The scholarship will be offered to those students who participate in the DoD Tuition Assistance program, which covers tuition for all servicemembers who enroll in off-duty voluntary education from accredited institutions. The DoD pays up to $250 per semester hour, leaving the student to settle the remaining balance; the CUNY SPS scholarship will help bridge that gap by providing eligible students with supplementary funds to pay for any out-of-pocket balance from tuition and other school fees.
To be eligible for the scholarship, students must be enrolled in a minimum of 3 or more credits each semester and maintain a 2.0 GPA. The scholarship will be awarded and retained throughout the student's undergraduate studies, and can be applied to the Fall and Spring semesters, as well as the Winter term and Summer sessions.
Interested students may apply online through the CUNY SPS Office of Scholarships. Awardees will also be strongly encouraged to participate in events designed to build community among military and veteran students attending CUNY SPS.
This scholarship is the latest effort made by CUNY SPS to address the needs of military and veteran students by providing funding assistance and hands-on support, for which the School has gained nationwide recognition. Most recently, CUNY SPS was ranked #6 in the nation on U.S. News & World Report's list of 2021 Best Online Bachelor's Programs for Veterans and has earned a Military Friendly® School Silver Award for 2021-2022 from the website MilitaryFriendly.com.
To learn more, visit the CUNY SPS Scholarships page.
Applicant Fee Waiver
Applicants who are veterans of the United States Military Service, currently on Active Duty or members of the National Guard or Reserves may obtain an application fee waiver by following a few easy steps.
Applicants who are applying to an undergraduate degree program and need to obtain a military transcript should visit the Joint Services Transcript website and request that a transcript be emailed electronically to the Office of Admissions.
If you have questions about the services we provide to veterans at CUNY SPS, please contact:
Christopher Leydon
Coordinator of Military & Veteran Services
(646) 664-8619
// Check if we have a right sidebar. ?>