Project Rwanda: Drama and Theatre Education for Reconciliation and Development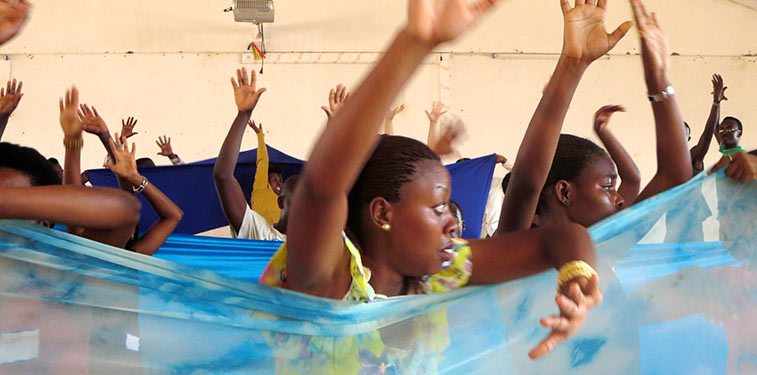 Sponsored through the Master of Arts in Applied Theatre at the CUNY School of Professional Studies and in partnership with the Kigali Institute of Education, Project Rwanda: Drama and Theatre Education for Reconciliation and Development is a multi-year program whereby faculty and students from the Master of Arts in Applied Theatre travel to Rwanda to work with Rwandan students and teachers in acquiring interactive, applied theatre skills. Formed in 2010, the goals of Project Rwanda are to develop the use of theatre and drama strategies as educational tools to help promote unity and reconciliation among Rwandans, and to create job opportunities in Rwanda by building applied theatre troops; first in schools and colleges, and later in the professional, cultural milieu. The Project Rwanda Blog documents prior and current study aboard trips taken by our students and faculty.
Embarking in July 2017, CUNY SPS students will participate in the sixth year of Project Rwanda. During the trip, students will explore the principles and practices of designing and implementing an interventionist model of theatre for development (TfD), specifically focused on pre-service teacher training at the University of Rwanda, College of Education. Their study and work will include:
Researching the historical and contemporary cultural and political background of the host country and communities
Conducting asset and needs assessments with participating organizations and individual participants
Exploring the challenges of building partnerships to work successfully across differences of race, culture, and language
Implementing theatre workshops with UR students to demonstrate a range of applied theatre conventions and strategies
Supporting UR students to create and implement their own models of practice
Working alongside UR students to share cultural practices and perspectives on the work
Participation with UR students as co-creators, actors, and facilitators in jointly devised, original work.
The 2017 project team will be led by Professors Helen White and Christopher Vine. Fourteen 14 students from the M.A. in Applied Theatre program will participate in this study abroad program. Coordination of the project in Rwanda will once more be assumed by Jean de Dieu Musayidizi, Head of Drama for the Rwandan Broadcasting Agency (RBA) and UR adjunct faculty, and Léon Mugabe (Faculty of Education), working in consort with Dr. Ahimana, the Head of Department of Humanities and Language Education, and Dr. Niyomugabo, Dean of School, University of Rwanda, College of Education.
Learn more about prior Rwanda trips by reading summaries from years one through five.