Bachelor of Arts in Psychology
Format: Online
Application Deadlines
Fall 2023 Priority Deadline: April 3, 2023
Fall 2023 Regular Deadline: June 20, 2023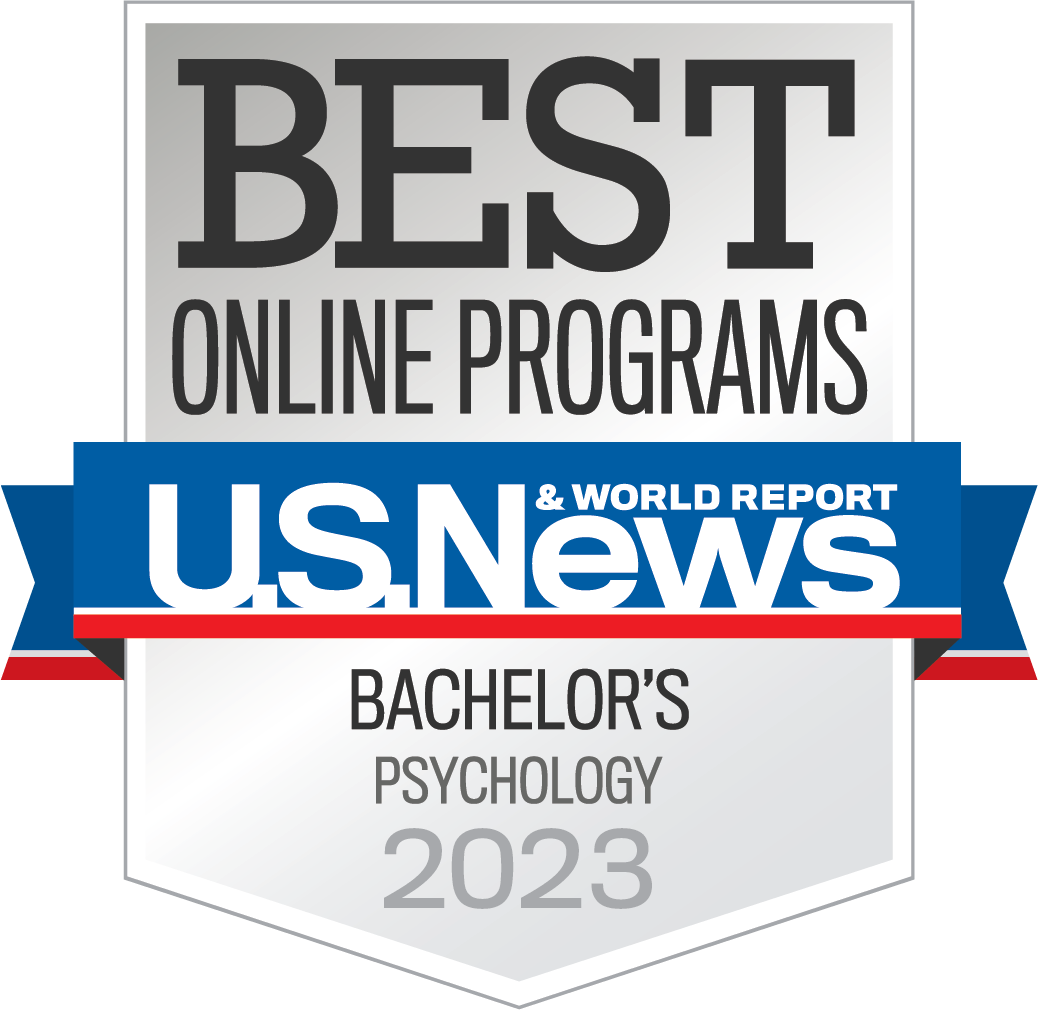 The BA in Psychology online degree program focuses on investigating why people think, behave, and feel the ways they do. Throughout the program, students gain a solid foundation in motivation, learning, social behavior, and development across the life span. Students learn how to conduct research, interpret behavioral situations, and communicate effectively while developing sociocultural and international awareness, and competencies in information and technological literacy.
The program's fully online format separates it from other psychology programs, allowing students to read course materials, participate in class discussions, and complete assignments on a more flexible schedule.
Students select one of three tracks for their advanced coursework:
Organizational Psychology, Psychological Development, or Psychopathology
Consistent with the American Psychological Association's educational goals, the BA in Psychology enables students to:
Acquire a robust knowledge base including familiarity with the major concepts, content domains, theoretical perspectives, empirical findings, and historical trends in the field of psychology
Apply basic research methods in psychology, including design, data analysis, and interpretation
Use critical and creative thinking, skeptical inquiry, and the scientific approach to solve problems related to behavior and mental processes
Administer psychological principles to personal, social, and organizational issues at the local, national, and global levels.
Students also develop competencies in information and technological literacy, communication skills, sociocultural and international awareness, personal development, and career planning and development.
General education courses complement this specialized study and emphasize critical thinking, quantitative reasoning, effective communication, and an exploration of the foundations of knowledge and culture.
Career and Academic Prospects
The BA in Psychology program is an excellent foundation for a variety of careers including those in human and social services, management and business, marketing and market research, health care, and government. This program also offers the essential knowledge and training typically required for admission to graduate programs in psychology. Students interested in graduate professional programs in the law, international development, and administration will benefit from the program's strong emphasis on critical thinking, ethics, and multiculturalism.
Articulation Agreements
Articulation agreements are formal agreements between CUNY School of Professional Studies, (CUNY SPS) and two-year colleges and universities, allowing students to transfer the maximum number of credits with ease to our BA in Psychology program from institutions with which we have an established transfer process in place.
Scholarship Opportunities
Meet Some of Our Faculty
Admissions Criteria
Applicants must possess at least 24 transferrable credits from an accredited institution with a minimum GPA of 2.5 on a 4.0 scale. Applicants need to demonstrate basic proficiency in reading, writing, and math.
Application Deadlines
Fall 2023 Priority Deadline: April 3, 2023
Fall 2023 Regular Deadline: June 20, 2023
Apply Now
Recent News About Bachelor of Arts in Psychology