Latest Installments of First-Gen Student Series Provide Career Toolbox And Guidance from Professors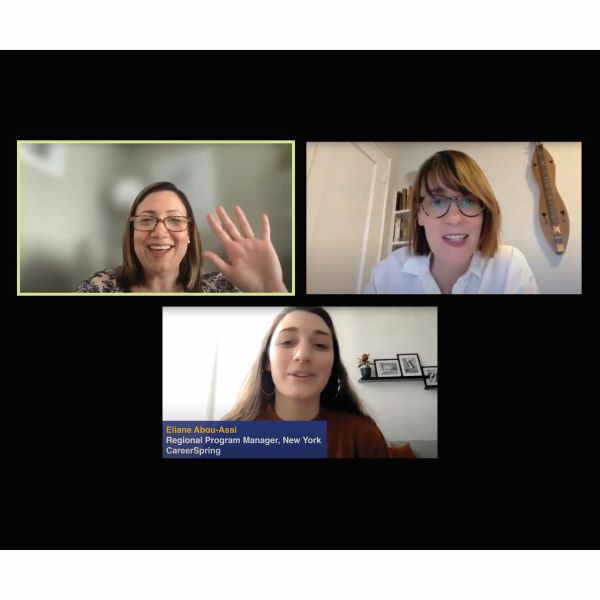 The First-Generation Student Success Series, a program geared to helping first-generation college students at the CUNY School of Professional Studies (CUNY SPS) navigate academia, hosted two new webinars for the Spring 2023 semester.
While specifically designed for first-generation students, the series' developers Dr. Carla Marquez-Lewis (academic director of the psychology programs) and Dr. Elizabeth Alsop (assistant professor in the communication and media program) created the series with the idea that all students can benefit from this informative suite of events. Through the series, the professors aim to demystify academia's "hidden curriculum" of procedures that can sometimes be so demoralizing for students. 
Since its inception in Fall 2021, Dr. Marquez-Lewis and Dr. Alsop have been developing two unique activities each semester to address these concerns. Now in the latter half of its second year, the Spring semester virtual meet-ups were planned as "lunch and learn" segments to help accommodate working students' busy schedules.
The first event, Career Planning Tools Designed for First-Generation Students, was held on March 9. During the webinar, the featured guest speaker, Eliane Abou-Assi from CareerSpring, described how her organization could support CUNY SPS' first-generation students with its designated non-profit platform for networking and job placement. 
Abou-Assi detailed CareerSpring's numerous employment-related services, including video libraries, advisors, and job placement. As a special bonus, students were encouraged to create a profile on the platform during the webcast. While a number of students signed up for CareerSpring, Abou-Assi talked them through its functionality so that they could start benefiting from the resources right away. 
Afterwards, Abou-Assi remarked on how pleased she was with the outcome. "Presenting to the first-generation students at CUNY SPS as a part of their First-Gen Series was a pleasure," said Abou-Assi. "It was fantastic to hear about each student's ambitions and goals."
The second webinar First-Generation Student to Faculty Member: Advice, Insights, and Success Stories, held on April 20, gathered a panel of CUNY SPS professors who were once first-generation students themselves. Several CUNY SPS academic programs were represented: Dr. Joseph Foy and Dr. Herbert Sherman from the business program; Dr. Chelsea Hansen, Dr. Kelly Rabenstein, and Dr. Leighann Starkey from the psychology program; and Dr. Angela Francis, assistant dean of general education and first year experience. The discussion centered around the instructor's inspiring stories and their insightful tips for students.
In one especially moving person story, Dr. Hansen spoke about some of the difficulties she experienced as an undergraduate. "I found the process of going to college and being on a campus interacting with professors really intimidating. My father had an eighth-grade education, and my mom had a ninth-grade education," she shared. "I grew up with a completely different background than most of my classmates. A lot of times, faculty can assume that it's a level playing field. But it isn't. We all come from such different backgrounds and experiences." 
After the event, Dr. Starkey shared her thoughts on the impact of the roundtable. "I always find it cathartic to speak with other first-gen students about our experiences. I definitely teared up while I was listening to the other panelists," said Dr. Starkey. "This issue is so core to who I am as a person today, and I didn't even realize the gravity of it when I was going through it...I really hope that students watching the panel felt validated and were able to take away something to help them navigate their own journey."
Recordings of these events can be viewed on the CUNY SPS YouTube channel and the First-Generation YouTube playlist. 
Looking ahead, Dr. Alsop and Dr. Marquez-Lewis have new exciting programs planned for the Fall 2023 semester. Details to be announced soon on the CUNY SPS events calendar.
CUNY SPS has also created a special annual scholarship for first-generation students. Please visit our scholarship page for further information and application requirements.
About the CUNY School of Professional Studies
As New York's leading online school since 2006, the CUNY School of Professional Studies (CUNY SPS) offers the most online bachelor's and master's degree options at the City University of New York, and serves as the University's first undergraduate all-transfer college. With 26 degrees and numerous other non-degree and grant-funded workplace learning programs, CUNY SPS meets the needs of adults who wish to finish a bachelor's degree, progress from an associate's degree, earn a master's degree or certificate in a specialized field, and advance in the workplace or change careers. Consistently ranked highly by U.S. News & World Report for its online offerings, CUNY SPS has emerged as a nationwide leader in online education. The School's renowned and affordable online programs ensure that busy working adults may fulfill their educational goals on their own time and schedule.
Press Contact
Andrea Fagon
Chief Marketing and Communications Officer
andrea.fagon@cuny.edu