First-Generation Student Series Kicks Off Second Year With College Success Tips and Mentoring Advice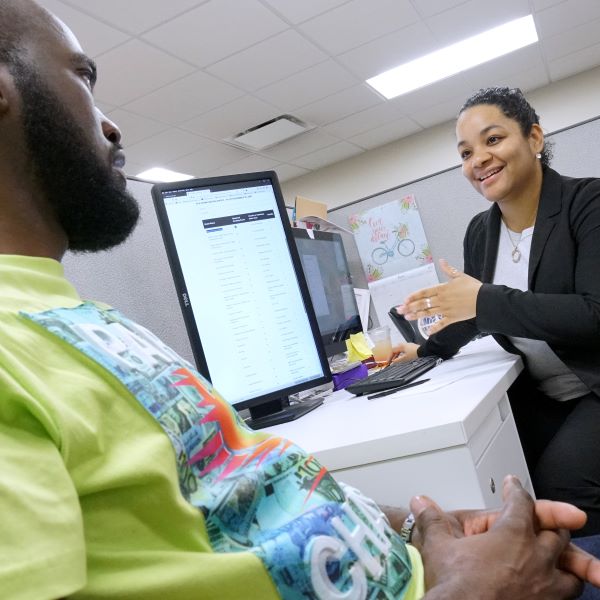 In a second year of programming designed to address the needs of first-generation college students, the CUNY School of Professional Studies (CUNY SPS) offered two online events during the Fall 2022 semester.
Organized and moderated by Dr. Carla Marquez-Lewis (academic director of the CUNY SPS psychology programs) and Dr. Elizabeth Alsop (academic director of the CUNY SPS communication & media program) as part of the First-Generation Student Success Series, the events aimed to provide first-generation college students with information and tools to navigate the CUNY system (and education in general), which is often unfamiliar and full of barriers.
In a reprise of the 2021 event, Dr. Marquez-Lewis and Dr. Alsop presented Navigating Academia for First Generation Students earlier this fall. During this online conversation, they explored the myriad hurdles first-generation college students deal with throughout their college careers and offered strategies and tools for successfully tackling them.
Throughout their presentation, Dr. Marquez-Lewis and Dr. Alsop touched upon topics like words or phrases first generation students may not know, how to address their professors, skills or services they may not be aware of, the importance of networking with other students, time management, self-care, and imposter syndrome.
As she concluded her talk, Dr. Marquez-Lewis urged students to claim their right to be in school. "The goal is really to think not in terms of things that you lack because you're a first-generation student but to understand that you also bring unique experiences and you bring something to the table that people don't have, which is you and your background. I always say to my students—especially my students who are first-gen or minority—we need your voice and your experience so that you can then reach a hand back and help other people like you," said Dr. Marquez-Lewis. "I think the last thing I'll just say is you belong here… You deserve to be here and if you need somebody to remind you of that reach out to any of us and we'll give you the little boost that you need."
Dr. Alsop, while discussing her experiences teaching academic writing to first-generation students, echoed this sentiment. She noted, "This comes back to Dr. Marquez-Lewis's point about really needing those voices. They enrich the classroom, they enrich our society, they enrich our world…We want to encourage you to find spaces and ways to bring the pieces of yourself that feel authentic to your work and your own voice."
Later this fall, the organizers hosted a second webinar, The Importance of Mentors for First Generation College Students, featuring Dr. Bonnie Oglensky, academic director for the CUNY SPS Sociology and Human Relations programs and author of the book Ambivalence in Mentorship.
During her talk, Dr. Oglensky discussed how mentors may play an important role for first generation college students, both within academia and beyond. She also focused on the importance of mentors, how to find a mentor, and even some of the downsides or pitfalls to mentor/mentee relationships (and how to navigate these when they occur).
One main theme Dr. Oglensky stressed throughout her talk was the idea that mentors may provide first-generation students with both practical advice and psychological support. She explained, "Being first generation, you may not have grown up with the experiences that help you guide your expectations about your college or career, or realize that you have choices that can help you advance towards your career goals." She continued, "[Talking to] your professor or advisor will not only help you learn about resources and perks at college, but also can move into a conversation about what you are interested in developing and the psychological challenges that you and other first-generation students often face."
Her presentation was followed by a Q&A, in which attendees weighed in with questions that included how to ask someone to be your mentor, good qualities to look for in a mentor, and some possible pitfalls of mentoring.
Recordings of these events and others in the first-generation student series are available here. For more information on the series, email the organizers at firstgen@sps.cuny.edu.
About the CUNY School of Professional Studies
As New York's leader in online education since 2006, the CUNY School of Professional Studies (CUNY SPS) offers the most online bachelor's and master's degree options at the City University of New York, and serves as the University's only undergraduate all-transfer college. With 26 degrees and numerous other non-degree and grant-funded workplace learning programs, CUNY SPS meets the needs of adults who wish to finish a bachelor's degree, progress from an associate's degree, earn a master's degree or certificate in a specialized field, and advance in the workplace or change careers. Consistently ranked highly by U.S. News & World Report for its online offerings, and noted for its soaring growth and enrollment, CUNY SPS has emerged as a nationwide leader in online education. The School's renowned and affordable online programs ensure that busy working adults may fulfill their educational goals on their own time and schedule.
Press Contact
Andrea Fagon
Chief Marketing and Communications Officer
andrea.fagon@cuny.edu