Webinar Offers Essential Tools for First-Generation Students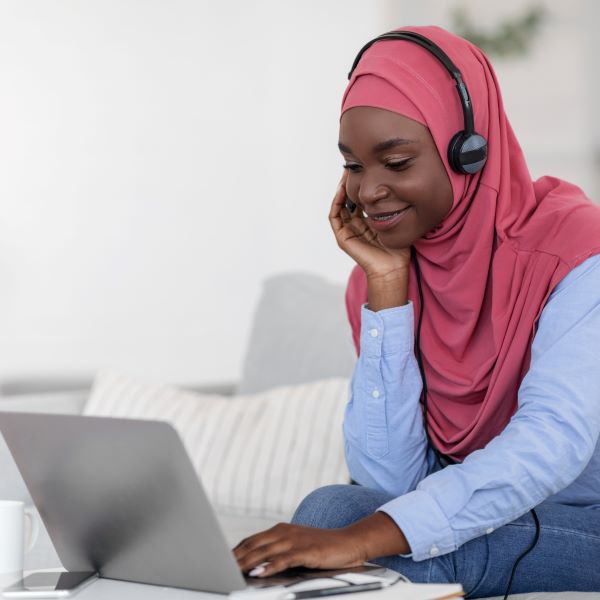 The CUNY School of Professional Studies (CUNY SPS) hosted the webinar "Navigating Academia for First-Generation College Students" on September 9, as the first segment of the First-Generation Student Success Series.
Conceived and organized by Dr. Elizabeth Alsop, assistant professor and academic director of the CUNY SPS communication and media program, and Dr. Carla Marquez-Lewis, director of the CUNY SPS psychology program, the seminar series is a new offering designed to address the challenges first-generation college students often encounter. 
Approximately 50 students attended "Navigating Academia," a virtual seminar dedicated to making the non-intuitive aspects of higher education more accessible to students. Recognizing that the culture of college can be intimidating and overwhelming—especially for first-generation students—the recurrent theme of the evening was to normalize question-asking when students confront unfamiliar territory.
The topics covered in the webinar included a glossary clarifying some of the more confusing college-specific terminology, in addition to helpful academic tips such as degree-planning, professionalism, time management, and self-care. The professors also detailed the importance of students finding mentors and creating strategies for coping with the emotional issues that first-generation students often face.
"We felt this kind of initiative was especially important for first-gen undergraduates. For instance, we notice that many of our CUNY SPS students will often preface questions with an apology, as if they're in the wrong to be asking for clarification or assistance," said Dr. Alsop.  
Dr. Marquez-Lewis added, "As professors, I think we all try very hard to counter the sense of embarrassment or even shame some first-gen students seem to feel about asking questions—and which, unfortunately, can keep students from reaching out for help until it's too late."
Several future events are in the pipeline for the First-Generation Student Success Series. Later this Fall, a roundtable discussion of college experiences from current and former CUNY SPS students who identify as first-generation is being planned. In Spring 2022, two events centered around imposter syndrome and financial aid and scholarships are also in the works.
 "We hope to continue hosting around two events each semester going forward. We're excited to continue programming this series and to keep developing events and resources under the big umbrella of first-generation student success," said Dr. Alsop. 
Dr. Marquez-Lewis expressed interest in hearing from CUNY SPS students about this new project. "We really want our students to reach out to us with their real-life issues. Right now, we know what the research tells us about first-generation college students in general, but that information isn't specific to our community of online students, nor to students who are going to school during a global health pandemic. We really want to learn about our unique population and their needs."
Students can offer suggestions for upcoming webinars, ask questions, and access further readings and resources from the September 9 event, by contacting firstgen@sps.cuny.edu. Additionally, a recording of the webinar is available.
About the CUNY School of Professional Studies
For over 15 years, the CUNY School of Professional Studies (CUNY SPS) has been leading online education in New York. Notable for offering the most online bachelor's and master's degree options at the City University of New York, and for serving transfer students as the University system's only undergraduate all-transfer college, CUNY SPS meets the needs of adults who wish to finish a bachelor's degree, progress from an associate's degree, earn a master's degree or certificate in a specialized field, and advance in the workplace or change careers.
The School's growth has been remarkable, with twenty-four degrees launched since 2006. Enrollment has risen by more than 30% in the last four years to over 4,000 students in the credit-bearing programs. Thousands more are enrolled in non-degree and grant-funded workplace learning programs. In addition, the School has an active alumni network and has established the CUNY SPS Foundation, which offers multiple scholarship opportunities to current students.
CUNY SPS has consistently been named by US News & World Report as one of the country's top online institutions. This year, the School was ranked in the top 2% in the nation on the publisher's list of the 2021 Best Online Bachelor's Degree Programs.