Three New Members Join the CUNY SPS Foundation Board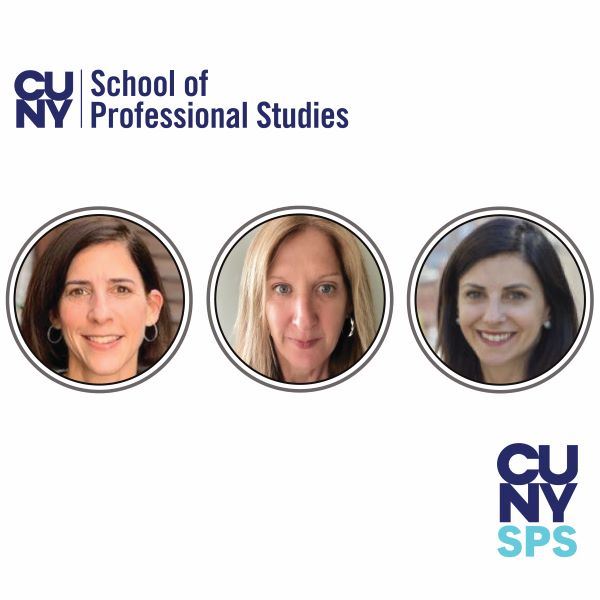 The CUNY School of Professional Studies (CUNY SPS) is pleased to announce that Debbie Rosen, Natalie Green Giles, and Beatriz (Bea) de la Torre (pictured above, left to right) have been appointed to serve on the CUNY SPS Foundation Board of Directors.
Their appointments will replace Board Members (and CUNY SPS alum) Michelle Pinedo and Steven Dupré, who have stepped down at the close of their term.
"We are thrilled that these three highly regarded NYC leaders have joined our Board," said Blake Foote, chair of the CUNY SPS Foundation Board. "With their combined acumen, we will successfully raise scholarship funds to support CUNY SPS scholars and focus on CUNY SPS's new strategic plan as we assess the challenges of the pandemic and the new economic realities faced by our career-focused students."
"The appointment of these three executives is a boon for the Foundation Board," said Jorge Silva-Puras, interim dean of CUNY SPS. "As experts in city government and the nonprofit sector, they will be a huge asset in the Board's efforts to champion our hardworking students, and will also help effectively shape the Board's future plans and programming. Welcome Debbie, Natalie, and Bea!"
The three appointees will bring their extensive experience in government and not-for-profit administration toward their new roles on the Foundation Board, where they will focus on growing support for CUNY SPS and its students.
Debbie Rosen, who will serve as one of several members at large, has more than two decades of experience working in senior executive roles in New York City and State government, where she managed major agencies, policy portfolios, and legislative issues.
Most recently, Rosen served as the Chief of Staff to the First Deputy Mayor, where she helped shape program and policy initiatives across the First Deputy Mayor's portfolio agencies, including the New York City Department of Education, the Department of Corrections, and the NYPD. Previously, Rosen served as both Chief of Staff at the New York City Office of Management and Budget and as a senior staffer in the New York State Assembly, the New York City Council's Health Committee, and the New York City Department of Health & Mental Hygiene.
Rosen holds a BA from Washington University in St. Louis, MO. She lives in Brooklyn with her husband and two children.
Also joining the board as another member at large is Natalie Green Giles, an independent consultant and writer with specific interests in organizational development and performance improvement efforts in not-for-profit and public sector organizations. Her 20 years of professional experience includes consulting with a wide array of clients in the not-for-profit, public, and for-profit sectors.
In her latest role, Giles served as a Mayoral Appointee to the NYC Board of Education, known as the Panel for Educational Policy, under the de Blasio administration, providing governance, oversight, and policy recommendations for the largest public school system in the country. Additionally, during this time Giles represented Mayor de Blasio as a Trustee on two of the City's Pension Fund Boards: the Teacher's Retirement System (TRS), and the Board of Education Retirement System. Prior to this, Giles has worked with Arthur Andersen LLP, as senior manager in the Business Process Risk Consulting group; as a senior consultant in the New York City Mayor's Office internal management consulting unit under the Giuliani administration; and as a research associate with the College Board, in the Office of Adult Learning Services.
Throughout her career, Giles has also written and published numerous articles, studies, and opinion pieces. In 2003, she published the narrative nonfiction book Songa's Story: How a Shtetl Jew Found the American Dream, which recounts her uncle's journey from a high-ranking Jewish army officer in Stalin's forces during World War II to a successful businessman in America.
Giles is a graduate of Stuyvesant High School in NYC, and received a BA in psychology from Williams College and an MBA from Yale University's School of Management.
Beatriz (Bea) de la Torre, a noted housing professional with over fifteen years of experience in affordable housing and homelessness issues spanning across philanthropy and government, will also join the Foundation Board as a member at large.
Currently, de la Torre is the Managing Director for Housing & Homelessness at Trinity Church Wall Street Philanthropies, where she is responsible for securing and implementing high-impact interventions to break the cycle of mass homelessness in New York City and for several strategic impact investing initiatives to increase the supply of low-income affordable housing.
Before joining Trinity, de la Torre managed the housing and homelessness portfolio at the Robin Hood Foundation and also worked for the City of New York, including at the NYC Department of Preservation and Development (HPD), and the Business Improvement District program at the NYC Department of Small Business Services. She is a board member of The Clemente Soto Velez Center and Grupo Guayacan, and also participates in various advisory boards, including the Enterprise NY Policy Advisory Group and the Local Supports Community Corporation (LISC) Advisory Board.
De la Torre graduated magna cum laude from the University of Pennsylvania and received an MA in urban planning from the Massachusetts Institute of Technology. A native Spanish speaker from Puerto Rico, de la Torre currently lives in Pelham with her husband and three children.
The CUNY SPS Foundation Board, founded in 2011, is a not-for-profit entity that continuously explores new fundraising opportunities to promote and support the School's educational and charitable goals and its students. For more information on the Board and their work, visit the CUNY SPS Foundation website.
About the CUNY School of Professional Studies
As New York's leader in online education since 2006, the CUNY School of Professional Studies (CUNY SPS) offers the most online bachelor's and master's degree options at the City University of New York, and serves as the University's only undergraduate all-transfer college. With 26 degrees and numerous other non-degree and grant-funded workplace learning programs, CUNY SPS meets the needs of adults who wish to finish a bachelor's degree, progress from an associate's degree, earn a master's degree or certificate in a specialized field, and advance in the workplace or change careers. Consistently ranked highly by U.S. News & World Report for its online offerings, and noted for its soaring growth and enrollment, CUNY SPS has emerged as a nationwide leader in online education. The School's renowned and affordable online programs—which offer in-state tuition to all students regardless of where they live—ensure that busy working adults may fulfill their educational goals on their own time and schedule.
Press Contact
Andrea Fagon
Director of Marketing and Communications
andrea.fagon@cuny.edu