CUNY SPS Alumni Join the Foundation Board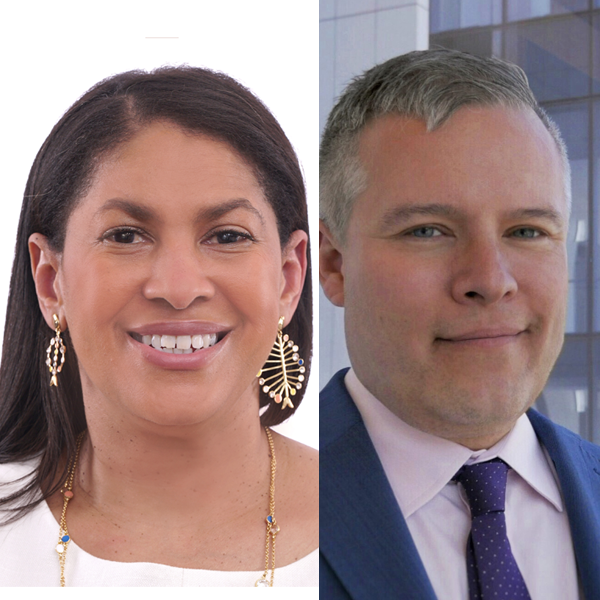 New York, NY – The CUNY School of Professional Studies (CUNY SPS) is proud to announce that alumni Michelle Pinedo (BS in Business `13) and Steven Dupré (BA in Communication and Media `14) have been selected to serve on the Foundation Board.
In their respective roles, Pinedo will assist Board members Joel Cohen and Jason Kubica with matters related to finance and auditing while Dupré will support Board members Brennon Marcano, Horace Barker, and Stephanie Benjamin with fundraising and alumni engagement initiatives.
"I am both honored and thrilled to join the CUNY SPS Foundation Board of Directors," says Pinedo. "This is a particularly exciting time for CUNY SPS as the School continues to grow in enrollment and program offerings. As an alumna, I carry my time with CUNY SPS close to my heart and look forward to bringing my passion and expertise to further [its] mission and vision."
"As an alumnus, I am particularly excited to join the CUNY SPS Foundation Board and contribute to the on-going success of the School and its mission to provide a premier educational experience for students across a wide-array of degree programs and disciplines," says Dupré.
In addition to the commitment they have towards enhancing the recognition for and support of CUNY SPS among the greater public, Pinedo and Dupré bring a wealth of professional knowledge and experience to the Board to champion their new positions.
Pinedo is vice president of finance and operations with Episcopal Relief & Development, a global relief organization that works with Anglican and ecumenical partners around the world to find solutions to hunger, poverty, disaster, and disease in collaboration with local communities. In this capacity, she is responsible for ensuring that all of the support functions – finance, IT, and human resources - are performing at peak levels. She has over 20 years of senior-level finance experience in leading non-profit organizations including Amref Health Africa and the Museum for African Art.
Dupré is the director of inclusion and diversity at PGIM, the global investment management business of Prudential Financial, Inc. In this role, he is responsible for raising PGIM's profile as an inclusive workplace and collaborating with senior leaders to foster an environment that attracts and retains a diverse pool of talent. Prior to joining PGIM in 2011, Dupré worked at Bank of America/Merrill Lynch in the Global Human Resources Department.
Pinedo and Dupré will each serve three years on the Foundation Board. The selection process for their positions entailed interviews with CUNY SPS Dean John Mogulescu in addition to the chair and members of the Board Development and Recruitment Committee. Prior to their appointment, Robert Kissane was the first and only alumnus to serve on the Board.
About the CUNY SPS Foundation
The CUNY School of Professional Studies Foundation exists to enhance public understanding and recognition of CUNY SPS, and to develop support for the School. Inspired by CUNY SPS students and guided by the visionary leadership of its Board of Directors, the Foundation works to build lasting relationships that foster a community of support among CUNY SPS alumni, faculty, staff, community members, donors and friends of the School.
About the CUNY School of Professional Studies
Home to the first fully online degree programs at the City University of New York, the CUNY School of Professional Studies provides online and on campus programs that meet the needs of adults who are looking for a way to finish a bachelor's degree, earn a master's degree or certificate in a specialized field, advance in the workplace, or change careers.
Affirming its role as a leader in online education, CUNY SPS was ranked in the top 5% in the Nation in U.S. News & World Report's list of the 2019 Best Online Bachelor's Degree Programs. Of the institutions listed, CUNY SPS ranks 1st in New York City.
Press Contact:
Andrea Fagon
Director of Marketing and Communications
andrea.fagon@cuny.edu
(646) 664-8690