Q&A With First Awardee of the Youth Studies Scholarship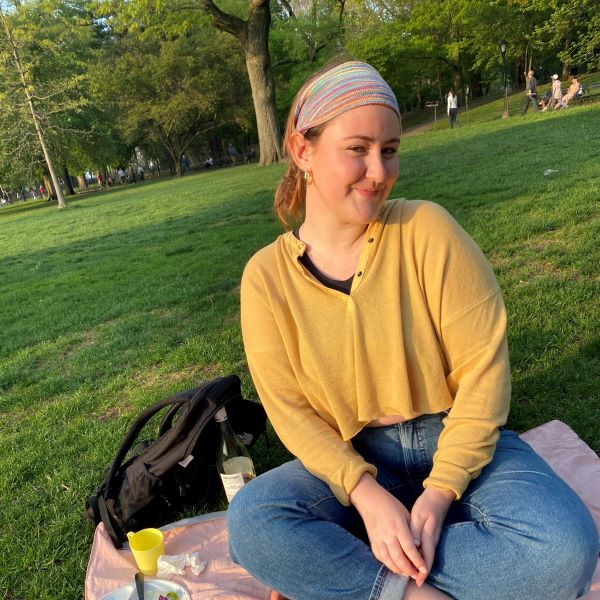 The Youth Studies program at the CUNY School of Professional Studies (CUNY SPS) is very pleased to announce that Caroline Richardson, a master's candidate, is the first recipient of the newly launched Youth Studies Scholarship.
Richardson recently spoke with CUNY SPS about her career plans and the impact the scholarship will have on her studies.
Q: What is your background?
A: I grew up in New Jersey and graduated with my BS in psychology from the College of Charleston in South Carolina in 2019. After graduation, I moved to NYC to work as a foster care case planner in the South Bronx. After working as a case planner for about a year and a half, I transitioned into a quality improvement position.
Q: How did you come to find CUNY SPS?
A: As I continued to work in foster care, I knew I wanted to get a master's degree so that I could continue to grow into more leadership roles.…I really wanted to find a degree whose curriculum excited me and would be an enjoyable addition to my schedule. I found CUNY SPS through continual Google searches for degrees in social welfare, gender studies, culture studies, etc.
The MA in Youth studies felt perfect because through the curriculum, I am learning about culture, gender, class, etc. as well as how to run an organization. I like that the program had somewhat of a trifold approach: client-facing skills, management skills, and learning about how factors impact the youth experience.
Q: How will this scholarship help you?
A: This scholarship will help me with the monetary commitment of school. School and living in NYC are expensive and with just my salary from my full-time job, it can be stressful to find the money to pay for my education.
Q: When will you graduate? What are your plans post-graduation?
I will probably graduate in December 2023 or May 2024. I'm not sure exactly what I want to do... as every class at CUNY SPS leads me to learn more about the world around me and the opportunities out there. I will likely try and get a supervisory role within a non-profit. I want to get out of the child welfare industry (foster care and preventive are the only industries I have worked in) to see what is out there and find out what I am most passionate about.
Long term, I would like to work with survivors of sexual assault, abuse, and other gender-based violence. This degree is great because while I want to serve survivors, I also want to look at how we are supporting and raising the youth in our communities and changing the culture surrounding gender violence and prevent it before it happens. That is why the youth studies degree is so important because education and support of our youth is key to changing their adult experience!
Q: Best part/favorite memory of CUNY SPS for you?
A: While this is only my second semester, I am really enjoying meeting my peers and hearing their perspectives, as their experiences are different than mine. I love how comfortable the teachers make the students, so that everyone is willing to not only answer questions regarding the curriculum but often to share intimate and personal details of their lives and experience.
Visit the CUNY SPS Scholarships page to learn more about the Youth Studies Scholarship. Donors interested in contributing to the Youth Studies Scholarship Fund may do so here.
About the MA in Youth Studies program
The CUNY SPS MA in Youth Studies, the first program of its kind in New York, was established in 2017 with the goal of supporting the needs of individuals ages 12 to 24 by training qualified frontline youth-workers, directors, and administrators. In addition to offering a high-quality degree, the youth studies program has a research agenda that uses youth-adult partnerships and a critical participatory action research approach to inform youth policy and practice in NYC. Current projects include partnerships with ACS and DOE and Amplify, a set of new and innovative research tools designed to engage young people in city-wide policy making and drive local action.
About the CUNY School of Professional Studies
As New York's leader in online education since 2006, the CUNY School of Professional Studies (CUNY SPS) offers the most online bachelor's and master's degree options at the City University of New York, and serves as the University's only undergraduate all-transfer college. With 26 degrees and numerous other non-degree and grant-funded workplace learning programs, CUNY SPS meets the needs of adults who wish to finish a bachelor's degree, progress from an associate's degree, earn a master's degree or certificate in a specialized field, and advance in the workplace or change careers. Consistently ranked highly by U.S. News & World Report for its online offerings, and noted for its soaring growth and enrollment, CUNY SPS has emerged as a nationwide leader in online education. The School's renowned and affordable online programs—which offer in-state tuition to all students regardless of where they live—ensure that busy working adults may fulfill their educational goals on their own time and schedule.
Press Contact
Andrea Fagon
Director of Marketing and Communications
andrea.fagon@cuny.edu