New Scholarship for Youth Studies Master's Candidates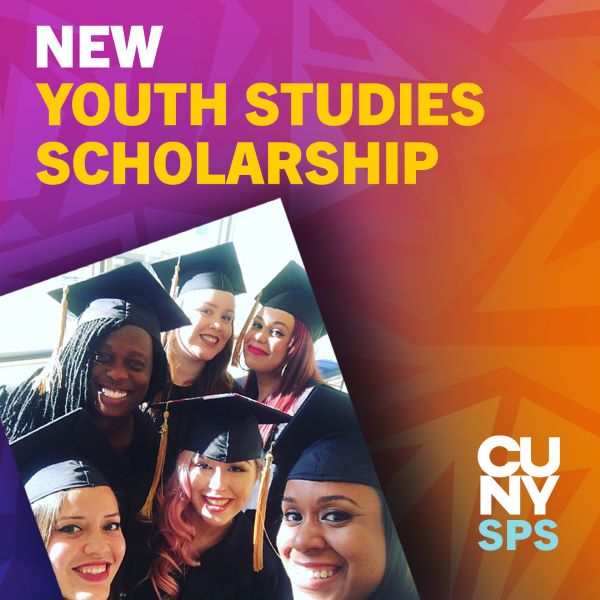 The CUNY School of Professional Studies (CUNY SPS) is proud to announce the launch of the Youth Studies Scholarship Fund, a new scholarship that will offer tuition assistance to graduate students in the School's MA in Youth Studies program.
Dr. Sarah Zeller-Berkman, academic director of the youth studies programs at CUNY SPS and director of The Intergenerational Change Initiative, established this fund to provide additional financial support for candidates in the program, nearly all of whom go on to design, run, research, and work in youth settings.
"Our incredible students were the inspiration," said Dr. Zeller-Berkman. "We don't want to develop credentials on the backs of workers who are not paid enough for their labor. This scholarship is just one small way of offering support to these incredible scholars, youth-workers, and human-beings."
The Youth Studies Scholarship Fund is now open to incoming and matriculated graduate students at CUNY SPS with a 3.0 GPA or higher enrolled in a minimum of 3 credits who are African American, Caribbean American, Latinx, or Asian and/or students with disabilities; or students with a demonstrated commitment or contribution to the educational preparation of African American, Caribbean American, Latinx, or Asian students and/or students with disabilities, in leadership and research in the youth-serving field. The award amount offered is $1500, based on eligibility and merit.
Interested students will be asked to submit an essay, personal statement, and resume or CV with their application. To learn more or apply, visit here.
Donors wishing to support this fund may also contribute here.
In addition to this scholarship, the CUNY SPS youth studies programs are also expanding their degree offerings. This past Spring, the BA in Youth Studies program was launched, and will welcome its inaugural class in Fall 2022.
About the MA in Youth Studies program
The CUNY SPS MA in Youth Studies, the first program of its kind in New York, was established in 2017 with the goal of supporting the needs of individuals ages 12 to 24 by training qualified frontline youth-workers, directors, and administrators. In addition to offering a high-quality degree, the youth studies program has a research agenda that uses youth-adult partnerships and a critical participatory action research approach to inform youth policy and practice in NYC. Current projects include partnerships with ACS and DOE and Amplify, a set of new and innovative research tools designed to engage young people in city-wide policy making and drive local action.
About the CUNY School of Professional Studies
As New York's leader in online education since 2006, the CUNY School of Professional Studies (CUNY SPS) offers the most online bachelor's and master's degree options at the City University of New York, and serves as the University's only undergraduate all-transfer college. With 24 degrees and numerous other non-degree and grant-funded workplace learning programs, CUNY SPS meets the needs of adults who wish to finish a bachelor's degree, progress from an associate's degree, earn a master's degree or certificate in a specialized field, and advance in the workplace or change careers. Consistently ranked highly by U.S. News & World Report for its online offerings, and noted for its soaring growth and enrollment, CUNY SPS has emerged as a nationwide leader in online education. The School's renowned and affordable online programs—which offer in-state tuition to all students regardless of where they live—ensure that busy working adults may fulfill their educational goals on their own time and schedule.
Press Contact
Andrea Fagon
Director of Marketing and Communications
andrea.fagon@cuny.edu