Emily Brooks Awarded Faculty Teaching Excellence Prize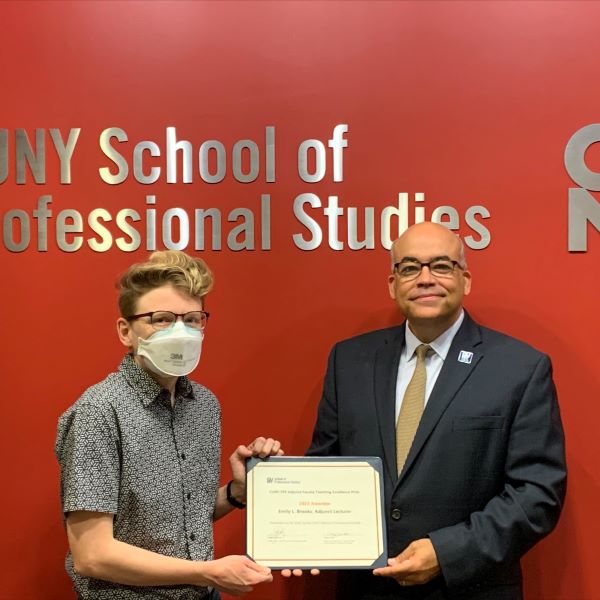 The CUNY School of Professional Studies (CUNY SPS) is pleased to announce that Emily Brooks, a faculty member in the School's disability studies programs, has been awarded the 2022 CUNY SPS Adjunct Faculty Teaching Excellence Award.
This award, which was presented to Brooks by Interim Dean Silva-Puras at a ceremony held on July 6, also includes a $1,000 prize.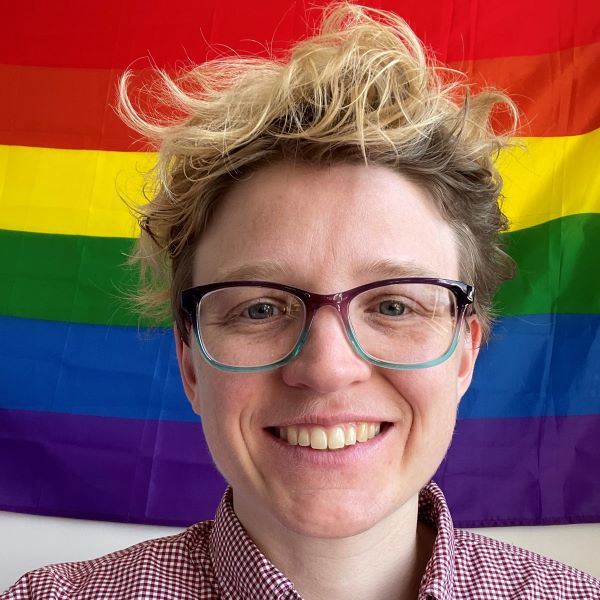 Brooks has been teaching disability studies at CUNY SPS since January 2017, and is herself an alum of the CUNY SPS MA in Disability Studies program. A noted educator, writer, and advocate, her teaching and research interests include representations of disability in narratives and the media; intersections of gender, sexuality, and disability; disability studies in education; and autism.
For Brooks, teaching offers a way to bring the theories and research behind disability studies into practice. 
"From disability studies, I take the knowledge that no student is ever 'deficient'—and that as a professor, it's my job to take down the barriers that make participation harder, while pushing my students to try new things creatively and academically in my classes," she explained in her statement of teaching philosophy.
To further these efforts, Brooks noted, "I work hard to make my syllabi intersectional, intentional, and representative of the broad range of students I teach and their identities. I'm committed to centering marginalized voices, queering the curriculum, and introducing theories that move beyond rights to justice."
According to Brooks, this emphasis on inclusiveness and accessibility has only been heightened by COVID-19.
"For me, online teaching is all about relationship-building. I feel happy when students say they feel comfortable around me.…Never has building this channel of trust been more important than during the pandemic," she observed. "My efforts each day go to teaching theory, leading discussions, and grading projects, but my overall focus is on establishing a rapport….I want my students to know that I am committed to them; that they're important and respected as people, not just for their role in my classes and whether or not they've finished every homework assignment; and that they can fully be themselves while being viewed as the scholars they are."
The Adjunct Faculty Teaching Excellence Award was first introduced in 2019 following the Student Association's request to officially recognize faculty excel­lence. Candidates for the prize must first be nominated by the CUNY SPS student body and then endorsed by their program directors. A final panel of students and faculty select the winner after reviewing the candidates' statements, along with student evaluations, endorsement letters and support from their academic directors. Prior winners include Bradley Gardener and Debra Schaller-Webers.
About the CUNY School of Professional Studies
As New York's leader in online education since 2006, the CUNY School of Professional Studies (CUNY SPS) offers the most online bachelor's and master's degree options at the City University of New York, and serves as the University's only undergraduate all-transfer college. With 25 degrees and numerous other non-degree and grant-funded workplace learning programs, CUNY SPS meets the needs of adults who wish to finish a bachelor's degree, progress from an associate's degree, earn a master's degree or certificate in a specialized field, and advance in the workplace or change careers. Consistently ranked highly by U.S. News & World Report for its online offerings, and noted for its soaring growth and enrollment, CUNY SPS has emerged as a nationwide leader in online education. The School's renowned and affordable online programs—which offer in-state tuition to all students regardless of where they live—ensure that busy working adults may fulfill their educational goals on their own time and schedule.
Press Contact
Andrea Fagon
Director of Marketing and Communications
andrea.fagon@cuny.edu