CUNY SPS Salutes Hard-Working Students at 9th Annual Scholarship Reception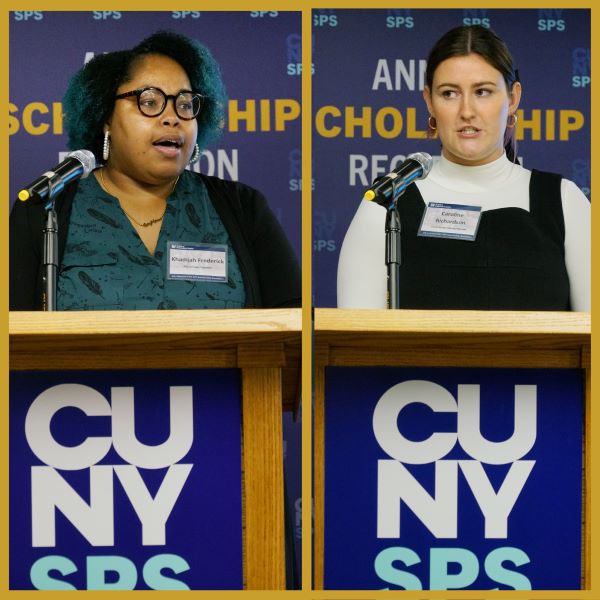 The CUNY School of Professional Studies (CUNY SPS) community gathered to celebrate its 9th Annual Scholarship Reception on Wednesday, October 24. At the ceremony, held at an event space in Hudson Yards, CUNY SPS honored its scholarship recipients for their hard work and thanked the generous donors who made these awards possible.
The evening opened with introductory remarks from Blake Foote, chair of the CUNY School of Professional Studies Foundation. In her speech, Foote highlighted the Foundation's many achievements since its inception. "With engagement from faculty, staff, alumni, and other friends of SPS (namely YOU!), our Foundation Board has raised over $4M since 2011 in support of students," Foote noted. "We raised $571,000 last fiscal year, which is the Foundation's best year. We rally every day to help keep our students on track to finish their degrees."
Foote then commented on the lovely event space with its panoramic views and expressed gratitude to SAP, which donated the space and sponsored the evening's ceremony. She then introduced Margot Goodson, vice president, head of North America diversity and inclusion at SAP.
Goodson followed with remarks welcoming the CUNY SPS community and affirming the company's commitment to supporting the School's students. "You know, you hear that phrase, your net worth is your network. It's not even about who you know, or what you know, it is who knows you and the value you bring. It is the mentorships and sponsorships…wherever it is that you build. That's going to be your legacy of what you can do and what you do for the next generation." In closing, Goodson said, "I hope you enjoy the food, the music, the views, and celebrate yourselves. Kudos to all of you for the awards that you're receiving."
Next, Interim Dean Silva-Puras took the stage. "[Tonight] we're celebrating students. Because they are the reason for us to be here… I'm very proud to lead what I consider a student-centric institution," he reflected in his remarks. While noting how the Board's fundraising efforts impact students, Silva-Puras added, "Our adult learners are sacrificing for their families, they are working one or two jobs, and do not qualify for financial aid, so that's where your generosity can play a big, big part."
Scholarship recipient Caroline Richardson, a student in the MA in youth studies program, spoke next. In her comments, she shared how the Youth Studies Scholarship enabled her to take on a special course of study. "As a result of this scholarship, I pursued the opportunity to participate in an independent study with Dr. Bernard that explores youth participation in the food justice field," Richardson said. "As independent studies are not a requirement for the master's program, without the scholarship, I am not sure I would have prioritized a unique opportunity like this. I am so grateful for this scholarship."
Following her, fellow scholarship recipient Khadijah Frederick described her experience as an ACE Scholar. Frederick has earned multiple degrees from CUNY SPS: she started with a child development associate certificate, then went on to her BA in liberal studies, and is now working on her MA in youth studies. During her speech, Frederick explained how the mentoring aspect of the scholarship benefited her as an undergrad. "Being a two-time ACE mentor was really rewarding, I truly enjoy helping my mentees reach their goals." Frederick continued, "So what did the ACE mentorship do for me? It literally changed my life and future goal aspirations, which at my age I didn't think was possible."
More information may be found on the CUNY SPS scholarships page. To help support CUNY SPS students, please visit the School's donation page.
About the CUNY School of Professional Studies
As New York's leader in online education since 2006, the CUNY School of Professional Studies (CUNY SPS) offers the most online bachelor's and master's degree options at the City University of New York, and serves as the University's only undergraduate all-transfer college. With 26 degrees and numerous other non-degree and grant-funded workplace learning programs, CUNY SPS meets the needs of adults who wish to finish a bachelor's degree, progress from an associate's degree, earn a master's degree or certificate in a specialized field, and advance in the workplace or change careers. Consistently ranked highly by U.S. News & World Report for its online offerings, and noted for its soaring growth and enrollment, CUNY SPS has emerged as a nationwide leader in online education. The School's renowned and affordable online programs—which offer in-state tuition to all students regardless of where they live—ensure that busy working adults may fulfill their educational goals on their own time and schedule.
Press Contact
Andrea Fagon
Director of Marketing and Communications
andrea.fagon@cuny.edu