CUNY SPS Observes Parks and Recreation Month with Spotlight on Urban Parks Program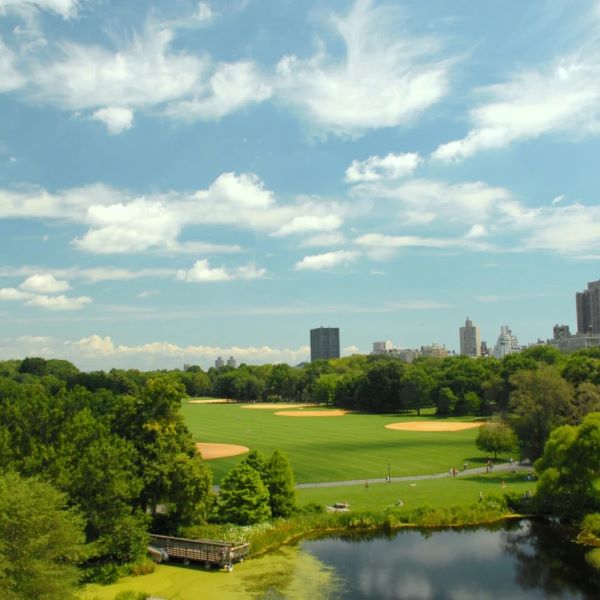 The CUNY School of Professional Studies (CUNY SPS) is proud to observe Park and Recreation Month this July with a spotlight on its partnership with the Central Park Conservancy Institute for Urban Parks and the recent alums of its Essentials of Urban Park Management Certificate program.
Nicole Turano's journey into the green world of parks and recreation wasn't her first career choice. A licensed clinical social worker, Turano had the opportunity several years ago to volunteer in Sanibel Island, Florida, at a wildlife refuge and it changed the course of her life.
"I knew that I really wanted to be able to spend time outdoors, be in nature, and be able to help share that love and passion I felt with this work," she said. When she decided to make the leap, she applied for a position to work on Randall's Island in New York City.
Turano, public programs manager for Randall's Island Conservancy, was one of 12 people from across the country who completed the Central Park Conservancy Institute for Urban Parks Essentials of Urban Park Management Certificate this spring.
The Certificate is designed, facilitated, and hosted by the Institute in partnership with the CUNY SPS Office of Professional Education and Workplace Learning (PEWL) and provides a non-credit credential for professionals in the field that focuses on practices critical to the care and management of urban parks. Program applicants typically have entry- to mid-level positions in public agencies and nonprofit urban parks when they apply.
Students participate in fully online course work for 12 weeks and explore topics relevant to their current work, gain a deeper understanding of the latest developments and challenges in the field of urban park management, and engage with a network of urban park managers in an interactive online environment. The certificate program covers a variety of topics with subject matter experts for each area including engaging communities, coordinating volunteers, managing special events, and working with tools and technology.
Students who complete the program receive a certificate jointly from the Central Park Conservancy and CUNY SPS.
Turano said she decided to enroll in the program because she wanted to obtain a better understanding of city parks and the larger park system. "It seemed to be a perfect fit to get some of that experience from others," she said.
Joe Soprani, campaign coordinator at Fairmount Park Conservancy in Philadelphia and another participant in the certificate program, agreed with Turano's assessment.
"The content was amazing," he said. "It was really interesting to me to find out about the work that people are doing and how they're addressing their particular park issues, particularly when there is a lack of funding, and how to move projects and programs forward. It was really eye opening."
Soprani's career didn't start off in the field of parks either. A graduate of Drexel University with a finance degree, he worked in banking and investment companies on and off for about 10 years before he landed his first job at the non-profit Pennsylvania Horticultural Society (PHS), which also oversees the annual Philadelphia Flower Show.
Unsatisfied with the work he was doing in the financial world, Soprani wanted to pursue a more meaningful career. His cousin, who worked at PHS, told him about an opening and Soprani leapt at the opportunity. After PHS, he landed at Fairmount Park Conservancy.
"I enjoy working in the field of urban parks because I get to work with an awesome team of staff and board members," he enthused. "We get to interact with passionate community members who love parks and strive to make our parks and communities better."
Program Director Clarke Griffith said the Essentials of Urban Park Management Certificate is an excellent professional development opportunity for those in the unique and essential field of urban parks.
"Participants have an opportunity to learn new skills, receive a set of templates they can take back to their jobs, interact with Central Park Conservancy and CUNY SPS subject matter experts, and broaden their professional networks through interactions with their fellow urban park management participants," Griffith reflected.
Michael Gonzales, director of program administration for the Institute for Urban Parks, decided to participate in the certificate program after several years of working in various roles at CPC including operations, membership, development, and special events.
"By taking these classes, it gives us an opportunity to work with like-minded folks that are going through similar situations, network with them, and share useful information," Gonzales said. "We all bring something to the table, and we shouldn't be afraid to share it."
About the CUNY School of Professional Studies
As New York's leader in online education since 2006, the CUNY School of Professional Studies (CUNY SPS) offers the most online bachelor's and master's degree options at the City University of New York, and serves as the University's only undergraduate all-transfer college. With 26 degrees and numerous other non-degree and grant-funded workplace learning programs, CUNY SPS meets the needs of adults who wish to finish a bachelor's degree, progress from an associate's degree, earn a master's degree or certificate in a specialized field, and advance in the workplace or change careers. Consistently ranked highly by U.S. News & World Report for its online offerings, and noted for its soaring growth and enrollment, CUNY SPS has emerged as a nationwide leader in online education. The School's renowned and affordable online programs—which offer in-state tuition to all students regardless of where they live—ensure that busy working adults may fulfill their educational goals on their own time and schedule.
Press Contact
Andrea Fagon
Director of Marketing and Communications
andrea.fagon@cuny.edu