The Essentials of Urban Park Management Certificate
Format: Online
Application Deadlines
Next application deadline TBA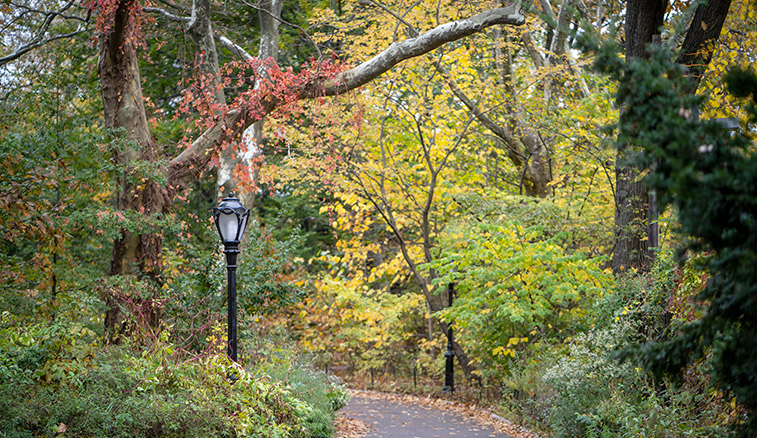 About the Program
Offered in partnership with the Central Park Conservancy Institute for Urban Parks, The Essentials of Urban Park Management Certificate provides a professional non-credit credential for current urban park managers and focuses on practices critical to the care and management of urban parks.
Admissions Criteria
We encourage applicants with entry- to mid-level positions in public agencies (i.e. parks departments) and nonprofit urban parks groups (i.e. conservancies, friends groups, or other park organizations directly providing support to an urban park) to apply. We recommend that applicants have some experience in the field of urban park management.
We will limit the number of participants admitted from any one individual organization at our discretion, to ensure rich conversation with multiple points of view.
Curriculum
Students will explore topics relevant to their current work, gain a deeper understanding of the latest developments and challenges in the field of urban park management, and engage with a network of urban park managers in an interactive online environment. The certificate program covers the following topics:
Introducing the field of urban park management
Valuing partnerships
Engaging communities
Coordinating volunteers
Hosting programs
Managing special events
Assessing environmental sustainability
Working with tools and technology
Managing during capital improvements
Measuring performance in urban park management
Making checklists for tasks in urban parks
Affirming our commitments
Students who complete the program receive a certificate jointly from the Central Park Conservancy and the CUNY School of Professional Studies. There are 12 units within the certificate program; all must be successfully completed in order to earn the certificate.
Schedule and Program Details
Students will participate in 12 units of fully online course work over a duration of 14 weeks. The self-paced program will require students to commit to three hours of work per week, including the completion of weekly assignments.
Fee
Fees for future sessions will be announced with application deadlines.
Scholarships are available to applicants from qualifying agencies and organizations.
About our Program Partner
The Central Park Conservancy Institute for Urban Parks, founded in 2013, draws on the Conservancy's history and expertise as a leader in the field of urban park management and public-private park partnerships to empower, inform, connect, and celebrate the individuals and organizations that care for urban parks so that all urban park organizations have the knowledge, leadership, connections, and capacity to create, maintain, and support great public spaces.

Application Deadlines
Next application deadline TBA
Recent News About The Essentials of Urban Park Management Certificate