CUNY SPS Nurse Graduates Honored In Moving In-Person Ceremony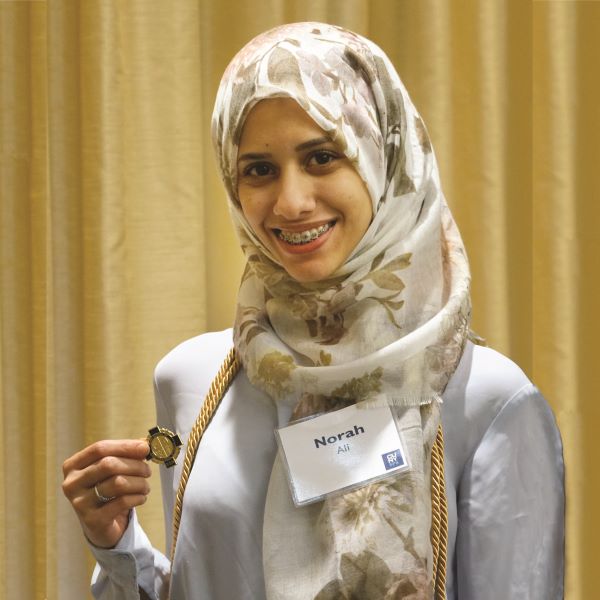 To celebrate nursing graduates from the 2021-2022 academic year, the CUNY School of Professional Studies (CUNY SPS) honored their program completion with an in-person Nursing Convocation and Pinning Ceremony held at Baruch College's Vertical Campus on May 12.
The event, which was also live-streamed on YouTube, featured speeches, acknowledgments, and congratulatory messages for the 238 nursing students earning their bachelor's and master's degrees—the largest graduating class of CUNY SPS nursing students to date. These numbers also include 37 graduates who were officially inducted into the Sigma Theta Tau International Honor Society of Nursing for Fall 2021 and Spring 2022, and nine honor students who served as Petrie Scholars during their time at CUNY SPS.
Dr. Margaret Reilly, academic director of the nursing programs at CUNY SPS, officiated the ceremony, which was one of the first in-person events organized by CUNY SPS since the start of the pandemic. She also delivered opening remarks highlighting the evening's theme—resilience. "In spite of unprecedented professional demands, our students demonstrated their incredible resilience and persistence and managed to complete their degrees. This evening, we are here to help commemorate that journey and congratulate them on their success."
After Dr. Reilly's remarks, Interim Dean Jorge Silva-Puras congratulated the graduates. "I see remarkable people who have chosen a calling and who have committed to it. I see people who work tremendously hard, who have made—and continue to make—sacrifices so that they may help others. I see mothers and fathers, and sons and daughters, many working full-time, many who struggled with or through COVID, but who forged on in the face of adversity and devoted themselves to their patients, their studies, and their profession."
Following this, Dr. George Otte, senior associate dean of academic affairs, gave an emotional speech about the strength he saw nursing students display throughout the pandemic. "I've seen the effect on (class) sections where nearly half the students got sick, and yet everybody made it to the end and completed," said Dr. Otte. "Graduation and commencement are always a celebration of accomplishment. But what you have accomplished—the odds you have faced—that achievement is unprecedented. We always honor our graduates, but your triumph in getting to this point is as historic as the pandemic itself."
Next, Deirdre O'Flaherty, director of patient care services at Lenox Hill Hospital/Northwell Health, delivered a keynote address also focusing on the theme of resilience. "As nurses, we experienced trying times daily… Often, we must leave a very challenging patient or clinical situation and quickly turn around really without any time to decompress, and then face another challenge. To do this, you have to be resilient. And everybody in this room (knows that) without a certain level of resilience and courage—we wouldn't be here today."
Two student representatives from the CUNY SPS bachelor's and master's classes also offered their remarks. 
Tania Veloz, the BS in nursing student speaker, recounted the challenges she faced and the support she received from CUNY SPS faculty while earning her degree. "Given all the news about people dying, the number of hospitalizations, and the lack of staff, it was a scary time to pursue a nursing career… We saw the need for nurses, and we became frustrated because we still weren't yet ready to help in hospital settings," she explained. "How can we recover from these negative experiences? …We found a way. [CUNY] SPS held our hands throughout every challenging moment. We may have been physically apart from the school, but we never felt alone."
Following Veloz's speech, pins were awarded to the undergraduates, with slides from the students' capstone research projects presented throughout. 
At the completion of the undergraduate portion of the ceremony, Selina Oriekhoe spoke on behalf of the master's class about her struggles pursuing her MS in nursing education during COVID.
"When suddenly the pandemic started, I wasn't even able to focus on even one class. Had it not been for the nursing faculty and Dr. Reilly, I can honestly say that I would have dropped out of this program. Their support remained constant and reassuring," she shared. "It also reinforced the need for nurses to care for themselves and for each other. This reminds me of the reason why I chose to enter the nursing education program here at [CUNY] SPS. It provided me the opportunity to complete my nursing education with the flexibility of online learning." 
At the close of Oriekhoe's speech, graduate pins were distributed and Dr. Reilly offered concluding remarks, ending with a charge to the new nursing graduates. "What can we do together to develop the next generation of nurses who have the skills to optimize their own well-being and, at the same time, create innovative solutions to ensure even higher quality and safety of care? … Together, let's keep dreaming, discovering, and delivering to create a brighter future for all—nurses make a difference!"
About the CUNY SPS Online Nursing Programs
The CUNY School of Professional Studies offers a portfolio of online degrees and advanced certificate programs in nursing to help fill the growing void within the healthcare system. Serving as the first fully online nursing degree in the CUNY system, our programs help nurses advance within their careers while continuing their education in a timely, flexible, and affordable way.
About the CUNY School of Professional Studies
As New York's leader in online education since 2006, the CUNY School of Professional Studies (CUNY SPS) offers the most online bachelor's and master's degree options at the City University of New York, and serves as the University's only undergraduate all-transfer college. With 24 degrees and numerous other non-degree and grant-funded workplace learning programs, CUNY SPS meets the needs of adults who wish to finish a bachelor's degree, progress from an associate's degree, earn a master's degree or certificate in a specialized field, and advance in the workplace or change careers. Consistently ranked highly by U.S. News & World Report for its online offerings, and noted for its soaring growth and enrollment, CUNY SPS has emerged as a nationwide leader in online education. The School's renowned and affordable online programs—which offer in-state tuition to all students regardless of where they live—degrees ensure that busy working adults may fulfill their educational goals on their own time and schedule.
Press Contact
Andrea Fagon
Director of Marketing and Communications
andrea.fagon@cuny.edu