CUNY School of Professional Studies Ranks in Top 2% of Online Bachelor's Programs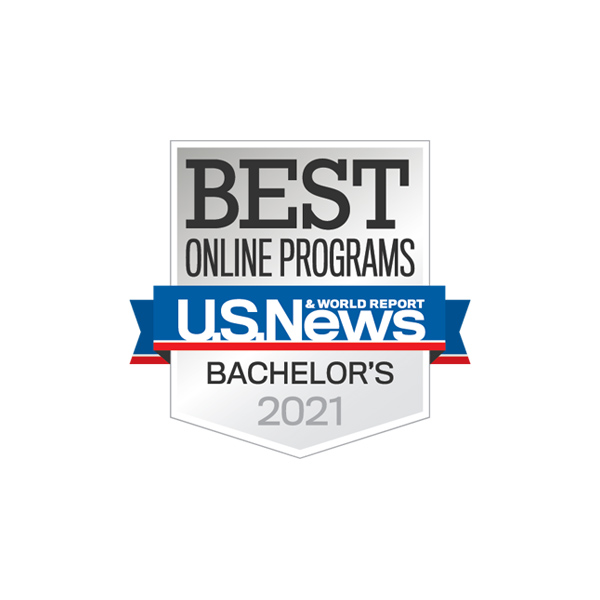 City University of New York's Online Education Leader Named #8 in Nation; Also Earns Top Tier Ratings for Veterans and Psychology Offerings
In its highest ranking to date, the CUNY School of Professional Studies (CUNY SPS) has been listed in the top 2% percent of the U.S. News & World Report's Best Online Bachelor's Programs for 2021. The School now ranks at #8 in the nation out of the 357 institutions assessed by the publisher, and received an overall score of 92 out of 100. With these rankings, CUNY SPS has become one of the top ten online colleges nationwide, and is the highest listed program in New York State (alongside SUNY Buffalo) and New York City.
In another leap, CUNY SPS has also been ranked in the top 6% on the U.S. News & World Report's list of Best Online Bachelor's Programs for Veterans, and is now #6 in the nation out of 95 institutions reviewed. And, in a new assessment for 2021, CUNY SPS also received a third top rating. The School's online BA in Psychology was ranked #6 in the nation out of 27 institutions reviewed.
U.S. News & World Report bases its overall rankings on a methodology that examines four weighted categories, including engagement, services and technologies, faculty credentials and training, and expert opinion among peers.
"CUNY SPS has further burnished its reputation as a standard-bearer in the online education space, and with good reason: the value it adds to our University and our city and region continues to expand along with the quality and quantity of the educational programs it offers," said Chancellor Félix V. Matos Rodríguez. "The unfortunate circumstances of the pandemic have increased the imperative for higher education to expand its digital footprint, and CUNY SPS has helped our University do just that, making it possible for a growing number of New Yorkers to pursue their educational and professional goals."
In the midst of this turmoil, this high ranking stands as a testament to CUNY SPS's ability to thrive, as shown by its current record growth and expansion—which includes huge increases in recent student enrollment and the launch of the nation's first online MS in Health Information Management program in the spring of 2021.
"We are especially gratified to see that our faculty and staff's efforts to provide the highest quality and affordable educational experience for our students so that they can meet their goals and succeed, particularly during this year of upheaval, has been recognized once again by such a highly valued publication," said John Mogulescu, dean of CUNY SPS. "Our top ten listing further cements our longstanding reputation as a leader in online education, not only across CUNY and New York City, but throughout the state and the nation."
CUNY SPS has been on the forefront of cutting-edge online education since establishing the first online degree program at CUNY in 2006. As part of its mission to serve adult learners, CUNY SPS began offering fully online degree programs so that busy working adults balancing full-time jobs, families, and other responsibilities could find the time to return to college or start a certificate or graduate program. To aid in these goals, CUNY SPS has invested heavily over the years in online learning technology, training, and tools while expanding its online degree offerings.
Award-Winning Programs, Services, and Initiatives
The U.S. News & World Report ranking joins a long list of the accolades CUNY SPS has earned for its exceptional online offerings, which include programs, services, and initiatives designed to help adult learners fulfill their academic and professional goals.
In spring of 2020, CUNY SPS shared its online expertise with the rest of CUNY after the COVID-19 shutdown forced the University's schools to abruptly shift their in-person classes to an online format. Beginning in May 2020, the School developed and led a highly acclaimed professional development course, Online Teaching Essentials, which helped over 2,500 faculty across CUNY campuses citywide learn best practices for online teaching. This hugely successful workshop was later awarded the 2020 University Professional and Continuing Education Association (UPCEA) Mid-Atlantic Region Award for Faculty Development.
About the CUNY School of Professional Studies
For nearly twenty years, the CUNY School of Professional Studies (CUNY SPS) has been leading online education in New York. Notable for offering the most online Bachelor's and Master's degree options at the City University of New York, and for serving transfer students as the University system's only undergraduate all-transfer college, CUNY SPS meets the needs of adults who are looking to finish a bachelor's degree, progress from an associate's degree, earn a master's degree or certificate in a specialized field, and advance in the workplace or change careers.
The School's growth has been remarkable, with twenty-four degrees launched since 2006. Enrollment has risen by more than 30% in the last four years to over 4,000 students in the credit-bearing programs and thousands more who are enrolled in non-degree and grant-funded workplace learning programs. In addition, the School has an active Alumni network and has established the CUNY SPS Foundation, which offers multiple scholarship opportunities to current students.
CUNY SPS has consistently been named by U.S. News & World Report as one of the country's top online schools. Most recently, the School was ranked in the top 2% in the nation on the publisher's list of the 2021 Best Online Bachelor's Degree Programs, making CUNY SPS one of the highest nationally listed programs in New York State and the highest in New York City.
Press Contact
Andrea Fagon
Director of Marketing and Communications
andrea.fagon@cuny.edu