You are here
Business Club Offers Students Engaging Discussions and Experiential Learning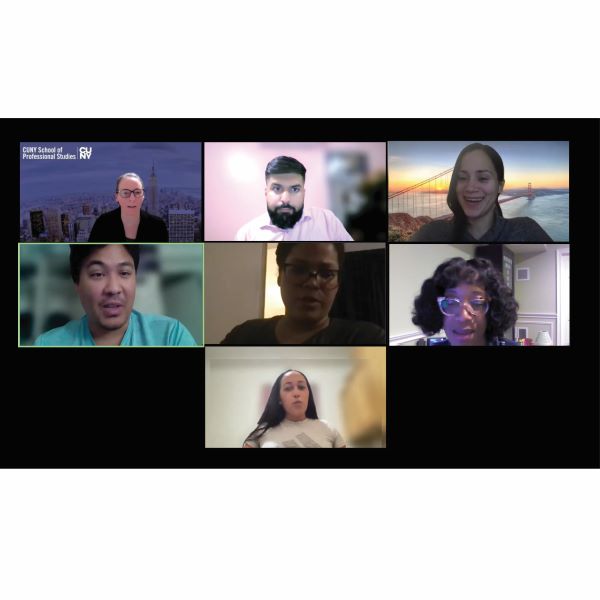 Students, alums, and faculty involved with the CUNY School of Professional Studies (CUNY SPS) student business club Management and Entrepreneur Leadership Organization (MELO) had a productive and event-filled calendar during the Fall '22 semester.
Formed in Spring 2022 by Dr. Edwin Knox, former academic director of the online business programs and current associate professor at CUNY SPS, with support from the Office of Student Life, MELO has a stated mission to "allow students to learn and engage in entrepreneurial thought for managing and starting a business" as well as to help students learn how to lead organizations effectively and meet with successful organization leaders and entrepreneurs. Since then, a growing number of students from the School's online business programs—which include the BS in Business, the MS in Business Management and Leadership, and the newly launched Bachelor of Professional Studies in Applied Management and Entrepreneurship (BPS-AME)—as well as from other disciplines have joined.
In Fall 2022, under the facilitation of Student Life Coordinator Parshotam Lal, MELO was able to advance its mission through several programs. These include Conversations for Success, an engaging three-part series of digital dialogues focused on a wide range of topics relating to management, leadership, and entrepreneurism, along with several other competitive and experiential opportunities for students to create, explore, and apply business concepts. MELO member Lina Lazaro-Leon developed flyers and digital marketing collateral for the events.
The first session of Conversations for Success, titled "Pathways to HR Management & Leadership," was held on October 17. CUNY SPS Professor Prudence Pitter was the featured speaker, and MELO member Lazette Jackson (BS in Business) moderated. The session focused on the leadership challenges that managers face and the critical role of effective communication for managers.
On November 15, the second installment of the Conversations for Success, "Pathways to Nonprofit and Small Business Management," explored nonprofit and small business management strategies. Moderated by MELO member Daisy Reguero (BS in Business), the talk featured CUNY SPS Professors Joseph Foy and Derek Irby.
The last segment of Conversations for Success, "Pathways to Marketing Management", was hosted on December 12. The discussion featured CUNY SPS Professor Carlos Ronisky as the guest speaker and CUNY SPS student Indira Yakupova (BS in Business) as the moderator. Ronisky's wide-ranged discussion examined the ever-evolving field of marketing for small business and entrepreneurs.
Following the Conversations for Success series, the club held the second annual MELO Ideation Fair on December 6. This unique competition, which followed the success of the first ideation event in Spring 2022, challenged students to pitch ideas for a new business. A group of students gave brief presentations to a panel of faculty judges, who awarded three students top prizes. In Fall 2022, Sara Felix (BS in Health Services Administration) won the first prize for her coquito production and distribution business idea. The second prize was awarded to Christina Harding (BPS-AME), who presented a holistic health service proposal. Daisy Reguero won third prize for her social media management enterprise idea.
In additional programming this fall, MELO also launched an in-person special field project in which club members partnered with a small New York business. MELO members Daisy Reguero, Ninoska (Nina) Medrano, and Lazette Jackson met with Victor Spadaro, owner of Jimmy's Famous Heros in Brooklyn to learn the inner workings of running a successful small business in NYC. Going forward, MELO members will collaborate with Mr. Spadaro on various projects, including formulating a roadmap for Jimmy's Famous Heros' 1-Millionth Hero Project.
Nina Medrano, a student in the MS in Business Management and Leadership program and current president of MELO, explained what initially appealed to her about the student club. "One of the coolest things about MELO is that even though everybody is not in the same degree program—we all have a business mentality," said Medrano. "We all want to see great things happen for MELO. We use our resources to make things happen and to be able to create the programs or the other project ideas that we have." Medrano also pointed out that MELO gives students an opportunity to connect with instructors outside the digital classroom. "It's also cool that we get to interact with professors in a different and more personal aspect."
Now that MELO has completed its first full semester cycle, Medrano shared her vision for the club's future. "I just want MELO to become something really big, so that even when we leave it after graduation, other students can take care of it and keep running it," she reflected. "You know, it's a great feeling. To learn that a club that just was brand new has been recognized, and everybody's interested in trying to be part of it."
The Office of Student Life, in conjunction with the Student Association, proudly supports MELO and other student clubs. For more information on clubs and student organizations, please contact studentservices@sps.cuny.edu.
About the CUNY School of Professional Studies
As New York's leading online school since 2006, the CUNY School of Professional Studies (CUNY SPS) offers the most online bachelor's and master's degree options at the City University of New York, and serves as the University's first undergraduate all-transfer college. With 26 degrees and numerous other non-degree and grant-funded workplace learning programs, CUNY SPS meets the needs of adults who wish to finish a bachelor's degree, progress from an associate's degree, earn a master's degree or certificate in a specialized field, and advance in the workplace or change careers. Consistently ranked highly by U.S. News & World Report for its online offerings, CUNY SPS has emerged as a nationwide leader in online education. The School's renowned and affordable online programs ensure that busy working adults may fulfill their educational goals on their own time and schedule.
Press Contact
Andrea Fagon
Chief Marketing and Communications Officer
andrea.fagon@cuny.edu