You are here
Washington Hernandez
Associate Dean of Administration and Finance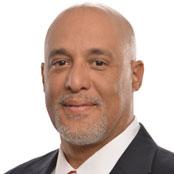 Contact
119 W. 31st St., 3rd Fl.
New York, NY 10001
Phone: (646) 664-8585
Fax: (646) 664-8726
Washington R. Hernández, associate dean of administration and finance, began his career with CUNY in 1999, and currently oversees the CUNY SPS Office of Information Technology and manages the school's burgeoning IT infrastructure and projects. When he first joined CUNY SPS, Washington was charged with the creation and management of the various technical support services provided to students in the CUNY Online Baccalaureate program -- the first and only wholly online degree in the CUNY system. Prior to this, he served as the executive director of the Family Independence Administration/CUNY Professional Training Academy, which provided staff development, policy/procedure training, and credit and non-credit bearing courses to staff of the NYC Human Resources Administration.
His expertise in the administration of training programs comes from his earlier work as the executive director of the Hunter College Center for Occupational & Environmental Health's Hazard Waste Operations and Certification Training Program. Washington brought six years of emergency response experience to his responsibilities at Hunter College, during which he served as a senior hazardous materials emergency responder and chemist with the NYC Department of Environmental Protection's hazardous materials team. Washington holds a BA in natural sciences and mathematics from Thomas Edison State College. In his spare time, he enjoys golfing and spending time with his family.