You are here
John Mogulescu
Dean of the School of Professional Studies and Senior University Dean for Academic Affairs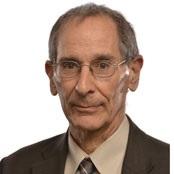 Contact
119 W. 31st St., 10th Fl.
New York, NY 10001
Phone: (646) 664-8004
Fax: (646) 664-8729
John Mogulescu is the founding Dean of the CUNY School of Professional Studies and the Senior University Dean for Academic Affairs. Under his leadership, CUNY SPS has become one of the University's fastest growing institutions, currently enrolling over 2,200 students in its degree programs and credit-bearing courses, and thousands more in its non-credit courses and programs. Created with the purpose of meeting the educational needs of working adults, organizations, and employers, SPS is home to CUNY's first fully online degrees as well as a number of professional certificate programs.
Throughout his 26 years in the Office of Academic Affairs, Dean Mogulescu has developed programs in cooperation with virtually every New York City government agency and with many state agencies as well. From 2001-2014, the programs that Dean Mogulescu oversees have generated more than $800 million in external grants and contracts. In addition to overseeing CUNY SPS, he is responsible for the collaborative programs between CUNY and the New York City Public Schools, CUNY Prep Transitional High School, the CUNY Language Immersion Program, Accelerated Study in Associate Programs (ASAP), CUNY Start, and the Adult Literacy and GED preparation programs. Dean Mogulescu also oversees the University's Workforce Development Initiative, special training initiatives for City and State workers, and programs for welfare recipients. He is responsible for Adult and Continuing Education at CUNY and its non-credit programs, which enrolled over 250,000 students in 2012-13. Dean Mogulescu also supervises the CUNY Service Corps, which began in 2013 with over 750 students working at close to 100 city agencies.
Prior to assuming his present position, Dean Mogulescu was the University Dean for Academic Affairs and Deputy to the Executive Vice Chancellor for Academic Affairs. He also has served as University Dean for Adult and Continuing Education and Director of Adult Learning for CUNY. Before coming to CUNY's Central Office, he worked for thirteen years in a variety of Continuing Education positions at New York City College of Technology. In addition to his CUNY experience, Dean Mogulescu's career history includes a position as the Associate Director of the Literacy Assistance Center and three years as a sixth grade teacher in the New York City public school system.
Dean Mogulescu is a past president of the Continuing Education Association of New York, a former member of the New York State Adult Learning Services Council, the past Chair of the Board of Visitors of the New York City Police Department, and a longtime member of the NYC Workforce Investment Board.
Dean Mogulescu received a B.A. from Brown University and an M.S.W. from New York University. He also attended the Institute for the Management of Lifelong Education at the Harvard University Graduate School of Education.