You are here
Beatriz (Bea) de la Torre, Chief Philanthropy Officer, CUNY SPS Foundation
Chief Philanthropy Officer, Trinity Church Wall Street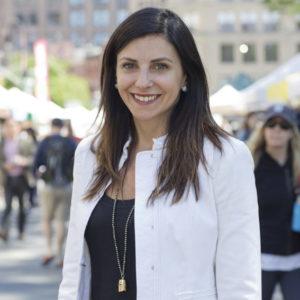 Bea de la Torre is the Managing Director for Housing & Homelessness at Trinity Church Wall Street Philanthropies. She is responsible for securing and implementing high-impact interventions to break the cycle of mass homelessness in New York City. Bea manages a yearly budget of $14M+ in the form of grants and Program Related Investments. In addition, she is responsible for several strategic impact investing initiatives to increase the supply of low-income affordable housing, including launching a mission investment platform focused on affordable housing and the development of an underutilized parcel in Lower Manhattan.
Bea has over fifteen years of experience in affordable housing and homelessness issues spanning across philanthropy and government. Before joining Trinity, Bea managed the housing and homelessness portfolio at the Robin Hood Foundation. Previously, Bea worked for the City of New York for eight years. She held various positions at the NYC Department of Preservation and Development (HPD), mostly focused on planning affordable housing developments on city-owned vacant land. She led key inter-agency and strategic initiatives such as the first city-wide affordable housing design competition, the process resulting in a first micro-unit building in Manhattan and the implementation of green and sustainable requirements for any HPD financed building. Bea also managed the Business Improvement District program at the NYC Department of Small Business Services. She has been asked to participate in various committees aligned with her expertise in affordable housing and in government, including currently serving in the Public Advocate's Committee to End Homelessness. She is a board member of The Clemente Soto Velez Center and Grupo Guayacan and also participates in various advisory boards, including the Enterprise NY Policy Advisory Group and the Local Supports Community Corporation (LISC) Advisory Board.
Bea graduated magna cum laude from the University of Pennsylvania and received her master's in urban planning from the Massachusetts Institute of Technology. A native Spanish speaker from Puerto Rico, Bea currently lives in Pelham with her husband and her three kids.