Newcombe Foundation Awards CUNY SPS Second Scholarship Grant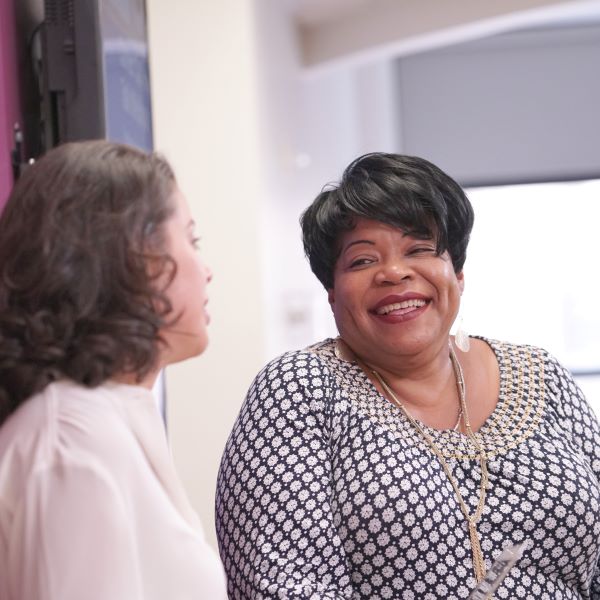 In a sign of continuing support, the Charlotte W. Newcombe Foundation has awarded an additional $50,000 grant for the CUNY School of Professional Studies (CUNY SPS) Foundation's Newcombe Scholarships for Mature Students program.
"Adult learners returning to college are a top priority for CUNY SPS, and it is a great honor for us to partner with the Charlotte W. Newcombe Foundation to provide financial assistance for students that may not qualify for other types of aid," said Tracy Meade, CUNY SPS senior associate dean for strategy and innovation. "We are deeply grateful to the Foundation for renewing their generous gift, which will ease the burden of educational costs for many deserving and hard-working adults at CUNY SPS."
First established in 2021, the Charlotte W. Newcombe Scholarship is designed to help older students returning to college who may otherwise find it difficult to pay for school. This generous grant renewal will ensure that much-needed tuition assistance continues to be provided for current and future CUNY SPS students.
All newly admitted CUNY SPS undergraduate students working toward their first bachelor's degree may apply for the scholarship, which is awarded in amounts of up to $500 based on financial need.
To qualify for the scholarship, students must have completed at least 60 transferable credits toward their bachelor's degree, have earned a minimum of 2.5 GPA from prior college and/or university, and be enrolled for a minimum of 6 credits for the awarded semester.
The Charlotte W. Newcombe Foundation is an independent foundation that began in 1979 as the result of a bequest from the estate of Mrs. Newcombe, a Philadelphia philanthropist, to continue her lifelong interest in supporting students pursuing degrees in higher education. Based in Princeton, New Jersey, the Newcombe Foundation has awarded grants for scholarships and fellowships in higher education since 1981. Historically, the Foundation has provided financial assistance for mature students whose pursuit of a bachelor's degree is complicated by personal responsibilities or challenging circumstances requiring significant financial and/or time commitments.
About the CUNY School of Professional Studies
As New York's leader in online education since 2006, the CUNY School of Professional Studies (CUNY SPS) offers the most online bachelor's and master's degree options at the City University of New York, and serves as the University's only undergraduate all-transfer college. With 26 degrees and numerous other non-degree and grant-funded workplace learning programs, CUNY SPS meets the needs of adults who wish to finish a bachelor's degree, progress from an associate's degree, earn a master's degree or certificate in a specialized field, and advance in the workplace or change careers. Consistently ranked highly by U.S. News & World Report for its online offerings, and noted for its soaring growth and enrollment, CUNY SPS has emerged as a nationwide leader in online education. The School's renowned and affordable online programs—which offer in-state tuition to all students regardless of where they live—ensure that busy working adults may fulfill their educational goals on their own time and schedule.
Press Contact
Andrea Fagon
Director of Marketing and Communications
andrea.fagon@cuny.edu