CUNY SPS Receives Grant to Fund Finish Line Scholarship Program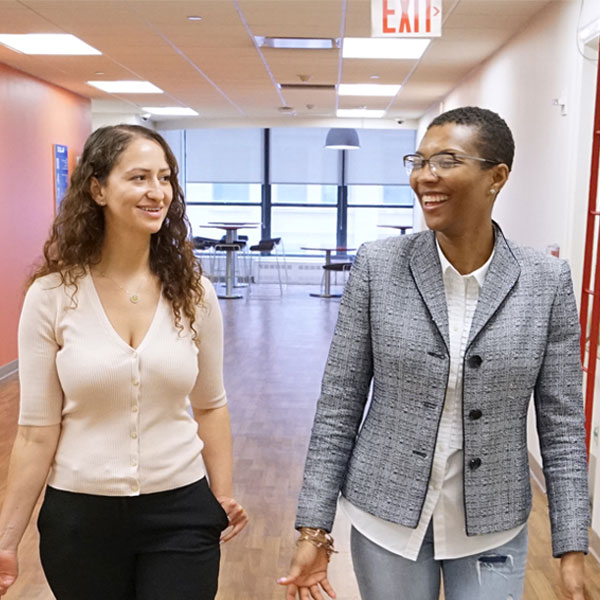 The CUNY School of Professional Studies (CUNY SPS) is proud to announce that it has been awarded $91,571 from the Heckscher Foundation for Children to provide additional Finish Line grants of up to $2,000 for students in need of tuition assistance.
The CUNY SPS Finish Line program was established to help students who are close to completing their education fund their final semesters at school. There are two types of Finish Line grants offered: the Debt Forgiveness Grant, which provides up to $2,000 to pay past due balances for eligible students, and the Degree Completion Scholarship, which awards between $200-$1,500 to eligible students who find that their financial aid has either expired or will not cover the costs of finishing a degree program.
The additional tuition assistance awarded by the Heckscher Foundation will be disbursed in the Spring 2020, Summer 2020, and Fall 2020 semesters for 70 students in good academic standing who have outstanding tuition obligations, allowing them to continue their studies and make progress toward their degrees. Awarded students will be registered in a minimum of six credits that apply to their degree program in their new semester, with the hope that at least 70% of the recipients graduate or continue to enroll in courses past the new semester in which they received the grant.
The Finish Line scholarship program has a proven record of helping CUNY SPS students obtain their degree. Toni Curtis, a BS in Business student, was unable to register for her last semester at CUNY SPS because she had a past due tuition balance from spring 2019. During the summer, the Office of Scholarships reached out to Curtis and invited her to apply for the Finish Line grant using an online form that took less than an hour to complete. Two weeks later, she learned she would be awarded a $2,000 grant to cover the costs of her spring tuition. Curtis reflected, "The Finish Line grant was extremely helpful because I didn't know if I was going to return for my final semester. With the grant, I was able to pay for the spring 2019 semester and go back to school in August. I was allowed to graduate now."
The Heckscher Foundation for Children is a charitable organization seeking to level the playing field for underserved youth by focusing their giving on education. The foundation supports programs, partnerships, and targeted solutions in college access and success, workforce training and jobs access, and arts or physical education that improves achievement in the classroom.
About the CUNY SPS Office of Scholarships
The CUNY School of Professional Studies Office of Scholarships serves students of all levels of financial need by assisting them through the application process for scholarships provided at CUNY SPS. Students are encouraged to complete the CUNY SPS scholarships application or look through the scholarship listings to see if they meet any of the criteria.
About the CUNY School of Professional Studies
Home to the first fully online degree programs at the City University of New York, the CUNY School of Professional Studies (CUNY SPS) provides online and on campus programs that meet the needs of adults who are looking to finish a bachelor's degree, earn a master's degree or certificate in a specialized field, advance in the workplace, or change careers.
The School's growth has been remarkable. Launching twenty-three degrees since 2006, enrollment has risen by more than 30% in the last four years to over 3,700 students in the credit-bearing programs. We serve thousands more who are enrolled in our non-degree and grant funded workforce development programs. In addition, the School has an active Alumni network and established the CUNY SPS Foundation, which offers multiple scholarship opportunities to our current students.
Affirming our role as a leader in online education, CUNY SPS was ranked in the top 5% of U.S. News & World Report's list of the 2020 Best Online Bachelor's Degree Programs, making CUNY SPS the highest nationally listed program in New York State and New York City.
Press Contact:
Andrea Fagon
Director of Marketing and Communications
andrea.fagon@cuny.edu
(646) 664-8690