You are here
CUNY SPS Observes Day of Giving with #CUNYTuesday Professional Development Webinar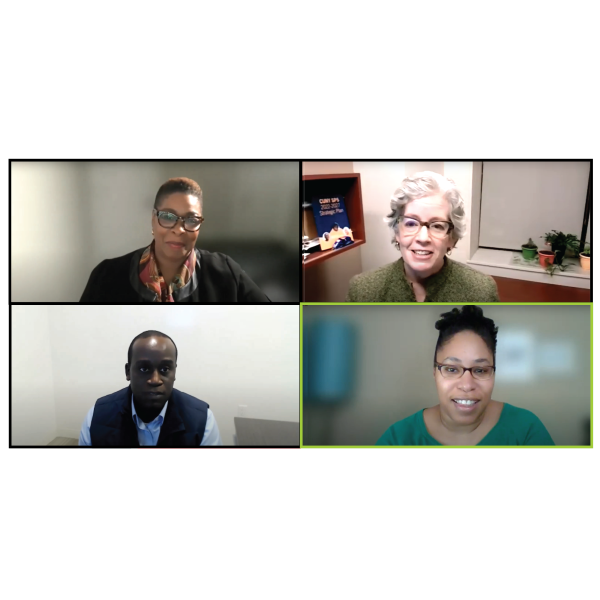 The CUNY School of Professional Studies (CUNY SPS) hosted its annual fundraising event on November 29, 2022, in honor of #CUNYTuesday, the University-wide day of giving inspired by the global generosity movement #GivingTuesday.
Following the tradition of the past few years, an enthusiastic group of students, alumni, staff, and faculty observed #CUNYTuesday with a career development webinar. The CUNY SPS Offices of Alumni Relations and Career Services collaborated to host the online symposium.
This year's webinar theme, Maximize Your Transferable Skills for Success in a Remote Work Environment, was explored by panelists from the CUNY SPS Foundation, administrative leaders, and the School's alumni community. The conversation focused on best practices for adapting and thriving in any work setting while remaining flexible and goal driven.
CUNY SPS Foundation Board Member Nadine Martin skillfully facilitated the panel conference, posing questions to the group of expert professionals. Martin's Foundation Board colleague, Donatus Anusionwu, joined the team of panelists along with CUNY SPS Assistant Dean of Information Technology Bronwen Stine and CUNY SPS alum Ebonye Wilkins (MS in Business Management and Leadership '11).
During the 90-minute event, Martin, who is also an associate director of oncology global marketing at Merck, leveraged her professional knowlege as she steered the robust dialogue about today's evolving work environment. A common thread throughout the conversation was how best to utilize technology for both effective communication and time management.
Wilkins, who is also the CEO of Inclusive Media Solutions LLC, offered her insights on the importance of keeping managers updated. "The primary thing to remember is that communication is going to be paramount. You need to communicate so that people don't have to pretend that they're mind readers," said Wilkins. "So, for example, if you're setting a meeting or you're in charge of a meeting, you should set an agenda by email in advance. That way, people can know if they need to be at the meeting. [They know] what's going to be discussed. You should also update your calendar to let people know of your availability."
Expounding upon Wilkins' comments, Anusionwu noted, "Be in front of your manager. Reviews are going on right now; the budget for next year is currently being set. So be present and over-communicate; make sure that you are in that pool of folks who want to be kept on."
Later in the discussion, Stine shared helpful resume advice for the job-seekers as well as made recommendations on tools and resources. "So one strategy is to look through LinkedIn, and look at the keywords that are included in job descriptions that you think you would be interested in and make sure that those keywords are on your resume."
According to event organizers Shannon Gallo and Nidia Cordova, the student's positive feedback about the webinar is streaming in, and some students are even asking follow-up questions for the panel.
Gallo noted, "I love how the panelists each brought something unique and were able to share perspectives in ways that honored the theme of the topic. What a fantastic moderator Nadine was!"
Cordova then summed up the evening by saying, "We're thankful to be able to highlight the amazing professionals within our CUNY SPS community. We hope attendees gained knowledge and insight from attending this event."
A recording of the event is available on the CUNY SPS YouTube Channel.
This year, CUNY SPS set an ambitious fundraising goal of $149,000 for #CUNYTuesday and, at the time of this writing, the School has raised 96% of that target. The deadline for donations has now been extended to the end of 2022. Those who are interested in making a donation still have time—online contributions are quick and simple to make on the #CUNYTuesday website.
About the CUNY School of Professional Studies
As New York's leader in online education since 2006, the CUNY School of Professional Studies (CUNY SPS) offers the most online bachelor's and master's degree options at the City University of New York, and serves as the University's only undergraduate all-transfer college. With 26 degrees and numerous other non-degree and grant-funded workplace learning programs, CUNY SPS meets the needs of adults who wish to finish a bachelor's degree, progress from an associate's degree, earn a master's degree or certificate in a specialized field, and advance in the workplace or change careers. Consistently ranked highly by U.S. News & World Report for its online offerings, and noted for its soaring growth and enrollment, CUNY SPS has emerged as a nationwide leader in online education. The School's renowned and affordable online programs ensure that busy working adults may fulfill their educational goals on their own time and schedule.
Press Contact
Andrea Fagon
Chief Marketing and Communications Officer
andrea.fagon@cuny.edu