CUNY SPS Honors Scholarship Recipients at 8th Annual Reception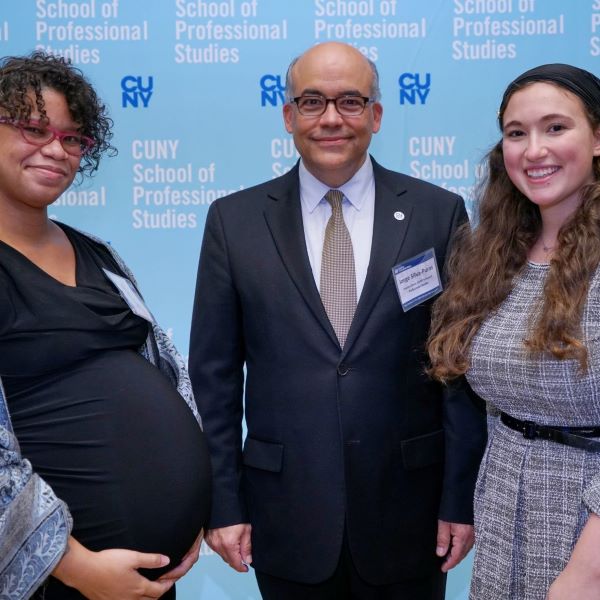 On October 27, the CUNY School of Professional Studies (CUNY SPS) hosted its 8th Annual Scholarship Reception. At the celebration, which was the School's first in-person event since the pandemic shutdown, CUNY SPS honored its scholarship recipients for their hard work and thanked the generous donors who made these awards possible.
Blake Foote, chair of the CUNY SPS Foundation Board, served as emcee for the evening and opened with welcoming remarks. In her introductory speech, Foote announced that the CUNY SPS Foundation Board was commemorating its 10th anniversary, and highlighted the Board's growth since its inception. In particular, Foote noted, "With engagement from faculty, staff, alumni, and other friends of SPS, our Foundation Board has raised nearly $4M since 2011. And we have raised over $564,000 this last fiscal year — the Foundation's best year on record — with three years of continuous growth."
After paying tribute to newly retired Founding Dean John Mogulescu, Foote introduced Interim Dean Jorge Silva-Puras, who welcomed the scholarship recipients and urged attendees to donate to support CUNY SPS's hardworking and deserving students.
During his remarks, Dean Silva-Puras explained the importance of the Foundation's fund-raising: "[B]ecause most of our students work fulltime…they typically cannot access the traditional financial aid opportunities. But they are in need of financial resources to complete their degrees. That is where the SPS Foundation and our donors come into play, because the money that you donate and the money that they raise goes straight to providing support for our adult learners who otherwise, honestly, would not be able to afford a quality education like the one SPS provides."
Following the dean's speech, Debra Schaller-Demers, an instructor in the CUNY SPS MS in research administration and compliance program, spoke in a prerecorded video statement played for the audience. Schaller-Demers, who is also vice-president for research outreach and compliance at Memorial Sloan Kettering Cancer Center and a 2021 winner of the School's Adjunct Faculty Teaching Excellence Prize, described the great pride she feels in teaching at CUNY SPS. "I get to teach what I do every day in my day job… I get to share my enthusiasm and the energy, and hopefully help others realize that there is a career path that is worthwhile and rewarding."
At the conclusion of Schaller-Demers' video, Foote next welcomed two of the scholarship recipients to the stage to share their own stories.
Adina Hoppenstein, a MA in museum studies student and recipient of the Museum Studies Scholarship, spoke first. She recounted her academic and personal challenges as someone with Attention Deficit Hyperactivity Disorder (ADHD), and reflected that the support she has received so far at CUNY SPS has been tremendously helpful.
"I, along with my fellow Museum Studies Scholars, joined this program because we believe in change for the better, and the best place to start that domino effect of change is at the heart of a society: museums," said Hoppenstein. "These institutions of learning, philanthropy, inclusivity, and innovation are pillars of accessible hope for the future, and we thank you for trusting us to ensure that. Through your generous support, you have buttressed our faith in ourselves. Before meeting us, you believed in us, and that is something money can't buy."
Next, April Outen, an ACE Scholar completing her senior year in the BA in psychology program, spoke of her journey to a degree. As a mother of two (and nearly three, as she awaits the birth of her third child), Outen observed that the ACE Scholarship program, which underwrites 100% tuition for undergraduates through degree completion, helped her make her studies a priority while juggling other responsibilities.
"The ACE Scholars Program helped me pave the way to success, from start to finish," said Outen. "It allowed me to breathe and turn my complete focus to my academic studies rather than wringing my hands every semester, trying to play financial magic, or pausing my studies because some other area of my life needed to be addressed first."
To help support CUNY SPS students, please visit the School's donation page.
About the CUNY School of Professional Studies
For over 15 years, the CUNY School of Professional Studies (CUNY SPS) has been leading online education in New York. Notable for offering the most online bachelor's and master's degree options at the City University of New York, and for serving transfer students as the University system's only undergraduate all-transfer college, CUNY SPS meets the needs of adults who wish to finish a bachelor's degree, progress from an associate's degree, earn a master's degree or certificate in a specialized field, and advance in the workplace or change careers.
The School's growth has been remarkable, with twenty-four degrees launched since 2006. Enrollment has risen by more than 30% in the last four years to over 4,000 students in the credit-bearing programs. Thousands more are enrolled in non-degree and grant-funded workplace learning programs. In addition, the School has an active alumni network and has established the CUNY SPS Foundation, which offers multiple scholarship opportunities to current students.
CUNY SPS has consistently been named by U.S. News & World Report as one of the country's top online institutions. This year, the School was ranked in the top 2% in the nation on the publisher's list of the 2021 Best Online Bachelor's Degree Programs.
Press Contact
Andrea Fagon
Director of Marketing and Communications
andrea.fagon@cuny.edu