CUNY SPS Honors Scholarship Recipients at 7th Annual Recognition Ceremony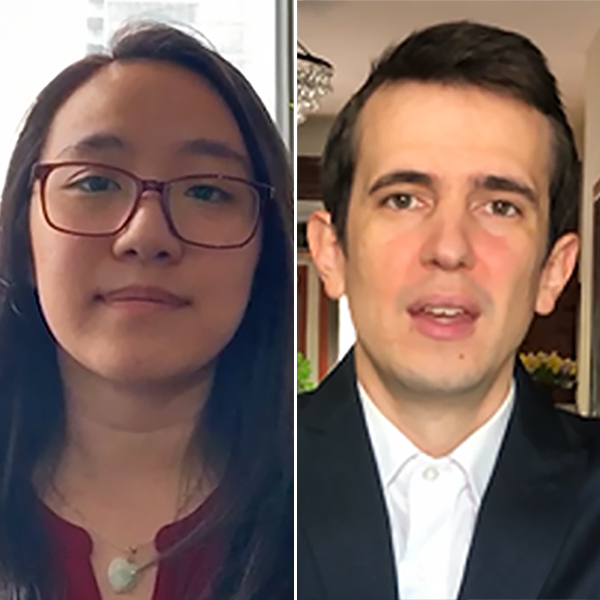 On October 21, the CUNY School of Professional Studies (CUNY SPS) hosted its 7th Annual Scholarship Recognition ceremony. This yearly event offers a chance for the School to honor its scholarship recipients for their hard work and achievements and to thank the generous donors who made these awards possible.
In light of ongoing COVID restrictions, this year's scholarship ceremony was broadcast online through the CUNY SPS YouTube channel and the CUNYTuesday: Season of Giving website, premiering at 6 PM EST. Students, faculty, staff, donors, and friends of CUNY SPS all logged onto the website to watch, with more than 700 visits to the site recorded.
With the launch of this virtual ceremony, the School officially kicks off its annual season of giving, which will culminate in a #CUNYTuesday fundraising campaign and alumni-led event on December 1.
This year's scholarship recognition video opened with short speeches by John Mogulescu, dean of CUNY SPS and Blake Foote, chair of the CUNY SPS Foundation Board.
In his remarks, Dean Mogulescu reflected on the hardships that CUNY SPS students are facing, both before and during the pandemic, but also celebrated their strength in the midst of adversity, by reflecting that "[t]here is no one in our City who has not been affected by the devastation of COVID-19, and we can only hope that things will get better in the future. However, even during this incredibly challenging time, our students are extraordinarily committed. They are talented, smart, and resilient, and their stories are inspiring."
Dean Mogulescu also reported on the CUNY SPS COVID-19 Emergency Grant Fund, which was established by the Foundation Board this past March to help students struggling with the overwhelming effects of the crisis. The fund, which has distributed $232,770 in grants since its inception, offers awards of up to $1,500 per student to be applied toward unpaid bills and other unexpected expenses.
Following the opening remarks, the three student scholarship recipients honored in this year's ceremony shared their personal stories. Lucy Lao, an ACE Scholar, is completing her senior year in the BS in Business program. Through the help of the ACE Scholarship program, which underwrites 100% tuition for undergraduates through degree completion, Lao has been able to return to college after leaving previously to help care for several ill family members.
During her speech, Lao described the difficulties she has faced and how the ACE scholarship and CUNY SPS helped get her education back on track. "The flexibility provided by [the] online CUNY SPS curriculum has provided me with the ability to achieve my dream of being the first in my family to earn a college degree," said Lao. "The ACE Scholarship helps clear the road for me to graduate without debt. Living in a city where rent can take up two, three, or four paychecks, saving every bit of money helps."
Nicholas Fosmire, who is completing his RN to BS in Nursing degree, is this year's Petrie Nurse Scholar. Awardees of this program, which is offered to students completing an online bachelor's degree in nursing after previously earning an applied science (AAS) degree with a major in nursing from a CUNY Community College, receive 100% tuition through degree completion.
In his comments, Fosmire shared what led him to become a nurse after moving to New York from Spain, and how CUNY SPS helped him cope during the first months of the pandemic. "It was thanks to CUNY that I managed to find the purpose I was looking for. Being a nurse has been a dream come true, a profession where I can help those most in need and where I can have a great impact on people's lives," he expressed.
Jessica Montalvo, the final scholar featured in the ceremony, is a BA in Sociology student completing her last semester at CUNY SPS. In her speech, Montalvo described how she was selected as a Finish Line Degree Completion Scholar. Under the terms of this scholarship, eligible students in the final semesters of their undergraduate programs who find that their financial aid has either expired or will not cover their tuition may receive awards ranging from $200-$1,500 to help cover the costs of finishing a degree program. For Montalvo, this scholarship has helped her overcome one of the many hurdles she encountered as a single mother raising a young son while working and attending school.
"Being a single mother while working full-time and taking college courses has been one of the biggest obstacles that I have ever had to face. Battling financial stability while still trying to afford my remaining tuition after financial aid has been a scary journey, but well worth it in order to give my son a better life," said Montalvo.
View the full video below.
To support CUNY SPS on #CUNYTuesday, part of the #GivingTuesday global movement that inspires hundreds of millions of people to give, collaborate, and celebrate generosity, please visit the #CUNYTuesday: Season of Giving website.
Other events offered as part of #CUNYTuesday include a career panel on December 1 entitled Inclusive Workplaces and Career Development: How Inclusive Workplaces Lead to Better Career Outcomes. Organized by the CUNY SPS Offices of Alumni Relations and Career Services, this online panel discussion will focus on how to address systemic racial inequity in the workplace, and will feature speakers from the CUNY SPS alumni community, the CUNY SPS Foundation Board, and other notable members of the School.
About the CUNY School of Professional Studies
For over 15 years, the CUNY School of Professional Studies (CUNY SPS) has been leading online education in New York. Offering the most online Bachelor's and Master's degree options at the City University of New York, CUNY SPS meets the needs of adults who are looking to finish a bachelor's degree, progress from an associate's degree, earn a master's degree or certificate in a specialized field, and advance in the workplace or change careers.
The School's growth has been remarkable, with twenty-four degrees launched since 2006. Enrollment has risen by more than 30% in the last four years to over 4,000 students in the credit-bearing programs and thousands more who are enrolled in non-degree and grant-funded workplace learning programs. In addition, the School has an active Alumni network and has established the CUNY SPS Foundation, which offers multiple scholarship opportunities to current students.
CUNY SPS has been ranked in the nation's top 5% by U.S. News & World Report for the past six years, most recently in its list of the 2020 Best Online Bachelor's Degree Programs, making CUNY SPS the highest nationally listed program in New York State and New York City.