CUNY SPS Honors Legendary Disability Rights Activist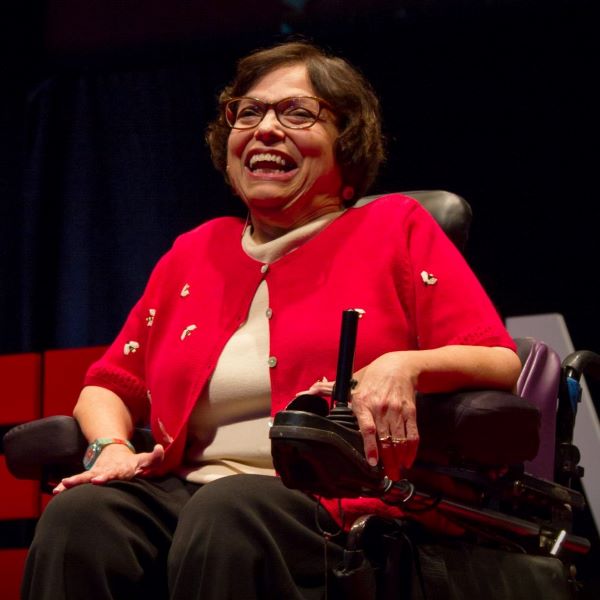 As part of CUNY Disability Awareness Month this April, the CUNY School of Professional Studies (CUNY SPS) is honored to pay tribute to renowned disability rights activist Judith "Judy" Heumann, who passed away this March.
Heumann, widely regarded the mother of the disability rights movement, had been at the forefront of major disability rights battles since her youth. Among many achievements, she helped spearhead the passage of disability rights legislation; founded national and international disability advocacy organizations; held senior federal government positions; co-authored her memoir Being Heumann: An Unrepentant Memoir of a Disability Rights Activist, and its young adult version, Rolling Warrior; and was featured in the Oscar-nominated documentary film Crip Camp: A Disability Revolution.
A quadriplegic since childhood, Heumann's lifelong activism was first sparked by her parents, who in the early 1950s demanded she be able to attend grade school after doctors insisted that she be institutionalized.
As a teenager, Heumann first attended and then became a counselor at Camp Jened, a summer camp for people with disabilities in the Catskills, along with several other leaders of the disability rights movement. Their experiences there were chronicled in the 2020 Academy Award-nominated documentary feature Crip Camp.
Starting in her 20s, Heumann began actively fighting for national disability rights legislation. She successfully sued the New York Board of Education for refusing to give her a teaching license because she was a wheelchair user. In 1977, she was a leader of an historic 26-day protest in San Francisco to pressure the government to implement Section 504 of the Rehabilitation Act, which prohibits discrimination based on disability in any program or activity operated by recipients of federal funds. Heumann also played a key role in the Individuals with Disabilities Education Act, the Americans with Disabilities Act (ADA), the Rehabilitation Act, and the UN Convention on the Rights of Persons with Disabilities.
Her advocacy also extended to organizations for people with disabilities. During the course of her career, Heumann helped establish the Berkley Center for Independent Living, the Independent Living Movement, and the World Institute on Disability. She also served on the boards of the American Association of People with Disabilities, the Disability Rights Education and Defense Fund, Humanity and Inclusion, Human Rights Watch, the United States International Council on Disability, Save the Children, and several others.
In the 1990s, Heumann took on several prestigious roles in the federal government, including as Assistant Secretary of the Office of Special Education and Rehabilitation Services, the first Advisor on Disability and Development at the World Bank and, from 2010-2017, the first Special Advisor for International Disability Rights at the U.S. State Department. She was also appointed Washington, D.C.'s first Director for the Department on Disability Services.
Raised in Brooklyn, Heumann collaborated closely with fellow local activists at CUNY. In 1970, while attending Long Island University's Brooklyn campus, she founded the civil rights organization Disabled in Action with Brooklyn College disability activists and alumni Fred Francis (founder of S.O.F.E.D.U.P.) and Pat Figueroa, which sought to end discrimination against people with disabilities. In recognition of her important work there, Brooklyn College awarded her an honorary doctorate in 2018.
Here at CUNY SPS, Heumann's remarkable life and tireless activism served as a blueprint for the School's own groundbreaking disability studies programs—which are the first of their kind in the country—and for the passionate community of students, alumni, faculty, and staff fighting to raise awareness and promote disability rights.
Her influence was made clear when, in April 2020, Heumann participated in a Q&A session with the CUNY SPS community after the virtual screening of Crip Camp.
During the well-attended event, which was organized by the CUNY SPS Abilities and Resources Committee (now the Disability & Access Coalition) and the CUNY Coalition of Students with Disabilities (CCSD), Heumann spoke frankly about her lifelong experiences battling discrimination, her own belief in the power of change, and what all future generations of disability rights activists should know.
Her words, which echoed this quote below from her book Becoming Heumann, underlie the community-building work that the CUNY SPS disability studies programs and student organizations like the DAC and CCSD do to advocate for and support people with disabilities.
"When other people see you as a third-class citizen, the first thing you need is a belief in yourself and the knowledge that you have rights," Heumann noted. "The next thing you need is a group of friends to fight back with."
About Disability Studies at the CUNY School of Professional Studies
Disability Studies is an emerging academic field that explores disability from multiple perspectives, including the social sciences, humanities, science, and the law. CUNY SPS offers groundbreaking, fully accredited online degree and certificate programs within Disability Studies including the BA in Disability Studies, MA in Disability Studies, MS in Disability Services in Higher Education, Advanced Certificate in Disability Studies, and Advanced Certificate in Disability Services in Higher Education.
About the CUNY School of Professional Studies
As New York's leading online school since 2006, the CUNY School of Professional Studies (CUNY SPS) offers the most online bachelor's and master's degree options at the City University of New York, and serves as the University's first undergraduate all-transfer college. With 26 degrees and numerous other non-degree and grant-funded workplace learning programs, CUNY SPS meets the needs of adults who wish to finish a bachelor's degree, progress from an associate's degree, earn a master's degree or certificate in a specialized field, and advance in the workplace or change careers. Consistently ranked highly by U.S. News & World Report for its online offerings, CUNY SPS has emerged as a nationwide leader in online education. The School's renowned and affordable online programs ensure that busy working adults may fulfill their educational goals on their own time and schedule.
Press Contact
Andrea Fagon
Chief Marketing and Communications Officer
andrea.fagon@cuny.edu