Celebrating CUNY Disability Awareness Month 2023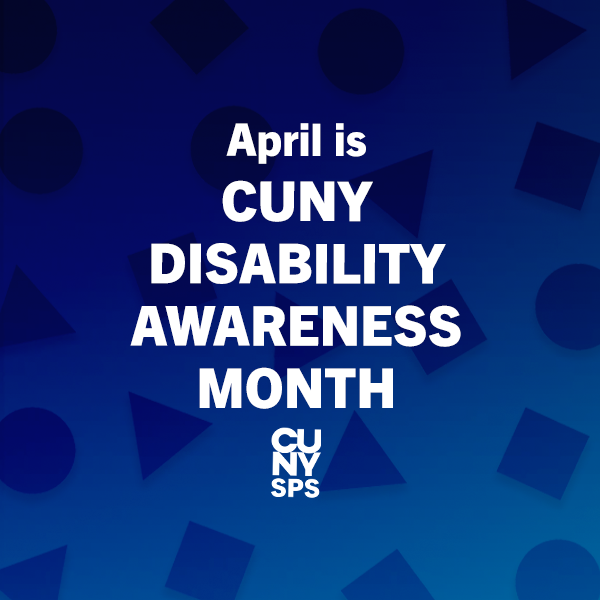 This April is CUNY Disability Awareness Month, a CUNY-wide observance that pays tribute to disability culture and affirms the University's efforts to support and showcase the needs of the disability community.
The CUNY School of Professional Studies (CUNY SPS), which has long been recognized for its innovative disability studies programs, the groundbreaking Journal of Teaching Disability Studies, and passionate community of people with disabilities and their advocates, is proud to mark the month with several events and an introduction to the disability studies programs' new academic director, Dr. Andrew Marcum.
On April 19, the CUNY SPS Student Association will host the Zoom event Disability: Awareness, Ableism, and Allyship. Open to all CUNY SPS students, faculty, and staff, this presentation and panel will amplify the voices of disabled students from the CUNY SPS Student Association and the Disability and Access Coalition (DAC). Register here to join.
Following this, the DAC will also host a member-only Passion Sharing event on April 28. During this virtual meet-up, members of the DAC will spend time together to build community and share their passions in whichever form they choose.
Members of the School community will also contribute their scholarship and experiences to two CUNY-wide conferences hosted during CUNY Disability Awareness Month.
The 5th annual CUNY Neurodiversity Conference, held on April 14, will explore neurodivergent artists and the vast creativity at the heart of the neurodiversity movement. CUNY SPS BA in Disability Studies student Lennyn Jacobs, who was honored recently for her work with the CUNY Coalition for Students with Disabilities (CCSD), and Leonard Blades, an alum of the MS in Disability Services in Higher Education and the Advanced Certificate in Disability Studies programs, will speak on the panel Universal Design and Inclusion through the Arts: A Journey of Growth for Neurodivergent Students.
Additionally, CUNY SPS faculty and staff will be presenting at the 14th annual CUNY Accessibility Conference, to be held on April 27-28. This year's theme, The Future of Accessibility, will reflect upon topics such as eLearning, assistive technology, and asking what higher ed means by "going back to normal" in a late-pandemic world. More information can be found on the conference website.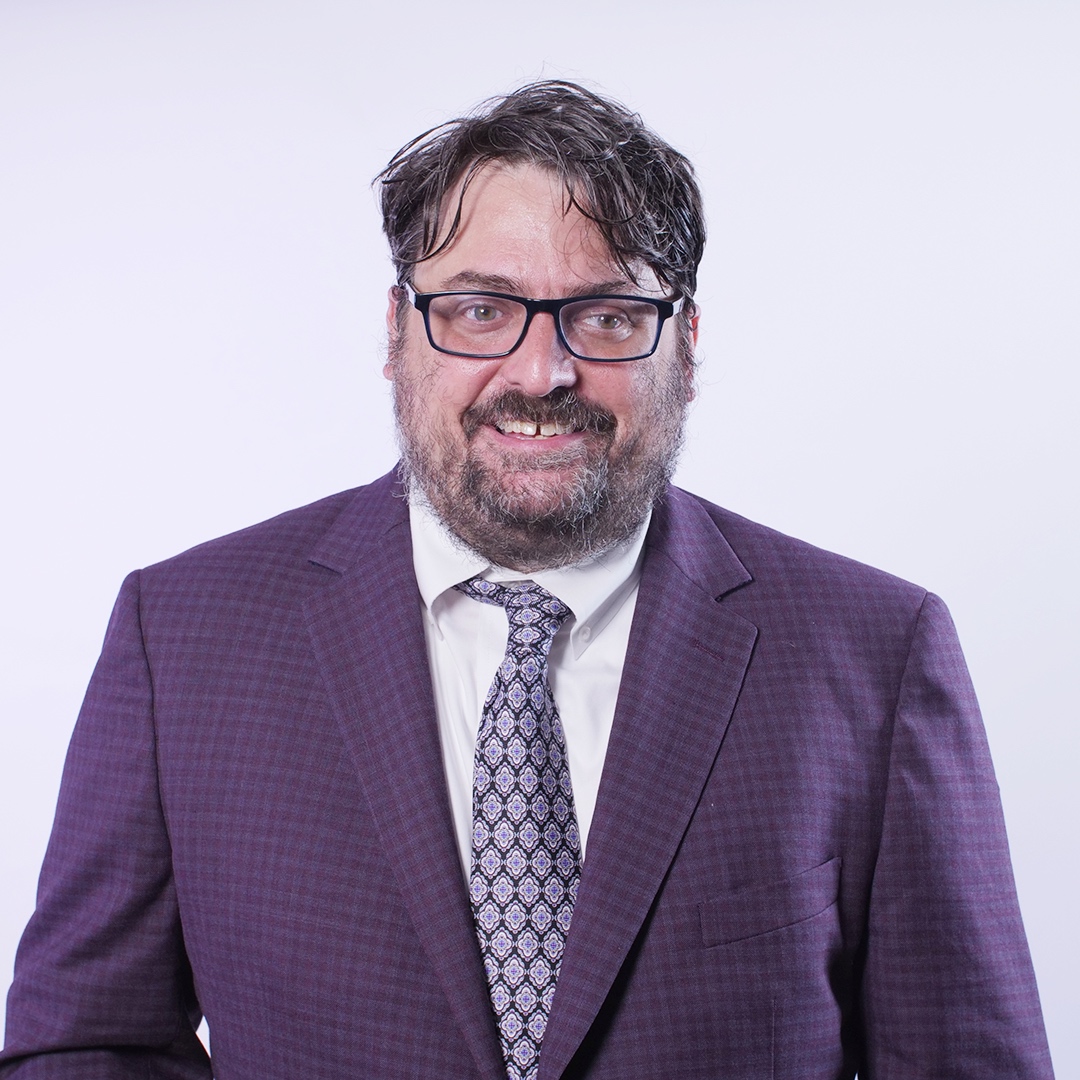 Dr. Andrew Marcum, who now serves as academic director of the School's disability studies programs following the retirement of Dr. Mariette Bates, is one of several CUNY SPS faculty participating in the 2023 CUNY Accessibility Conference.
For Dr. Marcum, the conference—and his new leadership role at CUNY SPS—are a part of a personal lifelong goal to destigmatize disability and promote disability rights and self-advocacy.
As he explained, disability was something that he experienced first-hand from an early age. "I was born with Cerebral Palsy. I knew I was different growing up and sometimes experienced bullying and exclusion, pity, or 'special' treatment at school and among my peers outside of school," Dr. Marcum shared. "But I didn't have the language or knowledge to understand why I was seen as different or what my disability meant for me and my place in the world."
This quest to understand propelled Dr. Marcum to focus on disability studies as part of his burgeoning scholarly interest in history, culture, and politics. After earning a PhD in American Studies—with a dissertation that focused on the display of disability history for public audiences—Dr. Marcum went on to teach and do consulting work on accessibility and anti-ableism. When the position at CUNY SPS opened, he realized it was a perfect fit for his skills, background, and experience.
"[The academic director role] was a rare opportunity to combine my intellectual interests with my values as a person and as an advocate, educator, and scholar," Dr. Marcum said. "I also knew that CUNY SPS was committed to providing high-quality, accessible, and affordable public education and that the school valued and encouraged service among its faculty; both to the institution and to the public and diverse student body it was created to serve."
As he settles into the role, Dr. Marcum sees many opportunities to expand the CUNY SPS disability studies programs. In addition to building enrollment and introducing more professionals to the programs, Dr. Marcum has some other big plans.
"I would like our program to be the gold standard for course accessibility and Universal Design Learning at CUNY," he noted. "I want to expand our course offerings around mental health and psychiatric disabilities and build bridges to the community of professionals who provide direct support to people with disabilities; those who help make it possible for people with disabilities to access, live, and work in the community."
He continued, "I think there is also room for growth within our focus on the arts so that we can help create a space for students with disabilities and disabled artists and cultural producers to share their knowledge and experience with others. People with disabilities are too often spoken about, spoken for, and spoken to but not allowed to speak for ourselves. I hope our program, and the students who matriculate through it, can continue to change that and, in so doing, create a more accessible world and less disabling society for those with mind and body differences."
This work is also something that Dr. Marcum is excited to share during CUNY Disability Awareness Month. In addition to presenting at the CUNY Accessibility Conference, where he will discuss how to leverage online learning to build more accessible courses and learning experiences, Dr. Marcum will also be speaking to a civics group in his hometown. In March, during Developmental Disabilities Awareness Month, he also gave a workshop on the history of advocacy among people with intellectual and developmental disabilities in Western New York.
These observances are hugely important, Dr. Marcum explained, to raise awareness and boost advocacy for the disability community. "[F]or me, observances like this provide an opportunity to educate and change some minds about disability. Disability isn't a problem to be eliminated. It should be celebrated as part of the spectrum of human diversity that can contribute significantly to creating a more accessible, just, and free world."
About Disability Studies at the CUNY School of Professional Studies
Disability Studies is an emerging academic field that explores disability from multiple perspectives, including the social sciences, humanities, science, and the law. CUNY SPS offers groundbreaking, fully accredited online degree and certificate programs within Disability Studies including the BA in Disability Studies, MA in Disability Studies, MS in Disability Services in Higher Education, Advanced Certificate in Disability Studies, and Advanced Certificate in Disability Services in Higher Education.
About the CUNY School of Professional Studies
As New York's leading online school since 2006, the CUNY School of Professional Studies (CUNY SPS) offers the most online bachelor's and master's degree options at the City University of New York, and serves as the University's first undergraduate all-transfer college. With 26 degrees and numerous other non-degree and grant-funded workplace learning programs, CUNY SPS meets the needs of adults who wish to finish a bachelor's degree, progress from an associate's degree, earn a master's degree or certificate in a specialized field, and advance in the workplace or change careers. Consistently ranked highly by U.S. News & World Report for its online offerings, CUNY SPS has emerged as a nationwide leader in online education. The School's renowned and affordable online programs ensure that busy working adults may fulfill their educational goals on their own time and schedule.
Press Contact
Andrea Fagon
Chief Marketing and Communications Officer
andrea.fagon@cuny.edu