CUNY SPS Faculty Honored for Online Teaching Efforts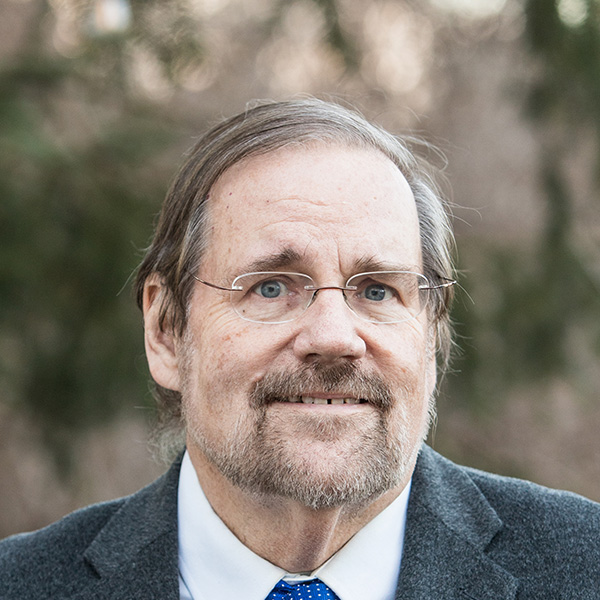 The CUNY School of Professional Studies (CUNY SPS) is proud to announce that Dr. James W. Brown, a science educator and adjunct faculty member in the School's health information management programs, has been granted a joint legislative resolution from the New Jersey Senate and General Assembly honoring him for his work helping many colleges and universities place their courses online during the COVID-19 pandemic.
"Last March, as the pandemic progressed, colleges and universities began closing their campuses down and moving their face-to-face courses online. Because I was well-known in the academic community for teaching online, particularly in science, I was contacted by a huge number of faculty from colleges and universities all over the United States and beyond for advice. I realized that I could make a big difference during this time by freely helping my colleagues put their courses online, and that by providing our students with quality remote science education while keeping them out of the classroom we could be saving their lives—and ultimately their families," said Dr. Brown.
The resolution, presented to Dr. Brown as an official state certificate signed by NJ Senate President Stephen M. Sweeney, showcases his long career in public health and science education and details his efforts to help faculty at a number of colleges and universities make the online versions of their classes and labs more interactive and engaging. For this work the resolution deemed Dr. Brown to be "an essential boon to higher education, especially during the COVID-19 pandemic."
As outlined in the resolution, Dr. Brown is a longtime science educator who was one of the first to teach microbiology and other science courses completely online more than 20 years ago, earning him the nickname "Dr. James Brown, The Godfather of Online Science." Alongside his individual work with faculty during the COVID-19 pandemic, Dr. Brown also gave several talks at conferences to highlight best practices for teaching online science classes. These included his keynote address "Home-Based Hands-On Learning in Science" at the Summer 2020 Virtual Workshop, which was hosted by Morgan State University and the National Science Foundation, and the presentation "Opening Online Laboratory Science Courses to a World Community Suffering from the Coronavirus Pandemic," which he delivered in August 2020 at the Online Learning Consortium Ideate Labs Online for STEM.
In addition to his years of online science instruction, Dr. Brown also has worked in public health field and in higher education administration. His background includes appointments as the Director of Microbiology for Roche, the Assistant Commissioner of Health for New Jersey, overseeing the Division of Public Health and Environmental Laboratories, and the Dean of Science, Engineering, Health Sciences, and Human Performance for Ocean County College. Dr. Brown has also served as the president and is a current executive board member of the New Jersey Public Health Association. Since September 2012, he has taught human biology and public health courses at CUNY SPS.
This honor is the latest recognition that CUNY SPS and its faculty and staff have received for their online education expertise, particularly during the pandemic. Starting in Summer 2020, CUNY SPS has designed and led online teaching essentials (OTE) workshops to help more than 2,000 CUNY faculty learn best practices in online teaching, for which the School was awarded the 2020 UPCEA Mid-Atlantic Region Award for Faculty Development.
About the CUNY School of Professional Studies
For over 15 years, the CUNY School of Professional Studies (CUNY SPS) has been leading online education in New York. Notable for offering the most online bachelor's and master's degree options at the City University of New York, and for serving transfer students as the University system's only undergraduate all-transfer college, CUNY SPS meets the needs of adults who wish to finish a bachelor's degree, progress from an associate's degree, earn a master's degree or certificate in a specialized field, and advance in the workplace or change careers.
The School's growth has been remarkable, with twenty-four degrees launched since 2006. Enrollment has risen by more than 30% in the last four years to over 4,000 students in the credit-bearing programs. Thousands more are enrolled in non-degree and grant-funded workplace learning programs. In addition, the School has an active alumni network and has established the CUNY SPS Foundation, which offers multiple scholarship opportunities to current students.
CUNY SPS has consistently been named by U.S. News & World Report as one of the country's top online institutions. This year, the School was ranked in the top 2% in the nation on the publisher's list of the 2021 Best Online Bachelor's Degree Programs.
Press Contact
Andrea Fagon
Director of Marketing and Communications
andrea.fagon@cuny.edu