CUNY SPS Earns 2021-2022 Military Friendly® School Designation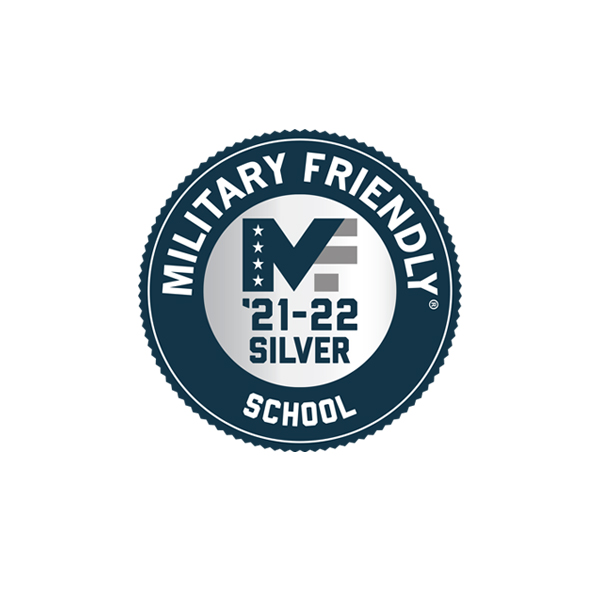 The CUNY School of Professional Studies (CUNY SPS) is proud to announce that the School has earned a Military Friendly® School Silver Award for 2021-2022 from the website MilitaryFriendly.com. 
Institutions earning the Military Friendly® School designation were ranked based on student retention, graduation, job placement, loan repayment, persistence (degree advancement or transfer), and loan default rates. Over 1,200 schools participated in this year's survey to establish the Military Friendly® School roster. To determine these rankings, the Military Friendly® Advisory Council partnered with Viqtory, an organization that connects service personnel with civilian opportunities.
The Military Friendly® Schools list will be published in the May issue of G.I. Jobs magazine and is available now at MilitaryFriendly.com.
"CUNY SPS is honored to be recognized for our efforts to support the success of our military and veteran students," said Christopher Leydon, associate director of student services, who oversees military and veteran services at CUNY SPS. "We acknowledge and appreciate the sacrifices our student veterans have made and prioritize meeting their needs. And our asynchronous online programs enable military servicemembers, whether stationed in the U.S. or abroad, to take classes on their own schedule. Our faculty and administration are also responsive when military obligations interfere with a student's course load."  
Kayla Lopez, national director of military partnerships at Military Friendly®, explained the aim of their rankings: "Military Friendly® is committed to transparency and providing consistent data-driven standards in our designation process. This creates a competitive atmosphere that encourages colleges to consistently evolve and invest in their programs. Schools who achieve designation show true commitment and dedication in their efforts. Our standards assist schools by providing a benchmark that promotes positive educational outcomes, resources, and support services that better the educational landscape and provide opportunity for the military community." 
The Military Friendly® School Silver Award is the latest acclaim that CUNY SPS has received for its veterans' services and offerings. In January, the School was ranked #6 in the nation on U.S. News & World Report's list of 2021 Best Online Bachelor's Programs for Veterans.
Jennifer Romero, a veteran pursuing her BA in psychology at CUNY SPS, is one of many military and veteran students who use these rankings when applying to help them determine which school might be the best fit. 
She explained, "I chose CUNY SPS because it was listed as the best online school for veterans who wanted to continue their education. I enrolled and immediately found out how helpful the veteran's assistance and advisors were and how user-friendly the portal is. I am motivated to obtain a bachelor's degree to advance in my career." 
For more information, visit the CUNY SPS Veteran Services page. Learn more about the military community at CUNY SPS and read some inspiring stories from veteran and military students.
About Military Friendly® Schools: 
The Military Friendly® Schools list is created each year based on extensive research using public data sources for more than 8,800 schools nationwide, input from student veterans, and responses to the proprietary, data-driven Military Friendly® Schools survey from participating institutions. The survey questions, methodology, criteria, and weighting were developed with the assistance of an independent research firm and an advisory council of educators and employers. The survey is administered for free and is open to all postsecondary schools that wish to participate. Criteria for consideration can be found at www.militaryfriendly.com. 
About the CUNY School of Professional Studies

For over 15 years, the CUNY School of Professional Studies (CUNY SPS) has been leading online education in New York. Notable for offering the most online bachelor's and master's degree options at the City University of New York, and for serving transfer students as the University system's only undergraduate all-transfer college, CUNY SPS meets the needs of adults who wish to finish a bachelor's degree, progress from an associate's degree, earn a master's degree or certificate in a specialized field, and advance in the workplace or change careers.
The School's growth has been remarkable, with twenty-four degrees launched since 2006. Enrollment has risen by more than 30% in the last four years to over 4,000 students in the credit-bearing programs. Thousands more are enrolled in non-degree and grant-funded workplace learning programs. In addition, the School has an active alumni network and has established the CUNY SPS Foundation, which offers multiple scholarship opportunities to current students.
CUNY SPS has consistently been named by U.S. News & World Report as one of the country's top online institutions. This year, the School was ranked in the top 2% in the nation on the publisher's list of the 2021 Best Online Bachelor's Degree Programs.
About Viqtory: 
Founded in 2001, VIQTORY is a service-disabled, veteran-owned small business (SDVOSB) that connects the military community to civilian employment, educational, and entrepreneurial opportunities through its G.I. Jobs® and Military Friendly® brands. VIQTORY and its brands are not a part of or endorsed by the U.S. Dept of Defense or any federal government entity. Learn more about VIQTORY at www.viqtory.com.
For further information, contact: 

CUNY School of Professional Studies
Andrea Fagon
Director of Marketing and Communications
andrea.fagon@cuny.edu
Military Friendly
Kayla Lopez 
Military Friendly 
National Director of Military Partnerships
mf2021@militaryfriendly.com