CUNY SPS Celebrates Veterans Day With a Salute to Its Military Community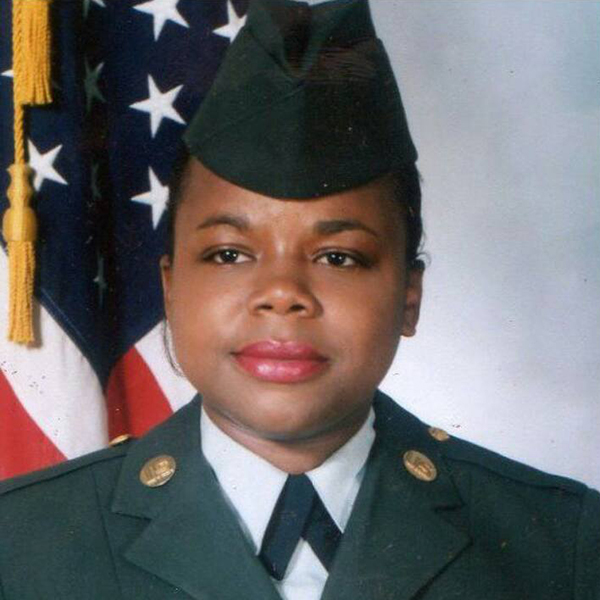 As part of the CUNY-wide celebration of Veterans Day, the CUNY School of Professional Studies (CUNY SPS) pays tribute to the past or present military personnel who make up a vital part of our community. CUNY SPS is proud to share some of their stories and highlight some of the ways that the School works to ensure their success here.
Andrew Reynolds, a CUNY SPS administrator, reflects upon his own military service and how it has helped him in his current position. As Campus Operations Specialist, Reynolds works in the Office of Campus Operations, which ensures that the school has a clean and safe physical environment by managing maintenance, repairs, renovations, facilities and property, space reservations, and mail services.
Before working at CUNY SPS, Reynolds served for 4 years as a Marine, where he was stationed in both New Orleans, Louisiana, and Okinawa, Japan, carrying out duties that included mobilizing reserve units and troops for training. He was awarded the Navy Achievement Medal, a medal for good conduct, an overseas service ribbon, and several other citations for all his great work.
Looking back, Reynolds remarked that his time in the Marine Corps has given him an advantage in his civilian employment. "The influence the Marine Corps has had on me is my work ethic. …What we are taught as Marines [is to] get the job done and solve the problem." Reynolds continued, "There is no issue that can't be resolved. Anyone that has worked with me at CUNY SPS can attest to that. Once you present the situation to me, it will be rectified in a timely manner."
For Reynolds, Veterans Day is a time to contemplate brotherhood and sacrifice. He noted, "I did not see combat during my period of service, but was ready and prepared to do so. Other service members did see combat and lost lives. On Veterans Day I quietly pay respect to those individuals and their families. I also wear a button that I received when I left the Marine Corps in honor of that day."
Veteran students also bring skills from their time in the military that they use both in their studies and in their extracurricular activities. De Quency Bowen, a communications and media major, is also the managing editor of the Kiosk, the independent student-run newspaper of CUNY SPS, and the current treasurer of the CUNY SPS Student Association.
Prior to her time here, Bowen received a bachelor's degree in hospitality management at CUNY New York City College of Technology and spent 20 years working as a chef. In her military service, she served for many years in Fort Sill, Oklahoma, as a food service specialist.
Bowen, who plans to pursue a career in marketing and journalism, described how her military service instilled a sense of purpose and direction that inspired her to take on additional student responsibilities at CUNY SPS.
As she explained, "The military taught me how to be a leader. I learned that leadership is far more complex than barking out orders. A great leader is someone who has integrity, can lead by example, and has the ability to motivate their cadre by using their weakness to build their strengths."
Similar to Reynolds, Bowen finds herself thinking about the fundamental importance of military service on Veterans Day. She observed, "It is a day to reflect upon those that have served and have paid the ultimate price to protect this country."
Dr. Edwin Knox, associate professor and academic director of online business programs, also reflected upon his years in military service. Knox served in the Marine Corps in various roles, including Logistics Officer in 1989, where he served for combat in Operation Desert Storm. In 1991, Knox was honorably discharged from the Marine Corps and left with a number of accolades, including numerous Commanding General Certificate of Commendations, Meritorious Citation Ribbon, South East Service Medal with Bronze Star, and Kuwait Liberation Medal, among others.
As a result of his successful career in the Marines, Knox gained experience and skills that have been hugely beneficial in his civilian roles as entrepreneur, business practitioner, administrator, and educator. "My military experience strengthened my leadership and challenged me to think critically, to be strategic in my efforts, something that is extremely important in my work here at CUNY SPS and in my entrepreneurial engagements." Knox said, "…Most importantly, it taught me always to be mindful that my work impacts the lives of others. …As an educator, my work must result in students being prepared with the knowledge, skills, and abilities to secure a quality and meaningful life for themselves, their family and others who depend on them. Anything less is unacceptable."
Knox also remarked upon the significance of the holiday. "Veterans Day is a day of reflection of the commitment of our military. To applaud the courageous men and women willing to stand up and protect the freedoms of our country, even in the face of their demise. A day to honor those who have served and those currently serving around the globe in defense of freedom." Like Reynolds and Bowen, Knox has plans to commemorate it. "In paying tribute, I spend Veterans Day watching a military documentary or movie, or walking through the city, [where I] simply take note of the many monuments erected in honor of veterans and battles they fought. More importantly, I offer my thanks to veterans for their service to our nation."
These personal accounts represent just a few of the voices from CUNY SPS's military community, but emphasize the unique perspectives and skillsets that they bring to the School. In an effort to nurture our past or present military personnel students and help them flourish in an educational setting, the School offers a number of services to address their (often differing) needs. CUNY SPS provides support to these students in several ways, starting with a dedicated staff member. Dr. Christopher Leydon, associate director of student services, serves as a point-of-contact for all veterans and military family members at CUNY SPS. As part of his role, Leydon, assists veterans with the application process, liaises with other offices to support these students, acts as the VA school certifying official, and maintains a Blackboard organization to share resources, events, and opportunities of particular interest to this group.
Additionally, the School also provides a variety of services to make it easy for past or present military personnel to enroll, register, and complete their degree. Once enrolled, most student veterans qualify for in-state tuition rates and may also receive provisions for grades and refunds, if called to active duty or training. The school also features special provisions for veterans who re-enroll (including late registration and tuition deferral) to encourage them to come back and finish their degrees.
Finally, seeking to make the costs of education as affordable as possible, the School offered a military scholarship for the first time in 2019. This scholarship was established by the CUNY SPS Foundation to support its military student community. Under its criteria, CUNY SPS students who are past or present service members with a minimum 2.0 GPA (for undergraduates) and 3.0 GPA (for graduate students) and demonstrate financial need and academic merit may receive $1,000 for tuition. This year, students Trevorlis Elder, Jun Wan, and Jonathan Tarharka were the recipients of the scholarship.
The school's record of support has led it to be recognized as a Military Friendly School, most recently for the 2019-2020 academic year. Additionally, CUNY SPS was ranked 11th in the Nation in U.S. News & World Report's list of the 2019 Best Online Bachelor's Degree Programs for Veterans.
About the CUNY School of Professional Studies
Home to the first fully online degree programs at the City University of New York, the CUNY School of Professional Studies (CUNY SPS) provides online and on campus programs that meet the needs of adults who are looking to finish a bachelor's degree, earn a master's degree or certificate in a specialized field, advance in the workplace, or change careers.
The School's growth has been remarkable. Launching twenty-three degrees since 2006, enrollment has risen by more than 30% in the last four years to over 3,700 students in the credit-bearing programs. We serve thousands more who are enrolled in our non-degree and grant funded workforce development programs. In addition, the School has an active Alumni network and established the CUNY SPS Foundation, which offers multiple scholarship opportunities to our current students.
Affirming our role as a leader in online education, CUNY SPS was ranked in the top 5% of U.S. News & World Report's list of the 2019 Best Online Bachelor's Degree Programs, making CUNY SPS the highest nationally listed program in New York City.
Press Contact:
Andrea Fagon
Director of Marketing and Communications
andrea.fagon@cuny.edu
(646) 664-8690