CUNY SPS Celebrates Resilient and Determined Class of 2021 Nurses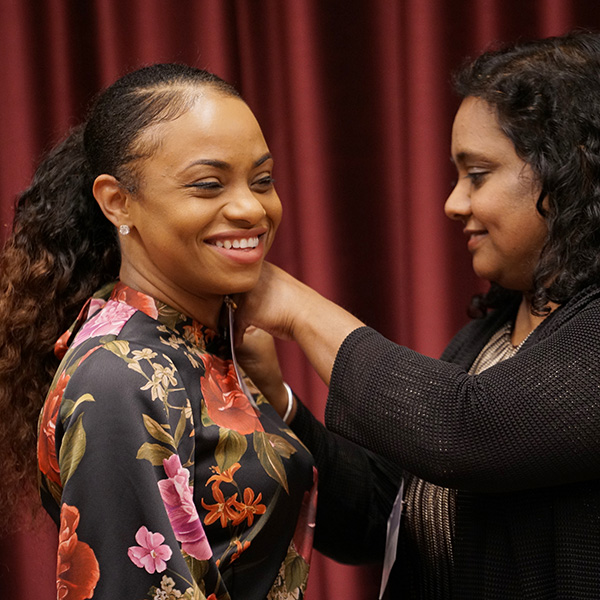 In recognition of the Class of 2021 nursing graduates, the CUNY School of Professional Studies (CUNY SPS) celebrated their successful program completion with a virtual Nursing Convocation and Pinning Ceremony. This event, which was livestreamed on YouTube on May 13, featured speeches, acknowledgements, and congratulatory messages for the more than 200 nursing students earning their bachelor's and master's degrees. 
"I am tremendously proud of our graduating nurses and was thrilled to honor them and their accomplishments at the 2021 Nursing Convocation and Pinning Ceremony," said Dr. Margaret Reilly, academic director of the nursing programs at CUNY SPS, who officiated the ceremony and delivered opening remarks. "It is especially gratifying given all that our nurses have gone through over the past year. Amid all the suffering, loss, fatigue, stress, and life emergencies they faced while serving on the front lines of the pandemic, they still managed to persevere with their studies at CUNY SPS. Their resilience and determination are an inspiration. They leave here as leaders of change and innovation—I know they will continue to make a difference in the world!"
The nursing pinning ceremony is a time honored tradition that can be dated back to the 12th century. It is a celebration of the graduate's completion of nursing school, and commemorates their service as members of the profession of nursing.
This year, the commemoration featured speeches from Dr. Reilly, CUNY SPS Dean John Mogulescu, Dr. Patricia Simino Boyce, CUNY University Dean for Health and Human Services, who delivered the keynote address, and CUNY SPS students Erica M. John and Giselle Espinal, who offered comments on behalf of the master's and bachelor's classes respectively. 
In a year dominated by the COVID-19 pandemic, nurses and the work they do has never been more important, as noted in the School's celebration of National Nurses Month earlier this May. Throughout the pinning ceremony, the speakers all spoke movingly about the enormous challenges that nurses faced this past year and the remarkable hurdles the Class of 2021 overcame to get to the finish line. 
Dr. Reilly, in her opening remarks, paid tribute to the nursing graduates and their remarkable achievements in their last year of school. "They answered the call, fulfilled the mission to care, celebrated the victories over a deadly illness, and mourned the losses…. In spite of these unprecedented professional demands—our students demonstrated their incredible resilience and persistence and managed to complete their degrees."
Similarly, Dean Mogulescu reflected on the special meaning of this milestone for the Class of 2021 nursing graduates. "In the face of all of this adversity, you prevailed.…The nursing pin that you receive will stand as both a sign of all that you have achieved at CUNY SPS and a symbol of your competency, care, and everlasting commitment to your profession."
Following this, Dr. Boyce delivered the keynote address, offering advice from her own years working as a nurse and expressing her own gratitude and amazement for all that the students have been through. "The Class of 2021 has endured some very unique circumstances…. You've proven to be resilient, and demonstrate the necessary fortitude, intellect, and grit to be successful against all odds. For that alone, you must celebrate and acknowledge your extraordinary success. We are so proud of you and recognize your accomplishment, especially given the path you had to travel."
In addition, two student representatives from the CUNY SPS master's and bachelor's classes offered their own remarks, sharing their own personal stories and reflections. 
Erica M. John, a MS in Nursing Organizational Leadership candidate, gave a riveting account of her time on the frontlines. "There were days I did not want to leave my family, but I knew I would make more of a difference at work. I realized the moral and ethical responsibilities nurses assume when disasters affect all of us. So, I went to work, geared up in Personal Protective Equipment (PPE) from head to toe and cared for patients in a COVID Intensive Care Unit who needed me. We not only cared for our patients and their families, but we also became their families." 
Giselle Espinal, a BS in Nursing candidate, observed how her education has prepared her for the future. "I have never felt more supported anywhere as I did here at CUNY SPS. …. Every professor I had was always a text or email away and with all the resources offered I had everything necessary to excel. I began SPS unsure of myself as a nurse, feeling not worthy of the title RN and now…. I have the knowledge and skills necessary to become the leader I know I can be and the confidence to walk into my next interview and show them just what a great choice they will make by giving me a chance, just as CUNY SPS did."
Following the conclusion of the remarks, the video presented the names of 13 nursing students who were inducted into the prestigious Sigma Theta Tau International Honor Society of Nursing, which invites nursing students and leaders to become members on the basis of their excellence in scholarship or exceptional nursing achievements. 
At the close of the video, a complete list of all the degree candidates, along with the titles of their master's practicum and bachelor's capstone projects, were displayed. 
To view an archived version of the video, as well as presentations of the graduates' research projects and congratulatory messages, please visit the 2021 Nursing Convocation and Pinning Ceremony website.
About the CUNY SPS Online Nursing Programs
The CUNY School of Professional Studies offers a portfolio of online degree and advanced certificate programs in nursing in order to help fill the growing void within the healthcare system. Serving as the first fully online nursing degrees in the CUNY system, our programs help nurses advance within their careers while continuing their education in a timely, flexible, and affordable way.
About the CUNY School of Professional Studies
For over 15 years, the CUNY School of Professional Studies (CUNY SPS) has been leading online education in New York. Notable for offering the most online bachelor's and master's degree options at the City University of New York, and for serving transfer students as the University system's only undergraduate all-transfer college, CUNY SPS meets the needs of adults who wish to finish a bachelor's degree, progress from an associate's degree, earn a master's degree or certificate in a specialized field, and advance in the workplace or change careers.
The School's growth has been remarkable, with twenty-four degrees launched since 2006. Enrollment has risen by more than 30% in the last four years to over 4,000 students in the credit-bearing programs. Thousands more are enrolled in non-degree and grant-funded workplace learning programs. In addition, the School has an active alumni network and has established the CUNY SPS Foundation, which offers multiple scholarship opportunities to current students.
CUNY SPS has consistently been named by U.S. News & World Report as one of the country's top online institutions. This year, the School was ranked in the top 2% in the nation on the publisher's list of the 2021 Best Online Bachelor's Degree Programs.
Press Contact
Andrea Fagon
Director of Marketing and Communications
andrea.fagon@cuny.edu