CUNY SPS Celebrates PEWL During Workforce Development Month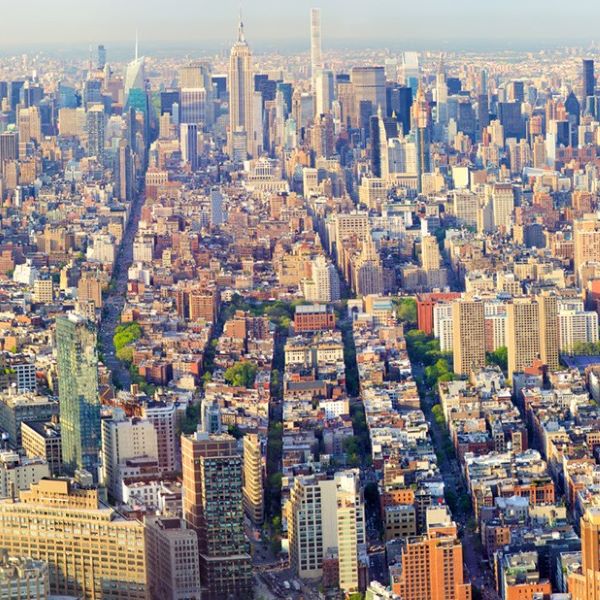 The CUNY School of Professional Studies (CUNY SPS) celebrates Workforce Development Month with a spotlight on the School's Office of Professional Education and Workplace Learning (PEWL).
Created in 2005 by the National Association of Workforce Development Professionals (NAWDP) as a way to honor our nation's workforce professionals, this annual observance offers an opportunity to highlight PEWL's work and the impact it has on New York.
Background and History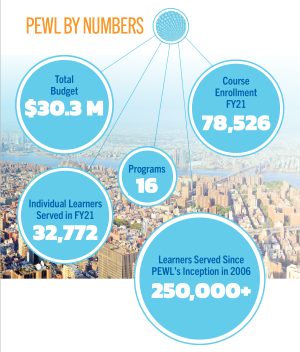 PEWL was conceived about the same time when CUNY SPS began admitting undergraduate degree students in 2006 with the idea that a great urban university should also pay attention to the needs of the city.
The unit is comprised of more than 200 learning and development professionals who partner with city and state agencies, nonprofit organizations, and the private sector to develop engaging learning programs.
PEWL begins its work with a potential client by assessing needs to understand the challenges, initiatives, and changes to help develop learning solutions for the organization.
A few examples of PEWL's areas of expertise include designing learning solutions, learning management systems and technology, program evaluation, project management and asynchronous, instructor-led virtual-led training platforms.
"PEWL is a fantastic unit at CUNY SPS and has a big impact in the city," Jorge Silva-Puras, CUNY SPS Interim Dean, enthused. "We received more than $30 million in funding this past fiscal year for our programs and more than 32,000 people have taken at least one course offered by PEWL during fiscal year 2021."
He added that since the inception of PEWL, more than 250,000 city and state employees along with other people from around the metro region and the country have benefited from our work.
Programs and Impact
PEWL has 16 programs in its portfolio, including three of its largest programs—the NYC Administration for Children's Services (ACS) Workforce Institute; the New York State Office of Children and Family Services (OCFS) Training Technology, Distance Learning, and Direct Training Services Program; and the NYC Human Resources Administration Office of Child Support Services (OCSS) Training Program.
Several examples of PEWL's training programs are featured below.
The Workforce Institute is a partnership among ACS, PEWL, and the Hunter College Silberman School of Social Work, which provides ongoing professional skills development for direct service staff and supervisors at ACS and its many partner agencies.
PEWL's work includes providing the Workforce Institute with comprehensive project management to support the development and launch of two state-of-the-art training and simulation centers for child welfare and juvenile justice staff and supervisors working in ACS and its many contract provider agencies. Equipping staff with immersive training experiences helps existing staff enhance their skills and allows new staff to have on-the-job experiences before they are truly "on-the-job."
The centers, located at Union Hall in Jamaica, Queens, and West 125th Street in Harlem, are equipped with advanced audiovisual equipment to allow for remote participation and interaction with the simulation learning.
The Union Hall site features 27,000 square feet of training and simulation space, including 10 classrooms, a mock court, two simulation apartments, a flexible simulation space, and a special room to accommodate training for Youth Development Specialists. The 125th Street location features 4,000 square feet of training and simulation space, including two classrooms, a simulation apartment, and a flexible simulation space.
"Our partnership with PEWL allows us to benefit from experts and consultants who help us develop interactive learning programs to advance the work of child welfare and juvenile justice workforce and to better serve the City's most vulnerable children and families," said Cheryl L. Beamon, Associate Commissioner with the City's Office of Training and Workforce Development, who oversees the Workforce Institute partnership. "I love the diversity of the staff and their commitment to racial equity and social justice."
In another example, the Department of Social Services (DSS)/Department of Homeless Services (DHS) partners with PEWL on two programs—the DHS Staff Learning and Development Program and Financial Independence Now (FIN) Program.
The DSS DHS Staff Learning and Development Program group writes comprehensive procedures and designs and deploys training to provider staff on operational processes and city mandated topics, focusing on how to manage and maintain DHS-funded facilities and programs.
Adam Waitzman, assistant deputy commissioner for policy and procedures at the city's Human Resources Administration DSS, said what he likes about the PEWL partnership is the professionalism and expertise being provided to support the program area.
"While not the subject matter experts themselves for the projects they are working on, getting so embedded with the work and those that are the experts to the point that it is hard to distinguish between CUNY SPS PEWL staff and DSS staff," noted Waitzman. "The efficient and effective communication has helped lead to a well-functioning partnership."
PEWL's other collaboration, the DHS FIN, provides shelter staff, including case managers, housing specialists, and shelter leadership, with practical strategies for providing financial coaching to shelter clients to help them set financial goals, develop monthly spending and savings plans, check credit scores and reports, and ultimately transition to permanent housing.
"We are grateful to PEWL for their incredible partnership on the FIN initiative which has provided valuable training for DSS-DHS and our provider-partner staff to better assist clients looking to develop financial literacy skills as they stabilize their lives," said Shereen Margolis, Partner Liaison Manager, Office of Public/Private Partnerships and Erin Foster, Programs/Special Projects Coordinator, Adult Services Division DHS. "This is the kind of innovation that helps build on our ongoing efforts to offer vulnerable New Yorkers the high-quality supports they need and deserve."
PEWL Executive Director Amy Perez, who has led the unit since March 2019, said she is incredibly proud of the work that her staff does to help organizations and their staff with their goals through a variety of programs and courses.
"When the city has a need, they come to us because they know we will respond quickly and competently with quality services and programs," Perez said. "We also have partnerships with nonprofit and publicly owned organizations, such as the Central Park Conservancy Institute for Urban Parks and Con Edison. We are experts in research-based learning practices, both online as well as in-classroom curriculum development and implementation. We are uniquely positioned to respond to organizational learning needs and support change management initiatives swiftly and effectively."
About the CUNY School of Professional Studies
As New York's leader in online education since 2006, the CUNY School of Professional Studies (CUNY SPS) offers the most online bachelor's and master's degree options at the City University of New York, and serves as the University's only undergraduate all-transfer college. With 26 degrees and numerous other non-degree and grant-funded workplace learning programs, CUNY SPS meets the needs of adults who wish to finish a bachelor's degree, progress from an associate's degree, earn a master's degree or certificate in a specialized field, and advance in the workplace or change careers. Consistently ranked highly by U.S. News & World Report for its online offerings, and noted for its soaring growth and enrollment, CUNY SPS has emerged as a nationwide leader in online education. The School's renowned and affordable online programs—which offer in-state tuition to all students regardless of where they live—ensure that busy working adults may fulfill their educational goals on their own time and schedule.
Press Contact
Andrea Fagon
Director of Marketing and Communications
andrea.fagon@cuny.edu