CUNY SPS Celebrates CUNY Disability Awareness Month with Events Exploring Key Disability Issues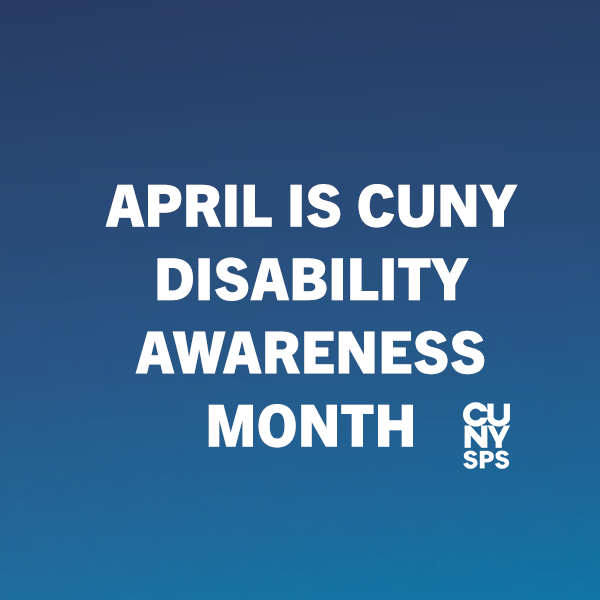 Faculty, Staff, and Students Host Talks Throughout April Examining All Aspects of Disability, with Focus on Accessibility, Disability Justice, and Pedagogy
The CUNY School of Professional Studies (CUNY SPS) welcomes CUNY Disability Awareness Month, an annual university-wide observance honoring efforts to promote and highlight the needs of the disability community, with a number of events offered this April.
The Disability and Access Coalition (DAC), a student organization with a mission to raise awareness around disability issues and foster community between students with disabilities and allies, will host several talks throughout the month.
"For CUNY Disability Awareness Month, the DAC is excited to showcase disability from multiple perspectives. Our events include conversations with medical experts, student leaders, disability studies academics, and many other disabled people," said Jamie Lerner-Brecher, chair of the DAC.
On Thursday, April 7, the DAC will lead the session Creating an Inclusive Space for Disabled Students: A Discussion with Student Leaders at the CUNY SPS Student Leadership Conference. During this talk, two disabled student leaders will share how they have created inclusive and welcoming spaces for disabled students, even when members have conflicting access needs. Panelists will include Lerner-Brecher; Leonard Blades, executive vice chair of the CUNY Coalition for Students with Disabilities; and Amanda Ramkishun, vice-chair of administrative affairs for the DAC.
On Wednesday, April 13, the DAC will also host The Forgotten Victims of the Covid Pandemic: A Conversation and Screening of Long Haul: The Movie. Offering a look at the award-winning documentary Long Haul, which highlights the untold story of hundreds of thousands of people still suffering from COVID, the film's executive producer Noah Greenspan and multiple COVID long haulers featured will discuss the impact the virus has had on their lives, the medical system, and the world at large.
"We're hoping that the Long Haul documentary and conversation with producers will serve to remind people of the risks that COVID still poses—not only to immunocompromised and disabled people, but to everyone," said Lerner-Brecher.
In a final event on Thursday, April 28, the DAC will present Adventures on the Mobius Strip: Enabling Disability Worlds. Featuring Rayna Rapp and Faye Ginsburg, two disability studies professors from New York University, this talk will spotlight their latest research on disability and the ways it may reshape thinking within contemporary anthropology.
To learn more about this and other DAC programming, contact the organization here. 
In addition to these, CUNY SPS's disability studies programs are organizing talks on disability reform and pedagogy this month.
On April 12, all are invited to attend Willowbrook: Systems Change Through Court-Ordered Reform. This event is the second of the programs' special two-part spring lecture series commemorating the 50th anniversary of the 1972 exposé of Willowbrook State School. Clarence J. Sundram, a nationally recognized attorney who has worked for decades as a monitor of cases involving people who have disabilities, will speak about his experience as a monitor for Willowbrook and the barriers faced when changing large-scale governmental systems of care for the disabled.
More information on this and the first lecture in the series, in which the academic director of CUNY SPS disability studies programs Mariette Bates discussed Willowbrook's history and her role in the closure, can be found here.
On April 27, the disability studies programs will also celebrate the launch of the third issue of the Journal of Teaching Disability Studies, a groundbreaking publication of disability studies pedagogy edited by CUNY SPS faculty and staff, with An Insider's Look at the New Issue. In this behind-the-scenes conversation, authors and editors will discuss the new issue and answer questions from the audience.
Outside of CUNY SPS, several of the School's faculty, staff, and students will also be presenting at the 13th annual CUNY Accessibility Conference held from April 11 through April 14.
Sheryl Burgstahler, faculty in the CUNY SPS disability studies program, will lead the April 12 session Promoting Universal Design for All Aspects of Instruction: What do Faculty Need to Know? Participants will be guided through a process for fleshing out a toolkit relevant to the design of broadly accessible and inclusive learning opportunities that address the design of curriculum, pedagogy, multimedia, technology, and physical spaces.
On Thursday, April 14, CUNY SPS will also host Promoting Human Flourishment through Campus and Community Accessibility: A Justice Forward Approach. Led by CUNY SPS faculty Cassandra Evans and Matthew Conlin, along with CUNY SPS students Allison Murphy and Matthew Hines, the panel will draw from real-life experiences at CUNY SPS to examine the ideas of disability accommodation, access, and justice, and how these have become even more crucial in a post-pandemic world.
For Murphy, a BA in Disability Studies student who was invited to join the panel by Conlin, the presentation offers a chance to share her own story in hopes of inspiring others.
"I hope the attendees learn that just because you are different doesn't mean that you should give up…," said Murphy. "You always must keep fighting and you're going to be told 'no' several times in your life, but it is important that you use it as an empowerment tool to help you believe in yourself and to help you become the strongest and best person you can be."
About Disability Studies at the CUNY School of Professional Studies
Disability Studies is an emerging academic field that explores disability from multiple perspectives, including the social sciences, humanities, science, and the law. CUNY SPS offers groundbreaking, fully accredited online degree and certificate programs within Disability Studies including the BA in Disability Studies, MA in Disability Studies, MS in Disability Services in Higher Education, Advanced Certificate in Disability Studies, and Advanced Certificate in Disability Services in Higher Education.
About the CUNY School of Professional Studies
As New York's leader in online education since 2006, the CUNY School of Professional Studies (CUNY SPS) offers the most online bachelor's and master's degree options at the City University of New York, and serves as the University's only undergraduate all-transfer college. With 24 degrees and numerous other non-degree and grant-funded workplace learning programs, CUNY SPS meets the needs of adults who wish to finish a bachelor's degree, progress from an associate's degree, earn a master's degree or certificate in a specialized field, and advance in the workplace or change careers. Consistently ranked highly by U.S. News & World Report for its online offerings, and noted for its soaring growth and enrollment, CUNY SPS has emerged as a nationwide leader in online education. The School's renowned and affordable online programs—which offer in-state tuition to all students regardless of where they live—ensure that busy working adults may fulfill their educational goals on their own time and schedule.
Press Contact
Andrea Fagon
Director of Marketing and Communications
andrea.fagon@cuny.edu