CUNY Disability Awareness Month 2021 Honored With Service and Scholarship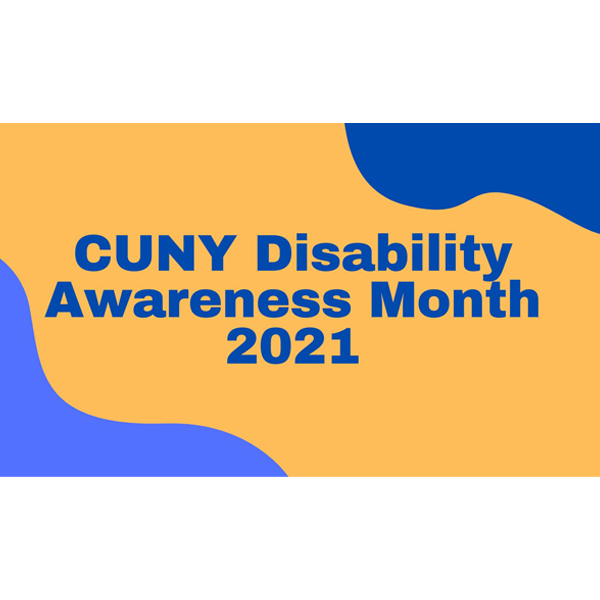 This April, the CUNY School of Professional Studies (CUNY SPS) celebrates CUNY Disability Awareness Month, a University-wide observance that seeks to recognize disability culture and share CUNY's continued commitment to equal access and engagement of students with disabilities.
To commemorate this month, CUNY schools around the city will be hosting virtual events throughout April. A full list of events across all CUNY campuses, compiled by the CUNY Office of Student Inclusion Initiatives (OSII), are available on the CUNY website.
At CUNY SPS, the disabilities studies programs will be hosting a spring special topics lecture on April 22 entitled From Hope to Expectation: Habilitation & Cochlear Implants in India with Dr. Michele Friedner, a medical anthropologist in the Department of Comparative Human Development at the University of Chicago. During the talk, Dr. Friedner will discuss her groundbreaking research on disability and deafness, along with new cochlear implantation programs in India and elsewhere.
"Each spring, the CUNY SPS disability studies program is pleased to present a special lecture exploring different topics within the field of disability studies. This year, we are particularly excited to welcome Dr. Friedner, whose seminal research on deafness has contributed tremendously to disability scholarship," said Dr. Mariette Bates, academic director of the disability studies programs at CUNY SPS.
Separately, a number of faculty, staff, and alumni hailing from the CUNY SPS's groundbreaking undergraduate and graduate disabilities studies programs—which are some of the first of their kind in the country—will also be featured in accessibility-related events during CUNY Disability Awareness Month.
At the 12th Annual CUNY Accessibility Conference: Perspectives on Access: Innovations, Lessons Learned, and Moving Forward, a virtual event that brings together hundreds of state and national participants to discuss accessibility, disability services, and disability activism in higher education, CUNY SPS has made a strong showing.
Among students and alumni involved are Leonard Blades, CUNY LEADS Plus Advisor at Queensborough College, and Shivan Mahabir, project manager and assistive technology specialist at CUNY Assistive Technology Services (CATS), who is also the conference organizer. Additionally, several CUNY SPS staff and faculty also served on the conference's planning committee, including Christopher Leydon, Heather Zeman, Antonia Levy, Raymond Perez, and Chris Fleming.
Other CUNY SPS faculty and staff will present accessibility-themed talks at the fifth biennial CUNY Faculty Diversity and Inclusion Conference: The Power of An Antiracist Academy: Reimagining Systems & Structures.
During a session on April 15, Carrie Shockley, director of both the JFK Jr. Institute at CUNY SPS and the Disability Programs at the CUNY Office of Student Inclusion Initiatives, will present latest research about CUNY Unlimited, a credential program which expands access to the college experience for students with intellectual disabilities. On April 16, Sarah Zeller-Berkman, academic director of the CUNY SPS youth studies program and director of The Intergenerational Change Initiative; Matthew Conlin, adjunct lecturer in (and graduate of) the disability studies programs and coordinator; and Chanira Rojas, program coordinator (and also an alum) from the youth studies program, will together discuss ableism and equity in the CUNY SPS youth studies program.
Outside of these events, the month's observance provides a chance to showcase some of the CUNY programs, services, and initiatives that demonstrate the university's ongoing commitment to students with disabilities.
Each CUNY campus has an Office of Disability Services, with staff who are trained to coordinate the provision of reasonable accommodations and support services for students with disabilities. They also provide counseling and referrals, and arrange crucial auxiliary aids and services, including assistive technology services, note takers, readers, sign language interpreter services, distance learning networks, priority registration, and alternative testing arrangements.
For students with disabilities, the support provided by campus offices can be crucial. "I was involved with disability services since coming here to CUNY SPS in fall 2017. With staff assistance, I was able to effectively and quickly be sure that my academic accommodations were met," said Jill Von Fumetti, a student in the CUNY SPS disability studies BA program. "The staff was very welcoming to me as a student. They even double checked with me to make sure I had everything I needed to read my material for class."
Beyond campus-specific services, CUNY also supports a number of disability advocacy offices and organizations, such as the Central Office of Student Inclusion Initiatives (OSII) and the student-run CUNY Coalition for Students with Disabilities (CCSD). Other programs offered CUNY-wide include Project REACH: Resources and Education on Autism, CUNY LEADS (Linking Employment, Academics, and Disability), CUNY Unlimited, and the CUNY Assistive Technology Services Department (CATS).
Many of these initiatives provide an opportunity for alumni of CUNY SPS disability studies programs, particularly those from the MS in Disability Services in Higher Education, to share their knowledge and expertise with the rest of CUNY.
In one recent example, the CUNY Learning Disabilities Project organized a Distance Learning Toolkit in fall 2020. Developed partly by CUNY SPS alum (and current staff member) Chris Fleming, who worked hand-in-hand with the CUNY Coalition for Student with Disabilities and Charmaine Townsell, University Director of Student Engagement and Inclusion for the Office for Student Inclusive Initiatives, the toolkit contains practical advice, tips, and resources for students engaged in distance learning.
Fleming, who serves as the CUNY Learning Disabilities Project Coordinator in addition to his role at CUNY SPS, described his participation. "My contributions to the toolkit are derived from my three years' experience providing support to distance learners here at CUNY SPS, and my own personal experience studying at CUNY SPS while earning my MS in Disability Services in Higher Education," said Fleming. "I know all too well the struggles of finding peace in this hectic city, so I tried to package some of what I learned over the years into this kit."
The care and commitment to disability culture reflected by CUNY's programs and staff not only speaks to the high level of service for students with disabilities, but may even inspire some students to seek a career in the field themselves.
"Before coming to CUNY SPS, I was completely unaware that the field of disability studies existed. I was looking for online programs and this seemed to address my desire to help others and to help my community," said Von Fumetti. "I plan to apply my degree by becoming a professor of disability studies which will involve attending graduate and doctoral schooling. I can make a difference even though my disability is extremely physically limiting. With my education, I can open up the minds of my future students to the world of disability."
About the CUNY School of Professional Studies
For over 15 years, the CUNY School of Professional Studies (CUNY SPS) has been leading online education in New York. Notable for offering the most online bachelor's and master's degree options at the City University of New York, and for serving transfer students as the University system's only undergraduate all-transfer college, CUNY SPS meets the needs of adults who wish to finish a bachelor's degree, progress from an associate's degree, earn a master's degree or certificate in a specialized field, and advance in the workplace or change careers.
The School's growth has been remarkable, with twenty-four degrees launched since 2006. Enrollment has risen by more than 30% in the last four years to over 4,000 students in the credit-bearing programs. Thousands more are enrolled in non-degree and grant-funded workplace learning programs. In addition, the School has an active alumni network and has established the CUNY SPS Foundation, which offers multiple scholarship opportunities to current students.
CUNY SPS has consistently been named by U.S. News & World Report as one of the country's top online institutions. This year, the School was ranked in the top 2% in the nation on the publisher's list of the 2021 Best Online Bachelor's Degree Programs.
Press Contact
Andrea Fagon
Director of Marketing and Communications
andrea.fagon@cuny.edu