CUNY SPS Staff-Led Project Offers Students Useful Distance Learning Tips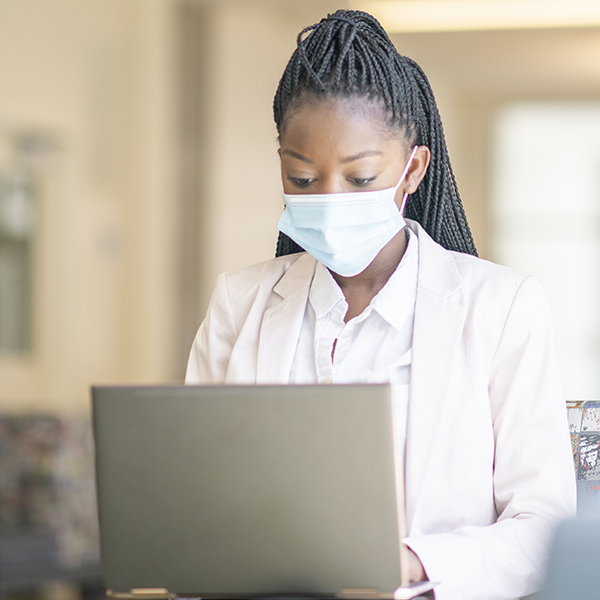 In an effort spearheaded by a staff member at the CUNY School of Professional Studies (CUNY SPS), the CUNY Learning Disabilities Project (LD Project) has released a Distance Learning Toolkit designed to help students better navigate the virtual learning world. Created in partnership with the CUNY Coalition for Students with Disabilities (CCSD) and the CUNY Office of Student Inclusion Initiatives (OSII), the Toolkit contains practical advice, tips, and resources for students engaged in distance learning.
Christopher Fleming, the student disability services coordinator at CUNY SPS, led this initiative in his capacity as coordinator of the LD Project. "Like many things in higher education this year, the mission of the CUNY Learning Disabilities Project needed rethinking in the face of the pandemic. Working with our partners across CUNY, we decided it would be fitting to make something that directly supports all students, staff, and faculty and not just those with disabilities," explained Fleming. "Most of my contributions to the Toolkit were derived from my three years' experience providing support to distance learners here at CUNY SPS, and my own personal experience studying at SPS while earning my MS in Disability Services in Higher Education....Now that the Toolkit has been shared with all of CUNY, my main hope is that the community finds the information useful and applicable."
Designed to help anyone who may be struggling to adjust to online learning, the Distance Learning Toolkit include sections on study and work techniques, work-life balance, communication etiquette, videoconferencing strategies, virtual learning tools, connecting and working with peers, and campus resources. Those interested in the Toolkit may freely access and download the PDF version of it on the LD Project website.
The Toolkit is the most recent effort by CUNY to offer distance learning support to students across all of its campuses. In spring of 2020, the student-led CUNY Coalition for Students with Disabilities (CCSD) hosted the workshop "10 Distance Learning Survival Secrets". Inspired by the enthusiastic response, the coalition brought the idea of creating a distance learning resource to University Director of Student Engagement and Inclusion Charmaine Townsell, who then worked hand-in-hand with Fleming to develop this resource.
Following its completion, the Distance Learning Toolkit was published at the end of the fall of 2020 and distributed to all CUNY students via listservs and the CUNY Brief email. The Toolkit was also sent to all student life and disability services directors at CUNY schools, who were encouraged to add campus-specific information and resources before sharing with their students.
Since its publication, the Distance Learning Toolkit has received very positive feedback from students, faculty, and staff throughout CUNY schools. Based on suggestions and feedback garnered from a survey included in the document, Fleming and the team are planning to expand the Toolkit further and will be releasing an updated version in spring of 2021.
The Toolkit is the latest offering from the LD Project, whose stated mission is to develop CUNY students' self-understanding of their own strengths and limitations and to address these needs by assisting students in receiving evaluations, and by providing trainings and online resources on a regular basis to faculty and staff at CUNY. The LD Project webpage is one of several online resources hosted on the CUNY Assistive Technology Services' (CATS) website, created and maintained by a team of assistive technology specialists whose goal is to stay on the forefront of assistive technology and provide support for CUNY students with disabilities who utilize assistive technologies.
For more information on the LD Project and the Distance Learning Toolkit, please contact Christopher Fleming.
About the CUNY School of Professional Studies
For over 15 years, the CUNY School of Professional Studies (CUNY SPS) has been leading online education in New York. Offering the most fully online Bachelor's and Master's degree options at the City University of New York, CUNY SPS meets the needs of adults who are looking to finish a bachelor's degree, progress from an associate's degree, earn a master's degree or certificate in a specialized field, and advance in the workplace or change careers.
The School's growth has been remarkable, with twenty-four degrees launched since 2006. Enrollment has risen by more than 30% in the last four years to over 4,000 students in the credit-bearing programs and thousands more who are enrolled in non-degree and grant-funded workplace learning programs. In addition, the School has an active Alumni network and has established the CUNY SPS Foundation, which offers multiple scholarship opportunities to current students.
CUNY SPS has been ranked in the nation's top 5% by U.S. News & World Report for the past six years, most recently in its list of the 2020 Best Online Bachelor's Degree Programs, making CUNY SPS the highest nationally listed program in New York State and New York City.
Press Contact
Andrea Fagon
Director of Marketing and Communications
andrea.fagon@cuny.edu