6th Annual MAAT and Racial Justice Conference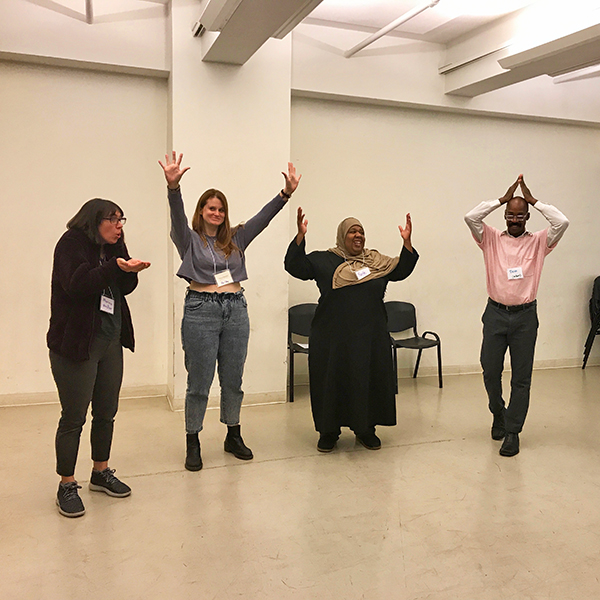 The MA in Applied Theatre program at the CUNY School of Professional Studies (CUNY SPS) announces the 6th Annual Applied Theatre and Racial Justice Conference.
Call for Proposals
Theme: What Do We Do Now, 'Cause There's Work to Do
November 6-7, 2020
A free, virtual conference
Session Proposals Due: Monday, October 19, 2020, 11:59pm ET.
Submit proposals by completing the proposal form.
We invite you to share your applied theatre or arts-based organizing practice as it relates to building and cultivating racial equity and plurality or resisting, challenging, or disrupting whiteness and white supremacy. Proposed workshops, panel discussions, trainings, or performances could include Theatre of the Oppressed, theatre in education, socially engaged theatre arts or other forms of using the arts to engage in community organizing or mobilizing. Join us for two days of sharing resources and critical discussion.
Applied Theatre is a generic term used to describe interactive, participatory, socially engaged, often politically inspired, theatre and drama practices conducted in non-traditional theatre spaces for and with populations that may not typically constitute mainstream theatre audiences. The work is very intentional. Goals often include education; the development of dialogue around important contemporary issues; community building; the creation of opportunities for voices that are often silenced or marginalized to be heard; celebration—and fun!
For any questions, please contact, H. "Herukhuti" Sharif Williams, PhD, conference coordinator, and Adeola Adegbola, assistant director of the MA program.
Theme
Given that the historic 2020 election in the United States will happen days before the conference, we invite proposals that help conference participants prepare for, participate in, grapple with, and engage with the world that will emerge immediately after the election. The conference curation team welcomes proposals that encourage learning across generations, celebrate communities targeted by violence, imagine what it means to thrive in the midst of struggle, combat despair or take action in the midst of it, and equip us as artists/educators to live at the center of public life and social change, particularly but not exclusively in the context of COVID-19. We want to learn how you've used arts and applied theatre to work for liberation and against repressive regimes.
The MAAT values diversity of methods and content, including creative ways of learning together and ideas that challenge the status quo. The conference curation team welcome proposals on topics and from presenters whose work is historically underrepresented in spaces, including but not limited to sessions focused on Black, Indigenous, and people of color (BIPOC) cultural practices and lives, disability justice, trans liberation, reproductive rights, immigration justice, health care access, confronting white supremacy, poverty and economic inequality, and environmental justice.
Proposal Guidelines
In your proposal, please describe how your session aligns with the conference theme, the ways in which the session will provide conference attendees with useful knowledge or resources, how the presenter(s) are uniquely qualified to offer the session, and how you will ensure the session is interactive.
Although the conference is hosted by the Masters in Applied Theatre Program, we expect all sessions to be accessible and inclusive of various abilities and open to people with no prior theatre experience. We welcome everyone committed to advance racial equity through their work. Sessions should be designed to allow non-theatre practitioners to participate seamlessly at a distance via video conference screen.
We are accepting proposals in three categories:
Workshops: Workshops are opportunities for learning skills, approaches, and frameworks or conscientization/consciousness raising. Learning opportunities could include: applied theatre conventions, writing prompts, revision or craft exercises, practical techniques for educators or balancing self-care with work, or other activities that connect contemporary issues and applied theatre and education. Please describe the specific activities you will offer. A workshop may be led by one person or a team.
Performances: Performances are presentations of artistic works. We are particularly interested in performances that showcase voices, perspectives, or topics that have been marginalized in the field of applied theatre. Please describe the central theme or connecting thread for your performance. All proposals for performances include run time and discussion time between performers and conference attendees.
Panel Discussions: Panel discussions are held by a panel of 3-5 persons and a facilitator. Panel discussions are designed to bring multiple, diverse perspectives into conversation about a central question, concept, or project. Please describe what questions you plan to explore. Panel designs that bring conference attendees into the discussion in powerful, unique, and effective ways are most attractive, e.g., semi-permeable fishbowl discussions. Please describe how you will involve participants in the discussion and how much time will be set aside for participants to dialogue with one another and/or panelists.
Session Length: Sessions will be in 1 hour or 1.5 hour blocks. We will confirm how much time each session will have once sessions are accepted.
Presenters: There is no limit to the number of proposals you may send but be sure all proposed presenters have agreed to be part of your session before you send it to us.
Community Building: The conference is a place for community building. Plan for your session to be interactive. When designing your sessions, please set aside time for dialogue or a period of questions and answers.
Recommendations for Your Proposal:
Give your proposed session an enticing, meaningful name of 10 words or less and provide a clear description of the techniques, theories, concepts, ideas, practices, etc. that your session will cover as well as the form(s) of engagement you will use during the session so that we have a concrete understanding of the content and design of your session.
Provide FULL contact information for all your session presenters.
Submit proposals by completing the proposal form.
We look forward to reading your proposal.
Read about last year's Racial Justice Conference!