Youth Studies Launches '23 with Community-Building Events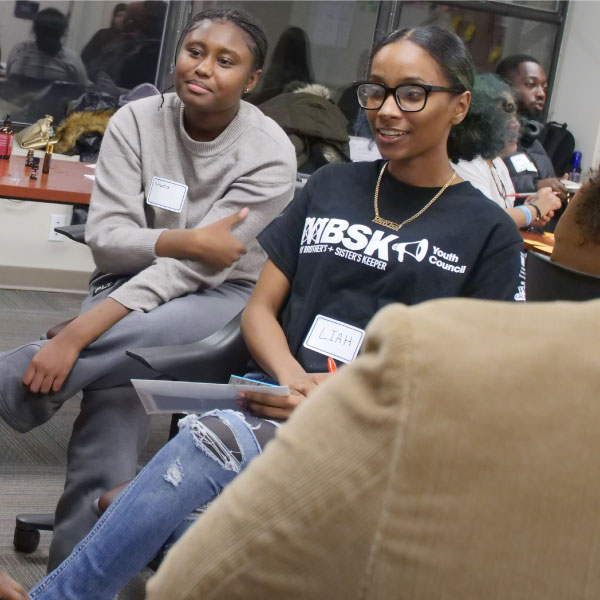 The CUNY School of Professional Studies (CUNY SPS) youth studies program rang in the new year by hosting two back-to-back events for students and alums.
The first symposium, NYC Youth Services: Then and Now, held January 11, featured a virtual conversation that focused on the NYC Youth service landscape of the early 1990s. The following week, on January 18, the New Year, New You, New Youth Agenda event provided a meet-up that combined self-care with conversations about pressing issues for NYC youth.
During NYC Youth Services: Then and Now, CUNY SPS Professor Lumumba Akinwole-Bandele facilitated a digital discussion that included the panelists Jason Warwin, the co-founder and associate director of Brotherhood Sister Sol, along with Majida Abdul-Karim, a former NYC high school principal. Much of the discussion centered on the social progress made in the 1990s through the former Mayor David Dinkins administration's Beacon program.
Warwin stressed today's need to further expand the use of schools as community-based youth programs. "Every school could be a community center. We've got them in every single neighborhood. They should be open all weekend long. They should be providing all different kinds of services." The panel acknowledged the wonderful work of the current Beacon programs around the city and the growth of the Community Schools movement. Warwin continued, "That could be an organizing effort that we could get around…get all these physical resources that can be utilized for the community and bringing in staff to provide all the additional needs that the young people have in communities."
The digital discussion concluded with Dr. Sarah Zeller-Berkman, academic director of the CUNY SPS youth studies program, fielding questions from students interested in knowing how to apply the youth-serving practices of the '90s in a post-pandemic world.
The next youth studies-sponsored affair, New Year, New You, New Youth Agenda, convened on the CUNY SPS campus. The on-campus setting allowed youth and adult allies to participate in a variety of self-care experiences, including massage, meditation, movement therapy, and intention setting.
CUNY SPS alum Tamir Z. Brown (Youth Studies MA '21) spoke about his impression of the evening. "I arrived after work and felt right at home. It was great to see Luis, a fellow Youth Warrior from our CUNY SPS WhatsApp group. We joined the group making oils. It was a great activity because we were able to talk about why we combined certain oils and what enhancing properties they possess," recalled Brown."Self-care is about preparation and restorative practices warding off potential burnout, which people in our field experience at a significant rate."
Dr. Zeller-Berkman was pleased with the function's success. "The event was a rich intergenerational space where youth and adult allies could enjoy healing activities and then engage in animated conversations about recommendations for this year's NYC Youth Agenda," she said. "The forum made connections between self-care and community care, individual and collective healing through action. It built off an event that brought together over 100 young people to look at youth-generated data to inform the new NYC Youth Agenda. These two events lead up to the release of the 2023 NYC Youth Agenda and the Accountable to YOUth report at a policy breakfast for elected officials slated for February 21st, 2023, and exemplify youth organizing/advocacy efforts happening via the youth studies program at CUNY SPS with our partner organizations in the NYC Youth Agenda Coalition."
About the CUNY SPS Youth Studies Programs
The CUNY SPS MA in Youth Studies, the first program of its kind in New York, was established in 2017, and the brand-new BA in Youth Studies launched in Fall 2022. Both programs aim to support the needs of individuals ages 12 to 24 by training qualified frontline youth workers, directors, and administrators. In addition to offering a high-quality degree, the youth studies program has a research agenda that uses youth-adult partnerships and a critical participatory action research approach to inform youth policy and practice in NYC. Current projects include collaborations with ACS and DOE and Amplify, a set of new and innovative research tools designed to engage young people in city-wide policy-making and drive local action.
About the CUNY School of Professional Studies
As New York's leading online school since 2006, the CUNY School of Professional Studies (CUNY SPS) offers the most online bachelor's and master's degree options at the City University of New York and serves as the University's first undergraduate all-transfer college. With 26 degrees and numerous other non-degree and grant-funded workplace learning programs, CUNY SPS meets the needs of adults who wish to finish a bachelor's degree, progress from an associate's degree, earn a master's degree or certificate in a specialized field, and advance in the workplace or change careers. Consistently ranked highly by U.S. News & World Report for its online offerings, CUNY SPS has emerged as a nationwide leader in online education. The School's renowned and affordable online programs ensure that busy working adults may fulfill their educational goals on their own time and schedule.
Press Contact
Andrea Fagon
Chief Marketing and Communications Officer
andrea.fagon@cuny.edu