This Veterans Day, CUNY SPS Pays Tribute to Those Who Have Served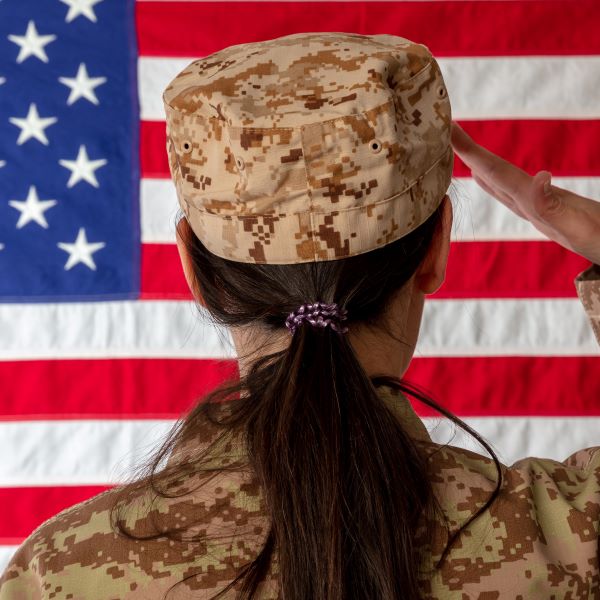 In recognition of Veterans Day, the CUNY School of Professional Studies (CUNY SPS) would like to shine a spotlight on members of our community who have served in the armed forces and sacrificed so much to keep our country and its people safe and free. As part of this day, we are pleased to highlight the careers of two veterans from our community: Corporal John Long, United States Marine Corp, and Nicole Petillo, Army Military Police Officer.
Achieving Dreams as a Marine—and as a Graduate of CUNY SPS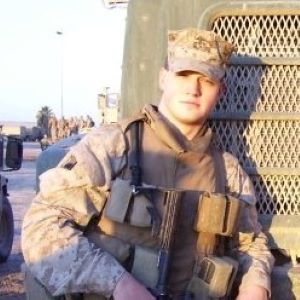 John Long enlisted two days after his 17th birthday, but his desire to become a Marine dates back even further. When he was nine years old, his father was posted at the American embassy in Tel Aviv, and Long found himself becoming acquainted with—and inspired by—the Marine Security Guards. From that time forward, he dreamed of following in their footsteps.
After the 9/11 attacks, Long became even more determined to enlist. In the summer of 2005, he signed up for the Corp, started boot camp in Parris Island, South Carolina, and became a full-fledged Marine 13 weeks later. For the next four years, Long served as an Infantry Assaultman, rising to the rank of Corporal while taking part in combat operations in Ramadi, Iraq, and Garmsir, Afghanistan.
Like many veterans returning to civilian life, Long wanted to use his benefits to attend college—and in CUNY SPS he found a perfect match. He entered the School's BA in Communications and Media program and graduated in 2020. Looking back on his experience, Long noted that the School "fit my schedule extremely well, enabling me to attend classes and complete course work while also working full time." Today, he works in the CUNY SPS Office of Military and Veteran Student Services (OMVSS), where he has achieved yet another goal: helping veterans and active military to access the benefits they have earned, and assisting them in achieving their academic, career, and life goals.
In this work, Long has been particularly impressed with the School's ability to reach not only veterans, but also active duty military and members of the reserve. "Anyone who has served knows that your time is not your own, and the needs of the service often take precedence over everything else," he explained. "CUNY SPS gives these students the flexible academic path and understanding faculty that they need in order to achieve their educational goals."
As we observe Veterans Day, Long encourages members of the CUNY SPS community to reconsider their preconceptions about the military and instead to recognize the diversity of veteran experiences. "There is no cookie cutter version of a vet's time in the service," he said. "I think that people who are unfamiliar with the veteran community often base their perceptions on movies or TV shows, but those are often inaccurate and only focus on specific topics such as PTSD or combat. One veteran's experiences may be vastly different from another."
Because there are so many possible paths within the military, Long also advised those considering enlistment to "…do lots of research. There are so many options available throughout all the branches in terms of jobs, duty stations, career opportunities and much more, that it can be overwhelming. Somebody who is considering enlisting should take the time to find out all they can about the options available to them." He offered similar advice to vets considering college: "Weighing the options against your specific situation, needs, and goals will help you make a more educated decision and will set you up for success in the future."
On this day, Long plans to celebrate by enjoying "the kind of ongoing appreciation that people show even after all these years, and to feel the sense of community with other veterans."
Making the Transition from Military Police Officer to Disabilities Studies Student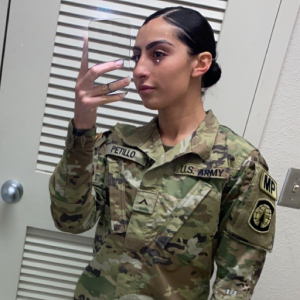 Nicole Petillo, a veteran of the United States Army, joined the military in 2020 to change her life trajectory. Today, as a civilian and BA in Disability Studies student at CUNY SPS, she is doing just that once again by using her military benefits to prepare for a career working with children on the autism spectrum.
Petillo's path did not begin in a recruiter's office. Instead, she decided to join the armed forces in a very 21st century way: by responding to a job posting on Indeed.com. She recalled, "I wasn't making enough money at work to keep up with bills, and one day […] I saw military police officer listed [online] and thought that it would be an exciting change in my life." She applied, was recruited, and soon found herself working at Fort Stewart in Georgia.
Due to sustaining two hip fractures early in her service, Petillo ended up serving for one year as an officer, performing a variety of duties. She enjoyed the work, but by the end of her enlistment period she was ready to try something new—college. She chose CUNY SPS based on the strength of its academic programming and veteran support services, the latter of which has helped her transition from active duty to civilian life. Most importantly, however, she chose CUNY SPS due to the School's unique online learning environment, which has enabled her "to work and strive for a degree simultaneously."
Today, Petillo has very specific career goals. "I want to be a behavior technician studying the behavior of children with autism and create treatment plans for them," she explained. She is active in many campus activities related to her goals, including the Disability and Access Coalition and the Psychology Club. As she works towards her degree, Petillo especially appreciates that the School "has given me the opportunity to not have to pay as much of a remainder of my tuition" and thus minimized her potential debt burden.
For Veterans Day, Petillo offered one piece of advice to members of the armed forces considering CUNY SPS: "Take advantage of tuition assistance." She made this point not just for veterans like herself but also for active-duty military, who can take classes at the School from thousands of miles away, something that in retrospect, she wishes she had done. She also had advice for those considering enlistment in the armed forces: talk to a recruiter or even two, as well as to someone who has already served. "Joining the military is a commitment," she said, "Make sure you are prepared for it."
About the CUNY School of Professional Studies
As New York's leader in online education since 2006, the CUNY School of Professional Studies (CUNY SPS) offers the most online bachelor's and master's degree options at the City University of New York, and serves as the University's only undergraduate all-transfer college. With 26 degrees and numerous other non-degree and grant-funded workplace learning programs, CUNY SPS meets the needs of adults who wish to finish a bachelor's degree, progress from an associate's degree, earn a master's degree or certificate in a specialized field, and advance in the workplace or change careers. Consistently ranked highly by U.S. News & World Report for its online offerings, and noted for its soaring growth and enrollment, CUNY SPS has emerged as a nationwide leader in online education. The School's renowned and affordable online programs—which offer in-state tuition to all students regardless of where they live—ensure that busy working adults may fulfill their educational goals on their own time and schedule.
Press Contact
Andrea Fagon
Chief Marketing and Communications Officer
andrea.fagon@cuny.edu