Two Alum from Applied Theatre Master's Win Theatre and Education Thesis Award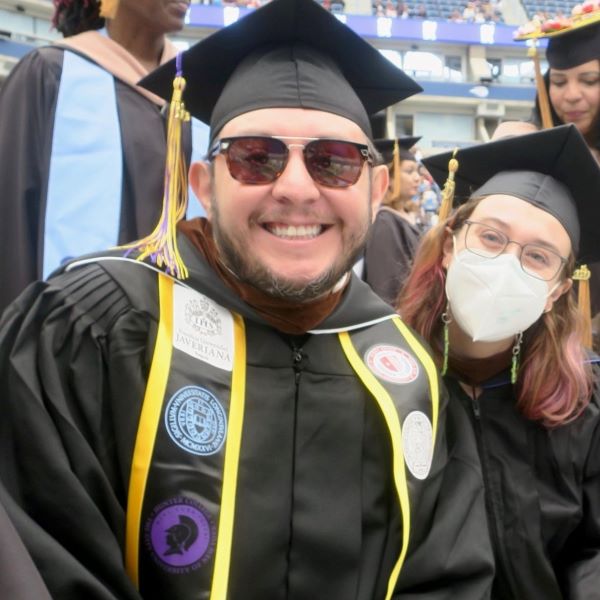 This summer, two recent alumni from the MA in Applied Theatre program at the CUNY School of Professional Studies (CUNY SPS) have received accolades from the American Alliance for Theatre & Education (AATE). Sarah Meister and Helio Sepulveda Zornosa (MAAT '20) are the recipients of the AATE 2022 Distinguished Thesis Award. Traditionally, only one winner is selected, but in an unprecedented move, unable to choose between them, AATE decided to honor both writers for their very different, but equally compelling, theses.
Sarah's project thesis is entitled Speaking Back and Imagining Forward: Using Applied Theatre to Instigate Dialogue in Museums. Helio's is Applied Theatre with a Translanguaging Stance: Working Juntos Viabilizando Critical Thinking.
"It comes as no surprise that either of these exceptional practitioners and scholars would have their work recognized by fellow professionals in the field," said Chris Vine, academic director of the MA in Applied Theatre (MAAT) program, "but what is surprising is that two alumni, from the same graduating class, should be honored jointly! The competition from prestigious universities—and much larger departments—around the country is stiff; and we understand that there were more submissions than ever before this year. This is indeed a great honor for these exceptional students. The program is very proud of them!"
Both practitioners are extremely talented artists and scholars, with a passionate commitment to using their theatre skills in the cause of cultural inclusion and social justice. With this in mind, Sarah chose to focus on the relationship between museums and their public. Working with project partners Amelia Hefferon, Stephen Morrash, and Joseph Webb, she researched and crafted a compelling action-research drama residency to interrogate dominant narratives of history and culture, and to ask questions around "belonging" and access in museums. Her subsequent written thesis theorized, analyzed, and beautifully documented this innovative work.
Helio is a native Spanish-speaker from Colombia. He currently teaches drama at the Pan American International High School in Queens, where "expanding the linguistic repertoire" of the students is a core component of the mission. Not surprisingly, Helio chose to focus his project thesis on the potential of applied theatre to enhance language acquisition. Helio and fellow students Susanna Brock and Yusi Gao, all practitioners for whom English is a second language, crafted a compelling sequence of practical, theatre-based learning experiences for adult English language learners in a community-based immigrant organization in Brooklyn. The outcomes and discoveries from these exciting sessions form the core of Helio's subsequent individual thesis.
Graduating students in the MAAT program are required to complete a project thesis, in which they envision, implement, and evaluate original applied theatre projects with a variety of participants and communities. The project thesis consists of 2 parts, an original practical project with a substantial accompanying written thesis. Students work one-on-one with faculty thesis advisers to develop their original work. Profound thanks is due to Professor Jan Cohen Cruz and Michael Wilson, who worked with Sarah and Helio respectively.
The American Alliance for Theatre & Education is a non-profit that serves and inspires a growing collective of theatre artists, educators, and scholars committed to transforming young people, adults, and communities through the theatre arts. Each year, the AATE hosts an annual ceremony to recognize the work of their members in the field. Open to members of AATE, the Distinguished Dissertation and Thesis awards honor research that focuses on questions pertinent to informal drama in education or to more formal theatre produced for, by, or with young people and adult participants.
About the CUNY SPS Master of Arts in Applied Theatre
The MA in Applied Theatre degree program, the first program of its kind in the United States, uses theatre as a medium for education, community development, and the pursuit of social justice. The goal of the program is to educate scholar practitioners to become future leaders in the field of applied theatre. Applied Theatre involves the use of theatre and drama in a wide variety of nontraditional contexts and venues, such as in teaching, the justice system, health care, the political arena, community development, museums, and social service agencies.
About the CUNY School of Professional Studies
As New York's leader in online education since 2006, the CUNY School of Professional Studies (CUNY SPS) offers the most online bachelor's and master's degree options at the City University of New York, and serves as the University's only undergraduate all-transfer college. With 26 degrees and numerous other non-degree and grant-funded workplace learning programs, CUNY SPS meets the needs of adults who wish to finish a bachelor's degree, progress from an associate's degree, earn a master's degree or certificate in a specialized field, and advance in the workplace or change careers. Consistently ranked highly by U.S. News & World Report for its online offerings, and noted for its soaring growth and enrollment, CUNY SPS has emerged as a nationwide leader in online education. The School's renowned and affordable online programs—which offer in-state tuition to all students regardless of where they live—ensure that busy working adults may fulfill their educational goals on their own time and schedule.
Press Contact
Andrea Fagon
Director of Marketing and Communications
andrea.fagon@cuny.edu