Student Events to Honor National Disability Employment Awareness Month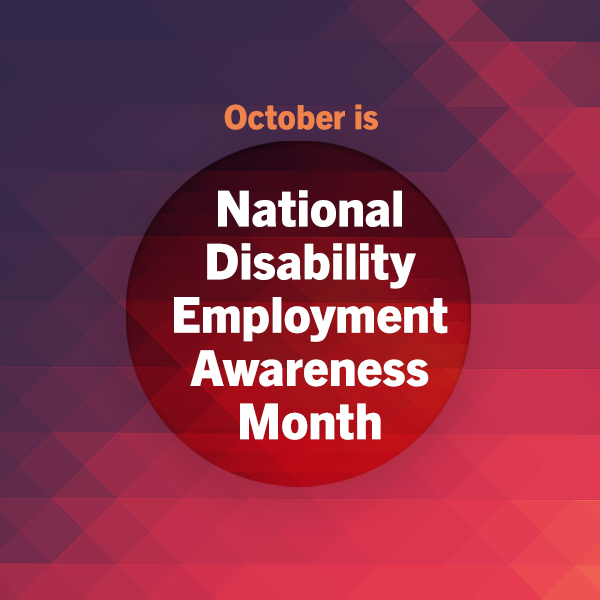 Spotlight on New Leadership as Student Group Launches 2022-23 Programming
The Disability and Access Coalition (DAC), a student organization at the CUNY School of Professional Studies (CUNY SPS), will honor National Disability Employment Awareness Month (NDEAM) this October with a series of events open to all students.
Observed federally each October, NDEAM is designed to educate about disability employment issues and celebrate the many and varied contributions of America's workers with disabilities.
In recognition of this month, the DAC will offer three career prep workshops for students with disabilities led by the Access U of Starkloff Disability Institute, a non-profit dedicated to helping people with disabilities participate fully and equally in all aspects of society.
On October 12, the Institute will host Discussing Disability with an Employer. During this workshop, students will learn their rights under the ADA and how to confidently discuss identity with an employer. On November 9, students are invited to attend Creating Competitive Application Materials, where they will learn how to craft compelling cover letters and relevant resumes to help them land their dream internship. Preparing for the Interview, a third workshop held on December 14, will help students gain confidence in their interviewing skills by offering advice on interview etiquette, how to answer common questions, and more.
To register or learn about the workshops, visit the links above or read more here.
Along with this series, the DAC has several other exciting events planned this semester. In addition to the standing General Board Meeting that is held on the third Friday of each month, the DAC is also holding a logo contest for its members. The winning logo will be announced the end of the semester and be used as the DAC's logo on all future merchandise and advertising.
Later this fall, the DAC will host a passion-sharing event, where members can share a personal, creative, or academic project they have created around a disability-related topic. For more information on the event calendar and membership, visit the Disability and Access Coalition webpage or email the DAC.
These events kick off the 2022-2023 programming for the coalition, an engaged and long-running student club at CUNY SPS that has evolved alongside the School's groundbreaking disability studies programs as a space to advocate for and support students with disabilities.
Founded in 2018, the DAC has a stated mission to "raise awareness around disability issues, build and maintain a campus that celebrates, advocates for, and ensures inclusiveness, and foster collaboration between students with disabilities and those who are allies."
Since it began, the coalition has built up a robust presence and an active membership at CUNY SPS, with several highly attended events offered annually. Past highlights include a panel discussion with anthropology and disability studies professors Rayna Rapp and Faye Ginsburg; a conversation with actress, comedian, and disability advocate Maysoon Zayid; and screenings of the documentaries Long Haul and Crip Camp.
Each summer, the DAC elects two students to lead the group's efforts for the upcoming year. In this spotlight, the newly elected 2022-2023 co-chairs discuss what led them to the DAC and their plans for the organization this year.
DAC co-chair Kaci Conley came to CUNY SPS from Maryville University of St Louis, where she earned a BA in Psychology and Organizational Leadership. Currently in her second semester of the MA in Psychology program, where she is specializing in industrial/organizational psychology, Conley plans to pursue a PhD with the goal of becoming a professor.
As part of her studies, Conley researches and writes about disability advocacy. "I am passionate about conducting psychological research and disability advocacy," she said. "Through my research, I hope to affect positive change for the disability community." Conley's latest article, Reducing Ableism and the Social Exclusion of People with Disabilities: Positive Impacts of Openness and Education, was published in the Spring 2022 issue of Psi Chi Journal of Psychological Research.
For Conley, joining the DAC was a natural next step to help make positive change on a community level. "I was inspired to take on the role of co-chair because, as a student with a disability, I understand the importance of social inclusion and being part of a student organization that centers and celebrates the disability community," she said. "Additionally, with having an organizational leadership degree and serving for three years as president of the disability awareness student organization at my undergraduate university, I am excited to bring my knowledge and experience to the DAC and continue the incredible work of the past leadership."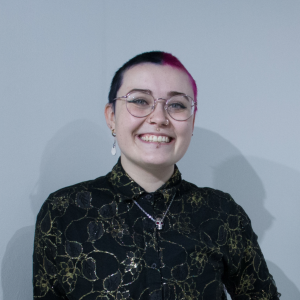 Now in their third semester of the MA in Disability Studies program, fellow co-chair Carly Riegger explained their motivation to attend CUNY SPS. "I am hoping to merge what I learn from this program into my art practice. I am a ceramic artist, and there is very little room for people with disabilities in the community currently," said Riegger. "I am looking to change this. I am hoping to become a professor or teacher at some point and create a community and space that is welcoming to all people, including all kinds of disabilities."
The DAC immediately attracted Riegger as a prototype for the inclusive art space they envision for the future. "I decided to take the role of co-chair in DAC because of the great community that is built here," Riegger noted. "There is a great connection I get with people like me, which I have a hard time finding in my day-to-day life. DAC is special and being a part of bringing people together is great! I also have learned a lot about making events and things we do accessible, and I hope to use that knowledge when I am starting my own community in art."
Both Conley and Riegger are excited to launch the 2022-2023 year with the NDEAM career prep workshops, noting that these events will help students with disabilities navigate the world of work.
"We hope that people can learn practical skills for applying to jobs, discussing disability with employers, learning how to interview, and more....A lot of great information will be shared over the course of three workshops, and we hope that people learn as much as they can about becoming competitive applicants," said Riegger. "Especially with low employment rates for people with disabilities, in particular, these workshops have lots of valuable information."
"I am so excited to bring the expertise of the professionals from Access U of Starkloff Disability Institute to CUNY SPS!" said Conley. "I hope CUNY SPS students with disabilities, whether they are actively looking for employment or not, learn…how to be successful in their employment search, reach their employment goals, and—most importantly—gain confidence with the process. "
About the CUNY School of Professional Studies
As New York's leader in online education since 2006, the CUNY School of Professional Studies (CUNY SPS) offers the most online bachelor's and master's degree options at the City University of New York, and serves as the University's only undergraduate all-transfer college. With 26 degrees and numerous other non-degree and grant-funded workplace learning programs, CUNY SPS meets the needs of adults who wish to finish a bachelor's degree, progress from an associate's degree, earn a master's degree or certificate in a specialized field, and advance in the workplace or change careers. Consistently ranked highly by U.S. News & World Report for its online offerings, and noted for its soaring growth and enrollment, CUNY SPS has emerged as a nationwide leader in online education. The School's renowned and affordable online programs—which offer in-state tuition to all students regardless of where they live—ensure that busy working adults may fulfill their educational goals on their own time and schedule.
Press Contact
Andrea Fagon
Director of Marketing and Communications
andrea.fagon@cuny.edu