You are here
Spring Installment of First-Generation Student Series Features Funding and Confidence-Building Advice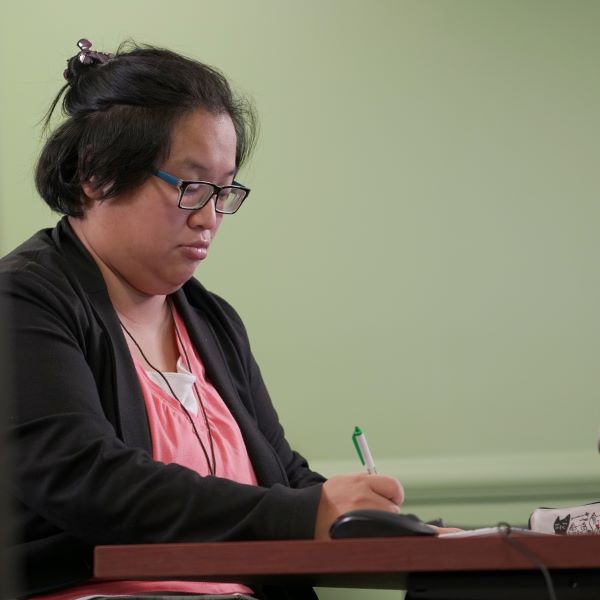 The CUNY School of Professional Studies (CUNY SPS) hosted the webinars Funding Your Education: Understanding Financial Aid and Scholarships on March 29 and Imposter Syndrome: What It Is & How to Overcome It on April 26 as part of the First-Generation Student Success Series.
Organized and created by Dr. Elizabeth Alsop, assistant professor and academic director of the CUNY SPS communication and media program, and Dr. Carla Marquez-Lewis, director of the CUNY SPS psychology program, the series was launched in Fall 2021 to address the challenges first-generation college students often encounter. 
About 50 students attended both virtual webinars, which sought to demystify financial aid and scholarships and explain imposter syndrome and how to overcome it.
Recognizing that the culture of college can be intimidating and overwhelming—especially for first-generation students—the theme of both events was to provide guidance in figuring out how to both pay for college and what to do when you feel you don't belong there.
"A college education is a worthwhile investment and CUNY SPS is committed to making your education attainable and affordable," said Enrollment Bursar Director Leah Chajeczkis during the Funding Your Education webinar. "Our goal is to do whatever we can is to make college affordable and remove barriers. Life throws you a lot of curveballs. It takes a lot of strength to be here. Don't give up. If it's a financial barrier you're facing, please reach out to us. Even if you have to take one class at a time, don't give up."
The presentation also featured Teresa Ortiz, director of scholarships, and Nancy West, financial success counselor. They advised students to consider all the types of aid that are available to fund a college education, and explained how to apply for a number of grants, loans, and scholarships included on the CUNY SPS Financial Aid and Tuition page.
In an introduction to the Imposter Syndrome webinar, Dr. Marquez-Lewis said they wanted to address this topic because it often came up as an area of concern with students.
Research shows that imposter syndrome doesn't just exist in academia, she noted. "It can happen at work and your homelife...it can impact your mental health, well-being, your grades and can affect whether you stay in college. We really want you to stay, so that's why we're talking about it."
Erin Jeanette, director of CUNY SPS Counseling Services, gave a presentation about how to recognize this syndrome, which often produces feelings of shame, fraudulence, and fear of exposure, and offered tips on how to overcome it.
Self-awareness of the syndrome is key, Jeanette explained. "Make yourself aware of three things, your thoughts (I don't belong at this school, in this class, in college); your feelings (awkwardness, discomfort, sadness, frustration, embarrassment, anger) and your bodily experiences (butterflies, muscle tension, keyed up/wired)." Also, notice how you're leaning when these thoughts enter your mind, she suggested.
At the conclusion of the session, Dr. Marquez-Lewis asked students to remember their achievements to help them with this syndrome. "The fact that you're in college is one thing that people aren't proud enough about," she said. "You have resilience, knowledge, and intelligence to be where you are. The fact that you're sitting in a classroom is an accomplishment. Don't forget that. You already have so many great things going for you."    
Read more about the Fall 2021 events Navigating Academia for First-Generation College Students and the First-Generation Student Success Roundtable. For more information on the series, email the organizers at firstgen@sps.cuny.edu. 
About the CUNY School of Professional Studies
As New York's leader in online education since 2006, the CUNY School of Professional Studies (CUNY SPS) offers the most online bachelor's and master's degree options at the City University of New York, and serves as the University's only undergraduate all-transfer college. With 24 degrees and numerous other non-degree and grant-funded workplace learning programs, CUNY SPS meets the needs of adults who wish to finish a bachelor's degree, progress from an associate's degree, earn a master's degree or certificate in a specialized field, and advance in the workplace or change careers. Consistently ranked highly by U.S. News & World Report for its online offerings, and noted for its soaring growth and enrollment, CUNY SPS has emerged as a nationwide leader in online education. The School's renowned and affordable online programs—which offer in-state tuition to all students regardless of where they live—ensure that busy working adults may fulfill their educational goals on their own time and schedule.
Press Contact
Andrea Fagon
Director of Marketing and Communications
andrea.fagon@cuny.edu