PEWL's Impact on New York City and State Honored During Workforce Development Month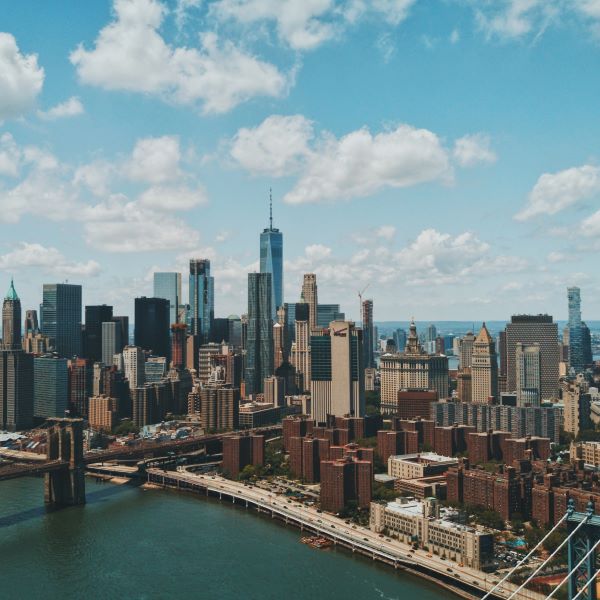 The CUNY School of Professional Studies (CUNY SPS) is proud to celebrate the School's Office of Professional Education and Workplace Learning (PEWL) during Workforce Development Month.
This annual observance, created in 2005 by the National Association of Workforce Development Professionals (NAWDP) to honor workforce professionals, offers an opportunity to highlight PEWL's work and the impact it has on New York.
"This exceptional unit began its work in 2006 and is comprised of more than 200 dedicated professionals who collaborate with and support city, state, and non-profit agencies to help them achieve their goals and ultimately improve the lives of New Yorkers," said PEWL Executive Director Amy Perez.
This past fiscal year more than 37,000 people have taken a course in one of PEWL's 15 programs, which include the Anti-Bias Trauma-Informed Training program (Department of Social Services); Department of Correction On-The-Job Training program; Financial Independence Now (Department of Social Services); and the Training Technology and the Distance Learning and Direct Training Program (New York State Office of Children and Family Services).
Since PEWL's inception, more than 250,000 city and state employees along with other people from around the metro region and the country have benefited from their work.
Perez said the unit, which manages a portfolio of $34 million in grants and contracts, begins its work with a comprehensive needs assessment to understand an organization's goals and culture. "From there, our team develops targeted learning solutions that work for the organization and reflect their values and vision for the future."
Among PEWL's areas of expertise include designing, implementing, and scaling up learning programs tailored to stakeholders' needs, building learning management systems and supportive technology, and creating and supporting a variety of instructor-led training platforms.
"The keys to PEWL's success are commitment to customer service, centering client collaboration and fruitful thought partnerships resulting in meaningful relationships, some of which are in their 14th year," Perez said.
A few recent highlights from FY23 include:
• The Managing for Innovation Program, aimed at NYC nonprofit emerging leaders, returned to in-person delivery after three years of virtual classes, enhancing engagement and interactivity among participants.
• The Energy Management Institute (EMI) offered a host of classes with the goal of making city buildings run more efficiently. Classes were held at CUNY SPS, and throughout the city.
• ACS Workforce Institute (ACS WI) partnered with the Department of Homeless Services (DHS) to deliver a training to nearly 400 DHS staff members on the role of mandated reporters.
• The Office of Child Support Services CUNY Training Program supported the roll-out of the Electronic Case File system and began training OCSS staff on how to use it.
• With the influx of migrants to New York City and the immediate need to find them housing, the DHS Staff Learning and Development Program members ramped up to provide National Guard personnel and temporary staff training in shelter operations.
• The Academy for Community Behavioral Health continued to increase their city-wide free course offerings with a new Trauma-Informed Organizational Practice certificate program, developed through a robust co-design process.
Launched by PEWL in Spring 2021 with funding from the Mayor's Office of Community Mental Health (OCMH) and the Mayor's Office for Economic Opportunity, the Academy is one of the newest partnerships in the unit's portfolio to address the needs of New Yorkers.
"We cannot care for the health and well-being of our brothers and sisters in New York City without supporting self-determination and building capacities within communities, and in community-based organizations," said OCMH Executive Director Eva Wong.
"The Academy does exactly that and more by making practice-informed tools available and accessible," Wong further noted. "It is an invaluable vehicle for realizing the City's dream of rebuilding a healthy and equitable infrastructure, and strengthening community networks that address the social determinants of health needs of those most impacted by inequities."
Department of Social Services Deputy Commissioner Terrance Stroud whose areas include two PEWL programs – the Anti-Bias Trauma-Informed Training program and the DHS Staff Learning and Development program, echoed Wong's sentiments.
"The relationship between the DSS Office of Training & Workforce Development and the CUNY SPS PEWL team is a blueprint for successful strategic partnerships," Stroud said. "Their collaborative approach is vital to ensuring that our agency meets its learning and development goals."
About the CUNY School of Professional Studies
As New York's leading online school since 2006, the CUNY School of Professional Studies (CUNY SPS) offers the most online bachelor's and master's degree options at the City University of New York, and serves as the University's first undergraduate all-transfer college. With 26 degrees and numerous other non-degree and grant-funded workplace learning programs, CUNY SPS meets the needs of adults who wish to finish a bachelor's degree, progress from an associate's degree, earn a master's degree or certificate in a specialized field, and advance in the workplace or change careers. Consistently ranked highly by U.S. News & World Report for its online offerings, CUNY SPS has emerged as a nationwide leader in online education. The School's renowned and affordable online programs ensure that busy working adults may fulfill their educational goals on their own time and schedule.
Press Contact
Andrea Fagon
Chief Marketing and Communications Officer
andrea.fagon@cuny.edu