New-York Historical Society Talk Honors 200 Years of Women's Activism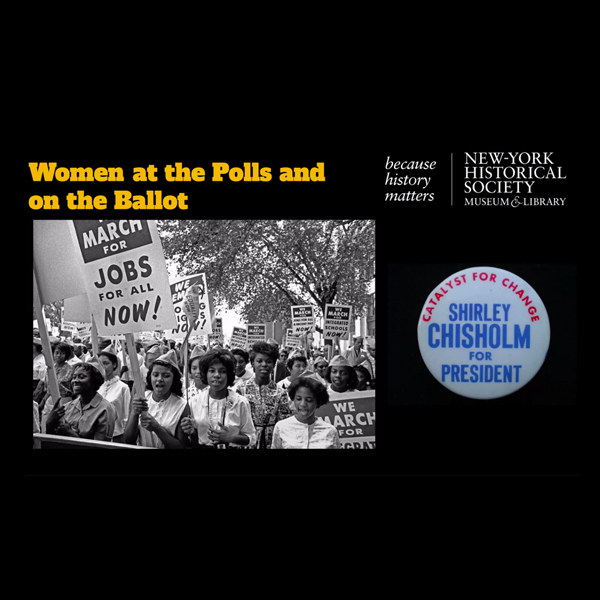 As part of the CUNY School of Professional Studies (CUNY SPS) celebration of Women's History Month, the Office of Alumni Relations, Student Association, and the Museum Studies program co-hosted a virtual tour of the New-York Historical Society (N-YHS) exhibit Women March on March 3. Over 40 CUNY SPS alumni, students, and special guests attended the event, which was led by Dr. Anna Danziger Halperin, Andrew W. Mellon Postdoctoral Fellow in Women's History and Public History and CUNY SPS adjunct assistant professor, and focused on 200 years of women's activism in the United States.
"We are pleased to have hosted such a timely and insightful discussion of women's collective action, particularly during Women's History Month. Dr. Anna Danziger Halperin gave us an intriguing peek into the Women March exhibit and an incisive overview of the battles that women have fought—and continue to fight—for justice and equality. I really enjoyed the lecture, and can't wait for the next one," said Jenna Coplin, academic program manager of the CUNY SPS MA in Museum Studies program.
Dr. Danziger Halperin opened the virtual presentation by sharing some photographs of the rooms of the Women March exhibit, which had recently closed after a year-long run at the New-York Historical Society. This exhibit commemorated the 100th anniversary of the ratification of the 19th amendment, which gave women the right to vote. As Dr. Danziger Halperin noted, the Women March exhibit did not solely focus on suffrage but more broadly on the campaigns that women throughout the United States had waged for a wide range of causes, including civil rights, gay and transgender rights, environmental issues, indigenous rights, and reproductive rights, among many others.
Throughout the presentation, Dr. Danziger Halperin explored the different eras of women's activism in American history by featuring some of the historical records and multimedia used in the exhibit, like campaign posters, pamphlets, photographs, film, and interactive digital installations, that helped bring the past to life.
In one notable multimedia example, Dr. Danziger Halperin played a video that featured Tony Award-nominated actress Ariana DeBose performing a reenactment of the speech "We Are All Bound Up Together", which was originally given by African American lecturer, writer, and abolitionist Frances Ellen Watkins Harper at a women's right convention in 1866.
Attendees were highly engaged and asked a number of questions at the end of the presentation, including details of the exhibit and how the historical records were gathered, as well as Dr. Danziger Halperin's own thoughts on some of the urgent political issues facing women today.
Several of the attendees commented afterwards on the illuminating talk and what they learned from it. Joy Palmer (MA in Disability Studies '11) observed, "The presentation was outstanding and very informative. It surely increased my knowledge of the women's suffrage movement. I look forward to your other events/opportunities in the future!"
Other attendees echoed similar sentiments. Duubar Villalobos Jimenez (MS in Data Science '19) noted, "Such a powerful exhibition presentation. It allowed us to experience how the unity of organized marching women transformed the adversity of the past into a more equitable brighter future."
"I thought it was really well done and I learned a lot. I leave this Zoom with hope, enthusiasm, and a renewed commitment," said Zeita-Marion Lobley, Director of Student Services at CUNY SPS.
This Women's History Month event is the latest collaboration between CUNY SPS and the New-York Historical Society, which jointly developed the School's online MA in Museum Studies program. Students in the program learn from and work closely with N-YHS curatorial and managerial staff, gaining a unique look at the holdings, programming, and management of this world-renowned museum and archive. For more information about the program and this partnership, visit the CUNY SPS Museum Studies program page.
About the CUNY School of Professional Studies
For over 15 years, the CUNY School of Professional Studies (CUNY SPS) has been leading online education in New York. Notable for offering the most online bachelor's and master's degree options at the City University of New York, and for serving transfer students as the University system's only undergraduate all-transfer college, CUNY SPS meets the needs of adults who wish to finish a bachelor's degree, progress from an associate's degree, earn a master's degree or certificate in a specialized field, and advance in the workplace or change careers.
The School's growth has been remarkable, with twenty-four degrees launched since 2006. Enrollment has risen by more than 30% in the last four years to over 4,000 students in the credit-bearing programs. Thousands more are enrolled in non-degree and grant-funded workplace learning programs. In addition, the School has an active alumni network and has established the CUNY SPS Foundation, which offers multiple scholarship opportunities to current students.
CUNY SPS has consistently been named by U.S. News & World Report as one of the country's top online institutions. This year, the School was ranked in the top 2% in the nation on the publisher's list of the 2021 Best Online Bachelor's Degree Programs.
Press Contact
Andrea Fagon
Director of Marketing and Communications
andrea.fagon@cuny.edu