New Course Enables Workforce Practitioners to Better Aid Job Seekers Impacted by the Legal System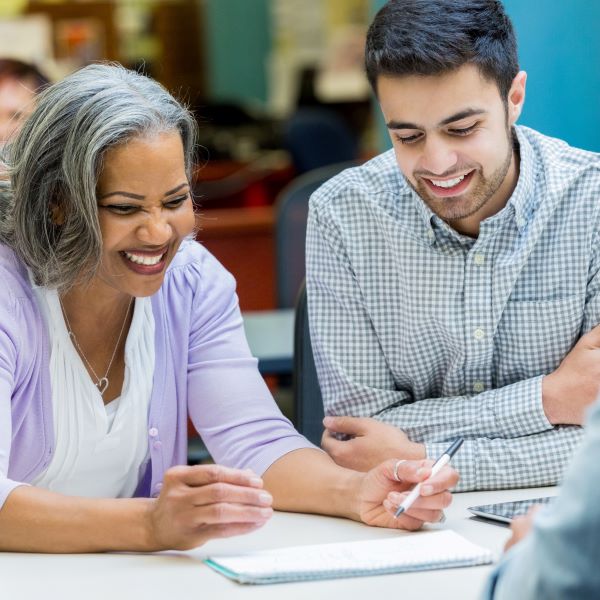 The CUNY School of Professional Studies (CUNY SPS) is pleased to announce that it recently launched a pilot of the e-learning course, Unlocking Employment: How to Partner with Job Seekers Impacted by the Legal System. Over a year in the making, the course was created to enhance the skills and increase the effectiveness of workforce practitioners working with job seekers who have been involved in the criminal legal system.
Unlocking Employment is a collaborative project between the CUNY SPS Office of Professional Education and Workplace Learning (PEWL), the Mayor's Office for Economic Opportunity (NYC Opportunity), and John Jay College Institute for Justice & Opportunity (the Institute).
"This course is essential for workforce development practitioners to become more informed about the rights and needs of people who have had previous involvement with the legal system," said Dawn Picken, senior program director at PEWL. "It's focused on a strength-based perspective and reframing how to work with job seekers, who are in need of a fair chance."
"We created Unlocking Employment as an aid for workforce development professionals so they can better support job seekers with legal system involvement," said Carson Hicks, acting executive director, Mayor's Office for Economic Opportunity. "This e-learning course is filled with key insights on the impact of legal system involvement, legal protections available to those with criminal convictions, and tools and best practices to support the job search. We are excited to partner with CUNY SPS and the Institute to create this crucial resource."
Eddie Santiago is familiar with how challenging it can be, as someone who was in prison for 15 years. Santiago, a community technician at Bowery Residence Committee, was taking a professional development certificate course at the John Jay College Institute for Justice and Opportunity when he crossed paths with Elena Sigman, director of collaborative learning at the Institute.
Sigman was working on the Unlocking Employment online course, and asked Santiago if he wanted to be a course advisor.
"I paid my dues to society and then you go and try to get a job and employers raise eyebrows when they learn about your past and then it's rejection, rejection, rejection," Santiago said. "How do you get people to see that there's more to you than that?"
He suggested that the course should include language that avoided using the word criminal, jail, or prison because that immediately biases potential employers against you. His advice was incorporated into the design of the course.
"Input such as Santiago's was paramount in ensuring that the course and materials were developed with a person-centered approach," said Edwina Nuñez, PEWL program director, who oversaw the development of Unlocking Employment.
"Developing Unlocking Employment in partnership with CUNY SPS and the Mayor's Office for Economic Opportunity is a crucial part of the Institute's mission to ensure that people impacted by the legal system have a fair shot at getting hired," Sigman said. "These job seekers deserve a chance to build on their strengths and join New York City's workforce."
Corinthia Tart, an employment coordinator for Bronx Works, was one of 12 people who piloted the Unlocking Employment course. "I would one hundred percent recommend this course," she said. "This course would be a blessing for anyone working in the area of [workforce development] who needs to know more about the rights and needs of those previously involved in the legal system."
About the Mayor's Office for Economic Opportunity
The Mayor's Office for Economic Opportunity (NYC Opportunity) helps the City apply evidence and innovation to reduce poverty and increase equity. We work to improve the systems of government by advancing the use of research, data and design in program and policy development, service delivery, and budget decisions. Our work includes analyzing existing anti-poverty approaches, developing new strategies, facilitating the sharing of data across City agencies, and rigorously assessing the impact of key initiatives. NYC Opportunity manages a discrete fund and works collaboratively with City agencies to design, test and oversee new programs and digital products. NYC Opportunity also produces research and analysis of poverty and social conditions, including its influential annual Poverty Measure, which provides a more accurate and comprehensive picture of poverty in New York City than the federal rate. Part of the Mayor's Office of Operations, NYC Opportunity is active in making equity a core governing principle across all agencies.
About John Jay College Institute for Justice and Opportunity
The John Jay College Institute for Justice and Opportunity (the Institute) advocates for the right to education, employment, and other civil liberties often denied to people with conviction records. Our work confronts centuries of white supremacy and systemic oppression to end harmful narratives and expand access to higher education and professional growth. We partner with educational leaders, direct service providers, government agencies, and the private sector to provide services within correctional facilities and the community, all the while advancing research and policy at the systems level. Learn more about education and career pathways to opportunity by visiting www.justiceandopportunity.org.
About the CUNY School of Professional Studies
As New York's leader in online education since 2006, the CUNY School of Professional Studies (CUNY SPS) offers the most online bachelor's and master's degree options at the City University of New York, and serves as the University's only undergraduate all-transfer college. With 24 degrees and numerous other non-degree and grant-funded workplace learning programs, CUNY SPS meets the needs of adults who wish to finish a bachelor's degree, progress from an associate's degree, earn a master's degree or certificate in a specialized field, and advance in the workplace or change careers. Consistently ranked highly by U.S. News & World Report for its online offerings, and noted for its soaring growth and enrollment, CUNY SPS has emerged as a nationwide leader in online education. The School's renowned and affordable online programs—which offer in-state tuition to all students regardless of where they live—ensure that busy working adults may fulfill their educational goals on their own time and schedule.
Press Contact
Andrea Fagon
Director of Marketing and Communications
andrea.fagon@cuny.edu